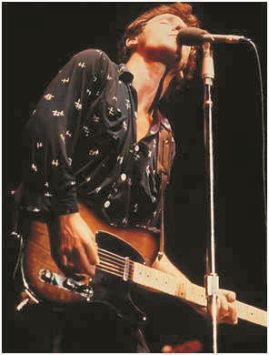 Bruce Springsteen & the E Street Band
Upcoming April
If it's April, can be Derby be far off? No, sir, "Thunder" kicks off the Festival a tad bit early on April 15. That means that you'd best get in practice with some advance partying and bar hopping and such. The live music scene this month is dominated by two or three mega-shows and then Derby, but in the interim, there is always live music in Louisville. Here are a few picks from the editorial department.
Acoustic/Americana
• R. B. Morris is going at the singer/songwriter business from a Nashville base, which probably implies a lot that isn't true. He's a pretty good songwriter and okay singer for a guy. He'll be at the Twice Told Coffeehouse on April 5.
Tix and info: 456-0507
• The Boogie Piano Queen herself returns to Jim Porter's on April 13. Make that Ms. Marcia Ball. For those of you who are not familiar with la dame Marcia (poor things!), you might have heard her on Sing It!, when she teamed with Irma Thomas and Tracy Nelson for some hot New Orleans swamp boogie that was all over the AAA radio market. Or maybe you've heard that sweet little ditty she does called "I Want To Play With Your Poodle." Phew! Go dance and quit complaining.
Tix and info: 452-9531
• Alejandro Escovedo must like Louisville a lot, 'cause he seems to get here a bunch. But then, this is a man who recorded an album called Bourbonitis Blues. This trip, it's into Headliners on April 25 and afterwards, well, hey, anything could happen and, if the rumors are to be believed, things do.
Tix and info: 584-8088
Ballet
• The Louisville Ballet will be dancing "Giselle," the tragic tale of the peasant girl who winds up as a swan because of love, on April 6-8 at the Kentucky Center for the Arts. The very most perfect of ballets for springtime.
Tix and info: 584-7777
Bluegrass
• Gary Brewer cancelled his April "Kentucky Rambler" show, as it conflicted with the newly rescheduled "Thunder Over Louisville." He'll run them again next year. In the meantime, go out and hear some live bluegrass at a festival.
• As the bluegrass spring season looms closer, the number of shows at Shepherdsville will surely wind down. In the meantime, look for Dean Osborne and Eastbound on April 7 and the James King Band on April 21.
Tix and info: 968-6358
Blues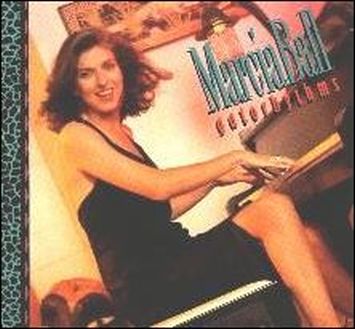 Marcia Ball
• The Kentuckiana Blues Society is staging a multi-band event at Stevie Ray's on Sunday, April 2, to benefit the Musicians Emergency Relief Fund (MERF), which gives money to musicians who are down on their luck. Scheduled to play are The Predators, Ron Harris & The Knott Brothers, the King Bees, Lamont Gillespie & 100 Proof Blues, the Jimmy Rogers Blues Band, Sacre Bleu, the Planet Blues Band and the Last Minute Blues Band. All this for only $5. Such a deal!
Tix and info: 582-9945
• Long John Hunter has been a Texas legend since the early '50s but his impact was mostly limited to the bordertown region between El Paso, Texas and Juarez, Mexico. For 13 years, beginning in 1957, Hunter was the boss at Juarez's infamous Lobby Bar, whose clientele included locals, cowboys, soldiers from nearby Fort Bliss, frat boys and troublemaking tourists. Hunter finally as moved out into the national market with two recent CDs, including Border Town Legend for Alligator. Look for the legend at Stevie Ray's on April 17. MR2 Blue opens.
Tix and info: 582-9945
• New York harmonica player and keyboardist "Little Mike" Markowitz has made his mark in the blues world through a lot of hard touring and a bit of good old fashioned New York "chutzpah." He's a frequent visitor to Louisville and generally puts on a hot show. He'll be back at Stevie Ray's on April 19.
Tix and info: 582-9945
Chamber Music
• The Kentucky Center Chamber Players will present a recital of works by Mozart, Dohnanyi, Onslow and Schoenfeld in the Margaret Comstock Rehearsal Hall at U of L's School of Music on April 2.
Tix and info: 852-6907
Church Music
If you really have a thing for 19th Century German composers (and who doesn't?), then scoot out to the Southern Baptist Theological Seminary on April 27 for a program of works by Carl Reinecke. Performing will be pianist Vernon Cherrix, oboist Lynette Davidson and hornist Sandra Fralin. It's a free event.
More Info: 897-4115
Classical
• Il Giardino Armonico, whose name means "Harmonious Garden," resurrects the music of such baroque composers as Vivaldi and Bach, playing the pieces with the same energy and on the same instruments as they were originally played, which likely means that certain purists will be offended. Described by the Los Angeles View as "the early-music equivalent of pure Hollywood," Il Giardino Armonico will have their Louisville debut at the Bomhard Theater on April 11.
Tix and info: 584-7777
• The Louisville Bach Society will be presenting a program of works by Haydn, Schroder, Rheinberger and Bach at St. Francis in the Fields on April 16.
Celtic
• The Louisville Pipe Band is raising money to go to Scotland, so they're holding a benefit on April 1 at the Clifton's Center. In addition to the bagpipers, you get Drowsy Maggie, Galloglas, Irish Dancers and piping by Skip Cleavinger, who, says Decimus Rock is one of the best pipers in the area.
Tix and info: 896-8854.
Country
• Country music's most well-known and vocal patriot, Lee Greenwood, will march sharply into Renfro Valley on April 1 and deliver his famous red, white and blue performance. He sings pretty good, too.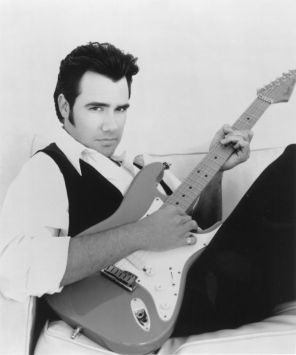 Eric Heatherly
Tix and info: 1-800-765-7464
• Coyote's continues their "New Faces Of Country" Showcase series with a free show (if you get a ticket in advance) on April 7 with Mercury Records' Eric Heatherly, who is "Swimming in Champagne," at least if he's collected any of his royalties yet.
Tix and info: 589-3866
Jazz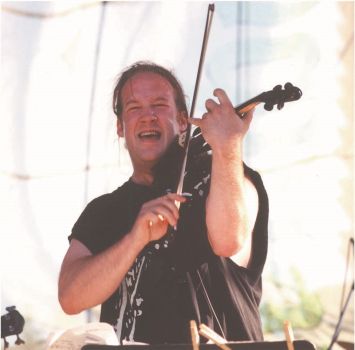 Christian Howes
• The Orville Hammond Trio will join Dick Sisto at the Old Seelbach Bar on April 1. Sisto's steady gig at the Seelbach is often spiced by the appearance of national and regional jazz acts, which can make for some very interesting moments of discovery.
Tix and info: 585-9211
• The Louisville Jazz Society's April 2 show will feature violinist Christian Howes. Howes playing has been compared to the early Jean-Luc Ponty, which is not a shabby comparison. He's also been described as the Jimi Hendrix of the violin, which I doubt means he will set his violin on fire. But, hey, you never know. The Java Men will open and we all know that will be good.
• Saxophonist Jim Snidero will bring his Quartet into the Mid-City Mall Comedy Caravan on April 24 for some hot post bop improvisation. Other sax players are likely to be in the audience to learn a few chops that aren't in Snidero's instructional books.
Tix and info: 459-0022
Musical
• Somehow the Civil War never seemed like much of a topic for a musical, at least not to those of us who grew up in the South. (It certain that the author was not from the South, otherwise it would have been called "The War Of Northern Aggression - the Musical") For this celebration, you'll hear pop and power ballads, country, gospel and folk melodies, all supporting dialogue written around actual letters from soldiers, slaves, generals, etc. Sounds delectable.
Tix and info: 584-7777
• If songs about the carnage of the Civil War aren't to your liking, perhaps you'd be happier with "Joseph and His Amazing Technicolor Dreamcoat," running this month at the Derby Dinner Playhouse.
Tix and info: 288-2632
Orchestral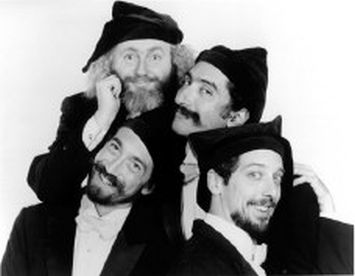 The Flying Karamazov Brothers
• The Flying Karamazov Brothers and the Louisville Orchestra - what a combination! FKB is kind of like the Marx Brothers on speed, mixed with one of those old "Ed Sullivan Show" acts involving spinning plates or something.. Every time they come to town, they sell out their shows, so, of course, you should get your tickets last month.
Tix and info: 584-7777 or 583-4555
Rock & Its Variations
• It's a Farewell Tour! No more KISS! Well, maybe. This is their second Farewell Tour, so don't be surprised in the future if they reappear. Still, they'll be out of sight for a while in any case, so load up the makeup case and the earplugs and head out to Freedom Hall on April 29 for a genuine, loud rock show. Former headliners Ted Nugent and Skid Row will "open" the show. (Nugent promises not to shoot any animals from the stage.)
Tix and info: 361-3100
• Over at Bellarmine, they're holding a Hillside Festival on April 15, with a great long list of bands set to play: here's some of them: Not Waving But Drowning; Skam Impaired; Good Clean Fun; Battleground; My Life Denial; 502 Headz; Looks Like Rain; Crestfallen; Supergrub; Walls of Jericho and more, for a total of 14 in all. The music starts at noon. Be prepared.
Tix and info: 452-8000
• When the Boss comes to Freedom Hall, then all the faithful shall be gathered in the Fairgrounds to await entrance for a long time in advance. Like Springsteen himself, who had to wait a long time after those twin mag covers all those years ago, such a wait will only sharpen the appreciation when the doors are opened and the selected thousands enter to find their appointed spaces. Even the city's most well-known music writer himself will be in attendance, blathering like a fanboy. Go in good vibes and may New Jersey be with you.
Tix and info: 361-3100 or www.ticketmaster.com
• Frank Zappa may be long gone from the planet, but his music lives on, especially if Ike Willis, who played with Zappa, has anything to say about it. Willis brings his curiously named Project/Object Feat to Headliners on April 2.
• If the late Frank isn't to your taste, how about the late Jerry Garcia? In this case, it's the JGB (Jerry Garcia Band), featuring Melvin Seals at Headliners on April 6. Kind of puts me in mind of a Warren Zevon tune.
Tix and info: 584-8088
• Fifties nostalgia buffs should take note of the appearance by the Van-Dells at the Derby Dinner Playhouse on April 3. Doo-wop city.
Tix and info: 288-2632