Dance of the Haymakers
Ten Penny Bit has released a new CD and is throwing a CD Release Party at the Thomas Family Winery from 10 p.m. to midnight on Friday, August 18. The Thomas Family Winery in Madison, Indiana is, by all accounts, a wonderful venue and perfect for Celtic music, which they have on a fairly regular basis. Earlier that day, TPB is playing at the Madison Main Street Fair from 7 p.m. to 9 (Central time).
You can them in Cincinnati as well on Saturday, August 12 at R.P. McMurphy's Pub. Call 513-531-3300 for details. If you like to dance (or just listen), catch them here in town on Saturday, August 19, from 8 to 10 p.m. at St. Andrews Church on Woodbourne Avenue, where they are playing for a soiree of the Louisville Country Dancers. Thereafter they are off to Michigan to play at a contra dance/bar mitzvah. These folks are versatile for sure!
Irish Music Back on Molly Prime Time
After a long hiatus, Molly Malone's will once again have live Irish music on a Saturday night. Louisville's own Drowsy Maggie will hold forth on August 12 from 10:30 to 1:30. Founder Gerry Forde has recently undergone some challenging medical procedures but is back and ready to rage on his bodhran. Come on out and cheer one of River City's favorite bands! Perhaps a little "Red Bull & Vodka" can get you in the mood. Check with Brendan McCartin or the infamous Sean D at the bar. Molly's continues to have the regular session on Sundays from 4 p.m. to 7 p.m..
World Pipe Band Championships
The Louisville Pipe Band is over in Scotland competing in the World Championships. They will compete in two other competitions as well to march in the Millennium Parade in Edinburgh in the company of 10,000 pipers (I am NOT lying), not to mention the drummers. Louisville is world class and our pipe band is more such evidence. They are planning a fall concert in October, so keep your eyes open. Their last concert saw disappointed Celtoids turned away, due to an overflow crowd.
Kentucky Music Weekend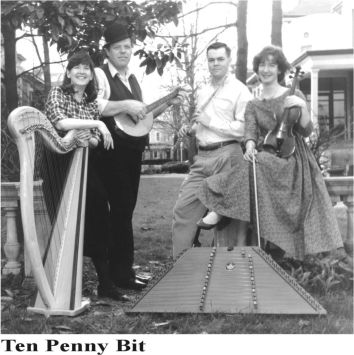 Ten Penny Bit
Ten Penny Bit and Frankfort's Beyond the Pale will perform at the KMW on Sunday, August 6. Jack (Easter Island) Twombly leads Beyond the Pale, so you should check them out for some real solid musicianship.
Galloglas in Concert
Galloglas and their unusual blend of Irish, Scottish and English music will be on offer at the Cherokee Triangle Concert Series in Willow Park on Sunday, August 6m from 7 to 9 p.m.. You can also hear them in an almost identical venue in Corydon, Indiana on Friday, August 25. The show starts at 7 p.m. on the grounds of the old capitol building in the middle of town. Bring your lawn chairs, blankets and coolers to both events.
Solas at Kentucky Center for the Arts
Solas, one of the best Celtic bands performing in the world today comes to Louisville on Friday, November 17. Tickets go on sale the middle of this month. Rock will be there with the usual bells on. Slan.