Red Hot Independence Day
By Jason Koerner
It was a long-awaited night for me and not just because of the fact that our country has a day set aside to blow stuff up (although that played an instrumental role), but because I was about to see the Red Hot Chili Peppers and the Foo Fighters, after missing their recent Lexington show. I have always looked up to Flea (along with Victor Wooton, Les Claypool and the likes…), and the entire band (RHCP) just has this energy that is unrivaled by any other. But the show was missing something: Dave Navarro. Mohawks were not enough to distract me from this inadequacy.
I hate to sound like one of those know-it-all music critics, but I was almost disappointed with what I saw that night. The Peppers have always been known for being a little eccentric. But it seems that ever since Dave Navarro left the band, things have calmed down a lot. Singles are becoming little more mainstream and the guitar solos are getting a lot less complicated. Call me sentimental, but I really miss the crazy wah-wah leads that used to run across the neck of that Parker. Things just aren't the same around here. It was still good, but I couldn't ignore that nagging voice in my head saying, "this isn't the way I hoped they would sound."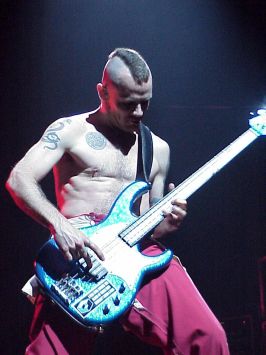 Bassist Flea of the Peppers
The band played a very predictable set containing most of their recent hits including "Scar Tissue," "Californication," "Otherside" and more. They did dig deep into their pockets to find "Under the Bridge," "Soul to Squeeze" and "Give it Away". I would have killed to hear "Aeroplane" or "Warped". Unfortunately, I was left hungry for the "good ol' days" of the band's staffing.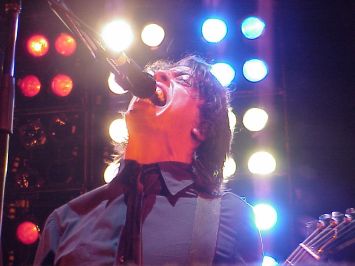 Dave Grohl of the Foo Fighters
On another not-so-pleasant note, the harmonies were a big distraction. They were extremely out of tune, and posed a threat to the quality of the band's performance overall. It was strange because everything would sound good, until the vocal harmonies came in like a bull in a china shop, destroying everything in their path.
Of course, in my completely biased opinion, Flea made up for every flaw by doing incredible things with the bass. His slap technique is superb and he is as fast with his fingers as a hummingbird on speed. He also has the ability to make this task look as complicated as abstract finger-painting. Flea for President.
Among the props on-stage were television monitors and psychedelic lighting, both of which providing that "acid-like" atmosphere. The on-screen entertainment almost reminded me of Clockwork Orange. It wasn't as violent, but after looking at anything in that kind of lighting for over an hour makes one a little unruly.
Overall, I was happy to see the band live, as it was my first time, but I do not think that it is possible to find someone to fill the shoes of someone like Navarro, who had such a heavy influence on the sound of the band. I know that I would feel the same way if Nirvana had carried on with a new singer. I do commend them for continuing their careers and putting out good music. They were not the most interactive band I had seen, but they are very energetic performers.
Onto the Foo Fighters…
The band that keeps on giving… that is the Foos.
Even after giving a free in-store performance / autograph session at Ear-X-tacy earlier that afternoon, the Foo Fighters brought the roof down at Freedom Hall. I was surprised to see how friendly the band was, despite their level of fame. The promotion for the album There is Nothing Left To Lose was a success, and tons of fans were given the opportunity to meet the band and get the CD signed by all members. This, not to mention the free BBQ provided by Mark's Feedstore, was quite a treat for fans.
The band performed a rather long set of acoustic versions of hits such as "Learn to Fly," "Everlong," "Breakout" and many more. They also did a powerful version of one of my favorites, "For All the Cows." The atmosphere was very laid back, and Dave Grohl kept the crowd entertained not only with music, but with stories as well. This was perhaps the best part of the event.
"Lemme' sing!" one exuberant crowd member yelled when Grohl asked for requests.
"You wanna' sing? (Dave chews his gum and ponders the idea momentarily…) OK. C'mon." Grohl replied, setting the audience into a frenzy.
That lucky fan was granted the opportunity to spontaneously join the group on-stage and sing the rap hit "Back Dat Ass Up" by Juvenile! The band 'backed' him up as he enjoyed his five minutes of fame. It's not often that you get a big-time band in such an intimate setting. Move over, MTV Unplugged…
The show at Freedom Hall was, needless to say, more energetic than the gig at the record store. Grohl continued chomping on his gum the whole time, never showing a moment of insecurity. The group played a super-charged set, including an "intermission" where Dave decided to go into the crowd for a while. I guess the stage just didn't have enough room to move around on! The sound was very full, and the enthusiasm of the band made the performance truly enjoyable. If you need an example of how much the band loves their work, just watch any of their videos on MTV. They are as fun as they come in the music business.