Upcoming Live Music
If it's August in Louisville, it must be State Fair time, which means all the Louisville nostalgia and country acts try to find work out of town. The package of free and paid shows at the Fair pretty much puts the damper on anything else in the city that even faintly draws from the same demographic.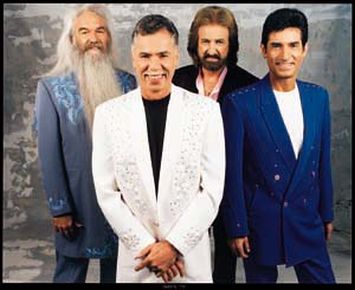 Oak Ridge Boys
By now, you've probably heard the line-up, including the addition of Wynonna and Diamond Rio as the Fair closers on August 27, but a quick refresher course is necessary, as that all-important pre-Fair scheduling is being done in homes all across Kentucky and Southern Indiana.
The now-red-hot Dixie Chicks will fly into the "Wide Open Spaces" of Freedom Hall ($$44 only) on Thursday, August 17, along with bluegrass-to-country-and-back changling Ricky Skaggs,.to kick off the festivities. On Friday the 18th, the saavy Miss Christina Aquilera will bring her whole pleasure-pop show to Freedom Hall ($26) along with newbie pop-hopsters Before Dark. Saturday night, August 19, in an appropriate choice, Brooks & Dunn will do their "Live on Saturday Night in a Country Bar" production in Freedom Hall ($26) with all those hats, hits, near-misses and one or three new tunes, 'cause isn't there a new CD?. Oh, yes, Lonestar is on that show, too.
On Sunday, Augut 20, in Cardinal Stadium, the perennial - and we do mean perennial - Oak Ridge Boys, now somewhat reassembled, get things honking in country gospel kind of way. The next night, the 21st, the move is to Christian pop with Grammy-winning Jaci Velasquez joined by Plus One.
Tuesday, August 22 in Cardinal Stadium resembles a Tuesday night twin bill at Coyote's - Chad Brock and Clay Davidson, only this show is at Cardinal Stadium.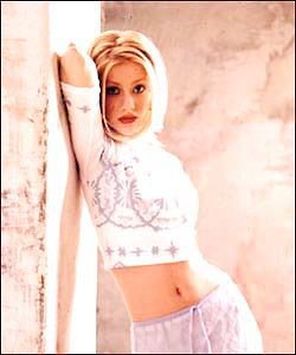 Christina Aquilera
Wednesday, the country theme continues, unwinding a few years to shine that spotlight on crooner Ronnie Milsap, while Thursday, August 24 is the take-the-family rock show, with "Secret Agent Man" Johnny Rivers and the Nelsons at Cardinal Stadium.
Kenny Rogers has been a stranger to the country charts for some time and he hasn't exactly been out there on the road touring all the time, either, except maybe checking his businesses, so the August 25 show at Cardinal Stadium ($22.50) with Pam Tillis and Michael Johnson should draw a better-than-normal crowd. Better get tickets early.
The Saturday show at Cardinal Stadium ($22.50) features Eighties hard rockers Def Leppard, who still have a following and can throw down a pretty good smash-your-face-in rock lick.
Then comes the Fair closer, as mentioned above: Wynonna and Diamond Rio at Freedom Hall ($29) on a Sunday night. That'll cap the Fair off very nicely. Phew.
Take a breath, there is lots of other music elsewhere in the city. Below are some highlights. Remember to call first if it means driving very far,
Acoustic / AAA
• John Prine's guitar player - and a good songwriter in his own right - Jason Wilbur will play some tunes at the Rudyard on August 10. Wilbur has a solid connection to the E-town songwriters group and was a regular at the now-defunct Picassos - and, oh yes, he plays with John Prine. Did I mention that?
Tix and info: 636-1311
• At the Twice Told Coffeehouse, the duo of Margo Hennebach and Mark Saunders gets the nod for most intriguing act. Hennebach was involved with the New York publication Fast Folk Magazine, which produced an LP with each edition. Hennebach has lots of other connections and cred in the acoustic / folkie / Americana area, including playing and touring with Shawn Colvin, Richard Shindell and Paul Winter.
• Also scheduled into the TTC is the Cincinnati-based Wild Carrot, a folk duo of the Kerrville variety, were they were Finalists for this year. Look for them on August 17.
Tix and info: 456-0507
Bluegrass
• Go find a festival for now. Might near everybody is out-of-town.
Blues
• Stevie Ray's just sits down there on Main Street and presents da blues, very consistently. This month's highlights include but are not limited to former Wet Willie guitarist Jimmy Hall and the Prisoners of Love on August 14; Harper, billed as an Australian harmonica legend on the 23rd; Blind Pig's Deborah Coleman and, we presume, the Thrill Seekers on the 28th.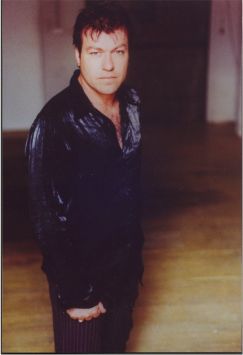 Christina Aquilera
• The Kentuckiana Blues Society's Unsigned Blues Band Contest, with eleven bands competing, will be held at Stevie Ray's on Sunday, August 13. This is a blues buffet as excessive as Sunday brunch on a cruise ship, with every style of blues represented. The music starts at 4:30 p.m. and goes until late.
Tix and info: 582-9945
• New York's Tony O band is returning to Louisville, this time to the Rudyard Kipling Restaurant on August 17. Tony gets the win for most persistent publicity - there must be four or five photos of him around here.
Tix and info: 646-1311
Celtic
• How about some free Celtic music? Then get over to the Willow Park gazebo on Sunday, August 6 for a 7 p.m. concert by Galloglas. Hard to think of a finer way to spend a Sunday evening.
Christian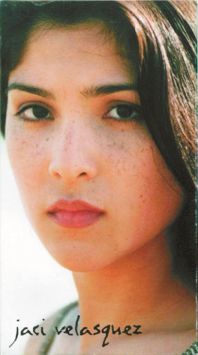 Jaci Velaquez
• There is Christian music outside the Fair in August: on the 10th, Bryan Duncan and SHINEmk will witness in song at the the Gardens, formerly known as Louisville Gardens, a.k.a. the Old Armory on Fifth at Armory Place.
Tix and info: 584-7777
Country
• The State Fair line-up is not enough for you? Glutton. Okay, then scoot down to the Waterfront on August 5 for a concert by Travis Tritt as part of the Celebrate 2000 festival, formerly known as Strassenfest. The admission is a whole dollar.
• How about a practice run for parking at the Fair? Then go see Janie Frickie and T. Graham Brown at Freedom Hall on the 4th.
Tix and info: 361-3100
• Maybe a little Texas singer-songwriter of the old Outlaw sort would fill the bill. Jerry Jeff Walker will sing of the "City of New Orleans" and "Up Against the Wall, Redneck Mother" at Coyote's on the 5th.
Tix and info: 589-3866
• If you really want to get out of town to listen to country music, head done I-75 to Renfro Valley on August 12, when Kentucky country star Billy Ray Cyrus will be in concert.
• If old country is your choice of music, you can listen to Ray Price sing "Heartaches by the Number" and "Release Me" at Renfro Valley on August 19.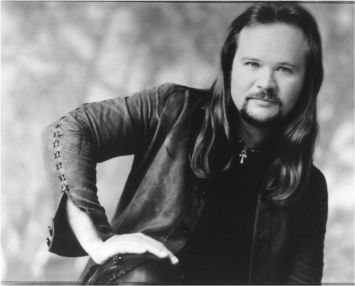 Jaci Velaquez
• Another "old country" star, Charley Pride, will be in concert at Renfro Valley on August 26. You'll get the hits - "Kiss An Angel Good Morning" and "Is Anybody Goin' to San Antoine" among others.
Tix and info: 800-765-7464
• Kathy Mattea, who might still qualify as a country singer, will be in concert at My Old Kentucky Home State Park in Bardstown on August 21, so if a nice drive in the country is to your liking, mark it down.
Tix and info: 11-800-626-1563.
• It's only appropriate that the last country show in August will be the real boundary-breaker, Lyle Lovett. The former Mr. Julia Roberts will be at the Palace Theatre with some number of musicians on August 29. Get your tickets now, 'cause Lyle fans tend to the fanatic, indeed.
Tix and info: 502-583-4555
Gospel
• If you missed the big Gospel show on the Waterfront on July 29, you're in for something of a dry spell in the Gospel department, unless you're willing to scoot down to Renfro Valley for their All-Night Gospel Sing on August 5. Scheduled to appear are The Dove Brothers, The Wilburns, The Dixie Echos, Poet Voices, and the Isaacs. Show time is Midnight.
Tix and info: 800-765-7464
• For an in-town show, try the Twice Told Coffeehouse on August 20, when the Vinyard Gospel Group will be in concert.
Tix and info:
• It's back to Renfro Valley on the 25th for a concert by the Kingsmen, who have a considerable history and following in the Gospel. They are not to be confused with the Sixties rock act of the same name, which was famous for "Louie, Louie."
Tix and info: 800-765-7464
Jazz
• August is a good month for Jazz in Louisville, because it's Jazz in Central Park, this year scheduled for August 26 and 27, 5 to 11 p.m. both days. Cuban jazz group Jane Bunnett and the Spirits of Havana are the headliners on Saturday while the Joey DiFrancesco Trio gets the nod for Sunday night. Read Tim Roberts' Jazzin' column on page 9 for more about this free event.
Musical Theater
• "Swingtime Canteen" is in full swing (pardon) at Actors this month, running until the 12th. The musical features the most popular music of the '40s, including big band sounds and the vocalizing of all-female groups like the Andrews Sisters. If you're too young to remember this music, take your mom or grandmom or dad and let them introduce you to some of the finest of American music of the 20th Century.
Tix and info: 1-800-4ATL-TIX (428-5849)
• Across the river in Clarksville, the Derby Dinner Playhouse will be presenting the Christian musical "Peace in the Valley" from August 8 through October 1. The musical is chock-a-block full of old familiar hymns and not a few laughs.
Tix and info: 812-288-8281
Reggae
• Burning Spear, whose Calling Rastafari got the 2000 Grammy nod for Best Reggae Album, will be jammin' in the spirit of Saint Bob of Marley at Headliners on August 30. Don't smoke any spliffs while you're there, if you please, or at least only in your mind.
Tix and info: 584-8088
Rock
• Jefferson Starship will warp into Downtown Louisville on the August 4, to kick of the Celebrate 2000 Festival. Can't say who is actually part of that band, but certainly Paul Kantner and Marty Ballin are still the main pilots and they'll make every effort to recreate as many of those old hits and new efforts as they can manage. Got no Grace, though, so the challenge is can their new female singer handle "White Rabbit"?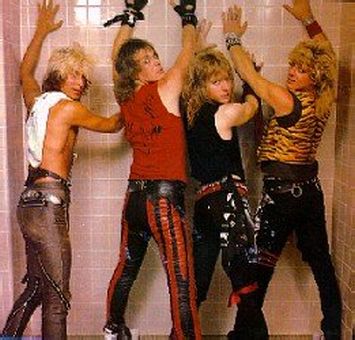 Jaci Velaquez
• It must be the month with those Age of Aquarius bands come to Louisville: on August 25, you can scoot over to New Albany to Kelsey's for a concert by Big Brother and the Holding Company, who were last here for the Blues Festival on 4th last year.
Tix and Info: 949-1001
• Col. Bruce Hampton, now joined by the Code Talkers, will bring his inspired rock and roll madness into the Phoenix Hill Tavern on August 3. There's no show like a Col. Bruce show, which, of course, must be experienced to be understood. Go there then.
Tix and info: 589-4957
• For the slightly older (ahem) metal fan, the concert of the month just has to be the Slaughter / Poison / Dokken / Cinderella show at the Gardens on August 24. Put on your back brace and go thrash.
Tix and info: 584-7777
• Whoops! No, the Gardens show is not the only must-see for those slightly older metal heads, it's the two Metallica shows at Rupp Arena on August 8 & 9, which are the make-up shows for the band's cancellation at the Kentucky Speedway. Dang, dude, it's like, really too much fun.
• For the somewhat younger folks, our very own famous rock and roll star Peter Searcy will be back at Headliners on August 18 with SuperDrag. Searcy is doing well with his new release and was just featured on a "World Cafe" segment, which is no small potatoes in the Americana market.
Tix and info: 584-8088
Rap/Hip-Hop/Urban
• Ton Loc, homie, at Waterfront Park on August 6, the Sunday concert presented by Celebrate 2000, formerly known as Strassenfest. C&C Music Factory opens the concert.
Swing
• Asleep at the Wheel could fall into the country category, but that category is way too busy this month, so instead, the Texas swing band gets the "Swing" label to itself. They'll be doing those Bob Wills songs (among others) at My Old Kentucky Home State Park in Bardstown on August 7.
Tix and info: 11-800-626-1563.