Brown & Williamson's Great Women Of Country Concert
benefiting
The Center For Women And Families at Papa John's Cardinal Stadium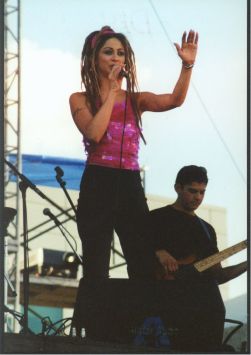 Alecia Elliott
Allecia Elliot
17-year-old contemporary country newcomer Allecia Elliot, who was discovered by veteran performer Lorrie Morgan at the ripe old age of 9-years-old, kicked off this 5 ½ hour concert sponsored by Brown & Williamson benefiting The Center For Women And Families with a respectable collection of material from her debut MCA album titled I'm Diggin' It, as well as an impressive standard by Patsy Cline.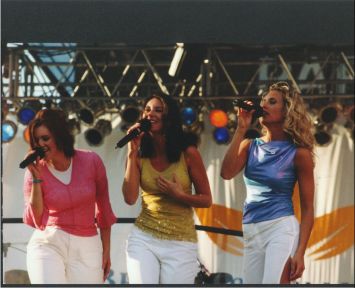 SheDsisey
SHeDAISY
The new trio SHeDAISY, which is comprised of sisters Kelsi, Kassidy, and Kristyn Osborn, may not be the Dixie Chicks, but they aren't doing too shabby in carving out their own niche in a world of pop country with hits like "Little Good-byes," "This Woman Needs," and "I Will…But." These gals will never be GREAT Women of Country, but they know how to offer a fun concert, and their runway model looks are sure show-stoppers!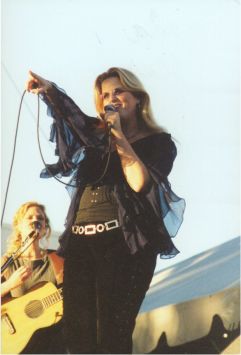 Trisha Yearwood
Trisha Yearwood
The title track to Trisha Yearwood 's latest album, Real Live Woman, describes this powerful country songstress to a T. Incredible performances of tunes such as "How Do I Live," "The Song Remembers When," "She's In Love With The Boy," and "Where Are You Now," prove that the country music industry knew what they were doing when they crowned Trisha ACM Top Female Vocalist in 1997 and CMA Female Vocalist of the Year in 1997 and 1998. This gal could sing the yellow pages and make it sound good!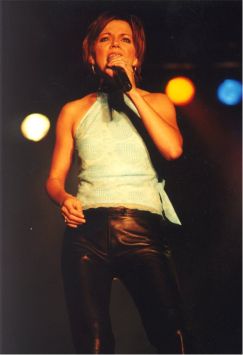 Martina McBride
Martina McBride
Although Reba was the headliner of this charity concert, the reigning Country Music Association Female Vocalist of the Year Martina McBride stole the show with women's anthems such as "Independence Day," "A Broken Wing," and "Love's The Only House," as well as crowd-pleasers such as "I Love You," "Happy Girl," and "Valentine." She may be little, but Martina's voice is bigger and stronger than all the others put together. One male concert-goer summed up Martina's show best: "When she finished singing 'Somewhere Over The Rainbow' [from the movie 'The Wizard Of Oz'], I could have just cried."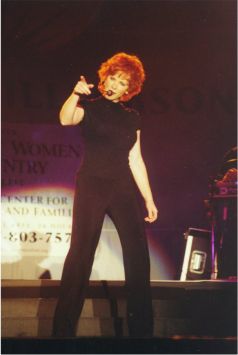 Reba McIntire
Reba McEntire
The red-headed fireball Reba McEntire, the most awarded female in country music history, is known for her glitz and glamour on stage, but in recent years, her stage production has been put on a serious diet. Although Reba's voice was in tip-top shape, her song-list merely included slick country from the past decade of her career, betraying her country roots and leaving the audience begging for hits like "Little Rock," "Whoever's In New England," "How Blue," and "For My Broken Heart." Although fans have grown to expect and appreciate her theatrics, the evening's shocking production of "Fancy" edged the concert's rating from a mild PG to a quite racy R. Reba, let's not forget where we came from and what got us where we are today!