Gee, It's Good To Be. . .
Back Home Again (Rounder)
Rhonda Vincent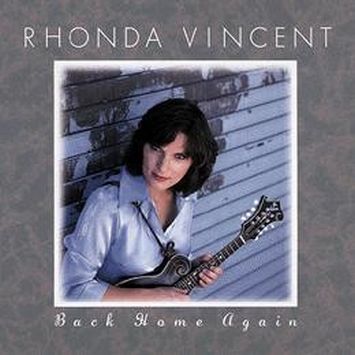 Recently featured in the Wall Street Journal, where she was called the "new queen of Bluegrass," Rhonda Vincent puts her heart and soul in every track on this release. "Lonesome Wind Blues" jump starts this high-flying project. Bryan Sutton lays down a fine guitar solo and Ron Stewart contributes some fancy fiddle work that sets the tone for a fine release. "Pretending I Don't Care" slows things down and Stewart's lonely fills are perfect.
Vincent's sensitivity is especially evident in "When I Close My Eyes," "Out of Hand," "You Don't Know How Lucky You Are," and "You're Running Wild." The most poignant track, however, is tender rendition of "Little Angels," a song that addresses the painful topic of child sexual abuse. Vincent's clean powerful vocals are backed by talented musicians who know how to support lyrics rather than overpower them. In addition to Bryan Sutton (Ricky Skaggs's> guitarist), Ron Stewart (who plays fiddle and banjo for Lynn Morris), Rhonda gets a hand from Jerry Douglas (everybody's dobro hero), and Glenn Duncan. This is a energetic recording that gets better each time you listen.
This twelve-song collection also contains a new cover for Dolly Parton's classic "Jolene." Other lively cuts include "You're In My Heart," "Passing of the Train," and an up-tempo gospel cut, "Keep Your Feet On the Ground."
Editor's Note – Due to an editorial mishap, an address was deleted from Bob's review last month of Southern Jazz: Swingin' in Paducah by Dr. Ted Bordofsky. You can obtain that through SouthernJazz Productions, PO Box 7301, Paducah KY 42002-7301. Call them at (502) 442-6600 or email Soujazz@aol.com.