His Father's Son
Heartbreak Town(Rounder)
Ronnie McCoury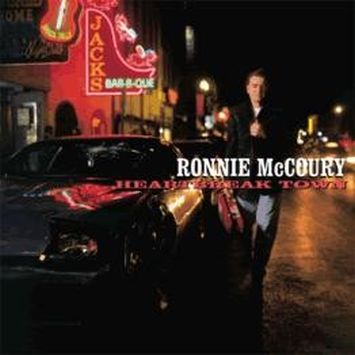 Recording of this release was actually started in 1997, but Ronnie McCoury has been a busy man traveling from coast to coast with The Del McCoury Band and being named IBMA Mandolin Player of the year, not once, but five times. This project, his first solo recording, unleashes a dandy potpourri of talent and musical genius that is going to get your toes tapping and your face grinning.
Nine of thirteen songs are original. McCoury's vocals leave no doubt that he is his father's son. He has a strong high lonesome sound that should soon be receiving the same kind of critical acclaim as his mandolin playing. The opening title track is unusual in that it is a chilling social commentary on the excessive amount of violence in our society.
This release is a mix of vocals garnished with tight original instrumentals such as "Dawggone," "Glen Rock," "Noppet Hill Breakdown," and "The Road From Coeburn to Warren." "Coeburn to Warren," especially, is filled with an obvious influence from the "Big Mon." Ronnie's nimble fingers work their usual jaw-dropping magic, and Bela Fleck's accompaniment is clear evidence of the talent from a new generation of Bluegrass musicians. Brother Rob McCoury's banjo is stellar throughout the release, especially his part in "Noppet Hill Breakdown." The recording also contains one of the finest Bluegrass cuts you will ever hear: "Somebody's Gonna Pay," a wonderful father-son duet featuring the Del McCoury Band.
This is a carefully-crafted release designed to make the most of individual strengths. It is not simply a celebrity jam. All the sidemen are known and respected musicians who are recognized as some of the best in the business: David Grisman, David Grier, Jerry Douglas, Stuart Duncan, Gene Wooten, Bela Fleck, Jason Carter, Mike Bub, and more. The guest artist roster is reason enough for Bluegrass fans to add this release to their collections.