December 2000 CD Reviews
Givin' the Blues to the Blues
No One Knew (Independent)
St. John's Wort
At first it seems ironic that a band that plays the blues also has the same name as an herbal anti-depressant. While music alone may not lift you out of a major depression, your spirits can certainly be lifted by the way Bruce "Bubba" Coy, Deanna Burnell, and Richard Roberts give the blues to the blues on No One Knew. So St. John's Wort is an appropriate name for this band.
This Louisville-based blues-rock band has at least three real strengths. First, they're smart to include some catchy Sixties and Seventies rock and pop influences in their work (Jimi Hendrix and Credence Clearwater Revisal, among others) to appeal to blues-virgin ears. Second, at least two members fill the role of lead singer (but obviously not at the same time) and fill it very well. And third, they play with versatility.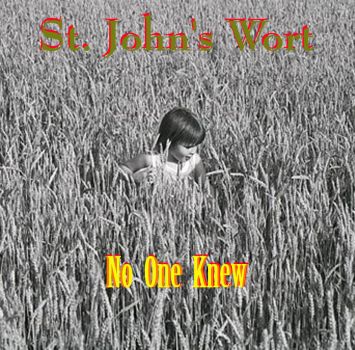 St, John's Wort - No One Knew
Most of the songs on this CD beckon all those within earshot to the dance floor, and songs like the sweaty, and erotic "Worry Wort Blues" cook as only great blues can, like a stew in a musical crock pot suggesting that couples go elsewhere for their privacy. You might notice steam wafting from your speakers, and you will surely not be able to sit still through No One Knew. This is a party CD.
Kicking off the party is the uptempo "Send Me a Letter," which shows that St. John's Wort has done some homework, as it borrows a guitar riff from the old blues song "That Same Thing," (covered in the late Seventies by George Thorogood) and has a vocalist who might be mistaken for Johnny Winter. Among several other radio-friendly songs, "Boardwalk" evokes Mellencamp at the beach. Sentimental and pretty, but it blazes. If you'd grown up near one coastline or the other, you might understand the song's appeal. "Skin" is a rocking blues visited by the spirit of the Archie Bell & the Drell's oldie, "Tighten Up," but with a more assertive fever.
Overall, No One Knew is good, fun material for today's rock radio youth. Enjoy it during a party at home, but use caution if listening to it while driving. This music could arouse the lead in your foot and result in an unwanted encounter with Louisville's finest.
Internal Struggle
External Forces (Independent Records)
Tony Hornback
Tony Hornback has written, produced, recorded, mixed, and mastered a recording of 13 original songs and two Leonard Cohen covers for his album titled External Forces. On Hornback's original tunes he weaves tales of characters in isolation and contemplation. Their stories are of both internal and external struggle. The emotional content ranges from love and joy to depreciative self-loathing and pain.
The theme of the album is self and one's perception of self. The fourth track, "I Am The Wilderness," is a scenic monologue where Hornback sings, "I am a refugee from myself sorting out destiny." Another track expounds on the theme and contemplates one's destiny in such lines as, "there has got to be a reason to be here / Like the leaf on the tree".
The album takes a musical turn with the playful melodies of the first of two instrumentals. In "Left of Time," the principal voice is a toy piano. Hornback plunks its melodies along with child-like meter and ease, but in a contemplative key. The second is "Not So Lucky" and seems a bit contrived compared to "Left of Time," with programmed drum fills and out of nowhere guitar riffs that don't have much of a story to tell.
One of my favorite tunes on the record was "Smile." The opening piano riff caught my toes tapping immediately and the simple message of "come on everybody smile and have fun" was a perfect chorus.
It was also Hornback's way of painting a frame of light into a picture that can be very dark – the one of self-discovery.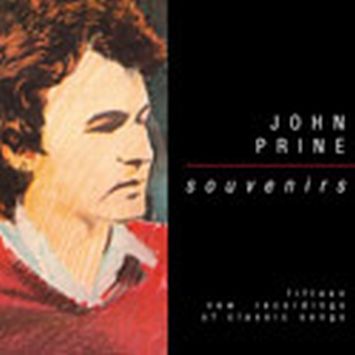 Souvenirs - John Prine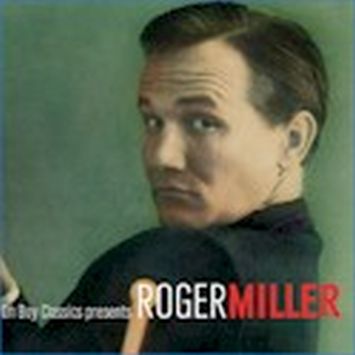 Oh Boy Classics Presents Roger Miller
A Pair of Essentials
Souvenirs (Oh Boy Records)
John Prine
Oh Boy Classics Presents Roger Miller (Oh Boy Classics)
Roger Miller
One was born in the Texas during the Great Depression. The other was born in Illinois after World War II. One had a job picking cotton. The other worked as mail carrier in Chicago. Both had short stints in the Army. One later wrote the music for a successful Broadway production of a famous American novel, but died of lung cancer less than 10 years later. The other has continued to write, record, and even create his own record label (and a year ago underwent treatment for a cancer on his neck).
They both have written songs loaded with wit and despondency. Mostly their songs are about the folks hidden (sometimes deliberately) in the background of this hectic world: prisoners, hoboes, soldiers hopped up on dope, grandparents, hosts of kiddie shows, men who booze away their grocery money and rent. Both use language as a tool and a toy. Both have written songs performed by others, notably "Tall, Tall Trees" and "Angel from Montgomery."
Now both have concise retrospectives of their work: Oh Boy Classics Presents Roger Miller and Souvenirs by John Prine, both from Prine's Oh Boy Records.
Far from being a slapped-together "best of" collection Prine has re-recorded many of his famous songs for Souvenirs. His original intent was to have his own master copies of the songs and release the recording in Europe because, as he says in his liner notes, "I have always wanted to be popular in Germany." But he decided to release it in the US because he would "like to be popular there as well."
In a career that has spanned nearly three decades, John Prine has gone from fringe-level folkie to entrepreneur. Those three decades have been pocked with periods of deep disillusionment: Watergate, a war the nation tried to forget as quickly as it forgot the people who fought it, the rise of junk-bond affluence, an overwrought presidential sex scandal that exploded like a wet firecracker. Throughout the decades Prine's music has reacted to the disillusionment not by slinging invectives as those in power, but by illustrating the trickle-down effect of those times through small stories of ordinary folks, of their struggles and tinhorn dreams. Prine's best of those are in Souvenirs.
With simple acoustic instrumentation and no overmastered studio glitz, Prine re-spins the stories of "Sam Stone," the heroin-addicted family man who returns from Vietnam with a "Purple Heart and a monkey on his back." He joyously tells us about his grandparents in "Grandpa Was a Carpenter" and asks for our compassion toward the lonely elderly in "Hello in There." These and the others are performed with a quiet simplicity. They are cathartic lullabies for the sad.
But not all of Prine's music is heavy with sadness or sarcasm. His lighter side comes through with "Please Don't Bury Me." Missing from this compilation is the popular concert sing-along "Dear Abby." But where Prine lacks humor in Souvenirs, the late Roger Miller more than makes up for it in Oh Boy Classics Presents Roger Miller. Selected by John Prine's son Billy, 16 of Miller's best get revisited and remastered for a clean sound that makes them seem as if they had just come off the CD burner. The songs included represent Miller's work during the 1960s, his most productive, award-winning years. We get the verbal zaniness of "Chug-A-Lug," "Do-Wacka-Do," and "You Can't Rollerskate in a Buffalo Herd." The country cool of his trademark "King of the Road." And the heartbreak of "The Last Word in Lonesome Is Me" and "When Two Worlds Collide."
Miller's lyrical acrobatics are plentiful. No poet or songwriter could ever attempt "Roses are red, violets are purple / Sugar is sweet and so's maple syrple" (from "Dang Me") and make it work. Likewise, not many could so succinctly describe the emotional distance that has grown between a couple as he sings "Two broken hearts, lonely-lookin' lighthouses / Where nobody lives" in "Husbands and Wives." And "Don't We All Have the Right to be Wrong" could be used as a prelude to softening any conflict, from a marriage counseling session to Israeli-Palestinian peace talks.
Where Prine and Miller succeed as songwriters is in the empathy they bring to their music. Both had been divorced, so they can sing about the pain people cause each other. Both had worked in difficult jobs before they became songwriters, so they can sing about the ordinary lives of ordinary folks. But both also viewed the world slightly askew, so they can sing to make us laugh.
Laughter and empathy: two essentials for living.
Souvenirs and Oh Boy Classics Presents Roger Miller: two essential collections of modern songwriting.
And You Thought It Was Only Good as a Color for Ceiling Paint
Beautiful Beige (Tripp Records)
Eddie Starr
Inspiration can come at the most unlikely of times. Saint Louis performer Eddie Starr was innocently transferring an out-of-print LP by The Cowsills to CD, when he heard a little known gem of a song called "Beautiful Beige." Apparently impressed by what he heard, a year later he brings us this recording to consider. Beautiful Beige isn't so much a sixties cover version, as it is a concept to launch Starr's musical juggernaut he has entitled The Telegraph Roadsign. Where once he used to champion the plight of the hourly worker (as in his solo debut Singin' Rhymes and Carryin' Signs), he now conveys an almost "summer of love" vibe with the color beige representing the idea of neutrality. Not unlike the shades of gray that surround society today, beige actually compliments the rainbow spectrum of colors that contain anything but black and white. In other words, many diversified ideas are tolerated, not just the polar opposites of opinion.
Musically, the title cut sets the standard for what follows: melodic late sixties pop with numerous Beatles and Hollies references. It's obvious Starr put a great deal of reverent attention into the craft of this cut, with the finished product being such that it's hard not to find your self humming this tune, especially after repeated listenings via the auto-repeat button. "Slumbers Delight" sounds as if it could have been a B-side of a mid-sixties Hollies single, with Starr doing his best wide-eyed English boy vocal delivery. Starr's use of the wood recorder only tends to add to the wistfulness of this waltz-tempoed opus, and the incredible thing about this song is the orchestral passion that is generated with what must have been a shoe-string budget.
Speaking of shoe-string budgets, the narrator of "Richest Man in the Whole Universe" proclaims that wealth maybe more correctly measured by the presence of health, family, and friends; than by the size of any bank account one may possess. That song's place on Beautiful Beige is kind of reminiscent of "With A Little Help From My Friends" relation to the Sergeant Pepper album: a celebration of the limitations of the ordinary, average mortal.
Although far from average, Beautiful Beige, with a mere eight tracks, does tend to leave the listener wanting to hear a few more songs to flesh-out the overall effect. However, considering the aforementioned shoe-string budgets that most independent artist are forced to create with, we'll settle for quality as opposed to quantity.
Information to purchase Beautiful Beige is available at www.telegraphroadsign.com.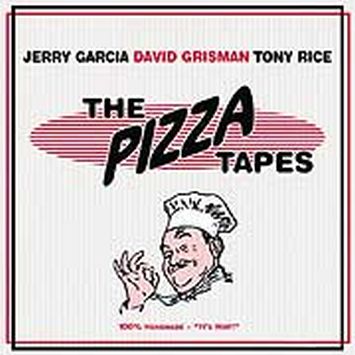 The Pizza Tapes - Jerry Garcia, David Grisman and Tony Rice
A Carryout Jam
The Pizza Tapes (Acoustic Disk)
Jerry Garcia, David Grisman, and Tony Rice
If you are hungry for some tasty impromptu pickin' and grinnin', The Pizza Tapes may be just what you crave. This release is an opportunity to hear three giants in a totally natural and relaxed setting. No retakes. No fancy technological gimmicks. Just three super talents with their guitars and mandolins.
Although the recordings were made in 1975, their official release was not until this year. "Official" is the operative word because bootleg copies of the sessions have been in underground circulation for twenty years. How? No one knows with certainty, but the speculation is that a pizza delivery boy lifted Jerry Garcia's personal copy of a cassette from a kitchen counter. From there it made its way to a New York radio station where it was broadcast and the rest, as they say, is history.
Now, at last, there is an "official" release of the original recording of the one and only time when David Grisman, Tony Rice and Jerry Garcia played together. The CD is seventy-three minutes of extemporaneous music and chatter. It is almost as if you are a fly on the wall (you just won't risk being swatted). The historical value of this project is enhanced by the inclusion of tracks that capture the only recording ever made of Garcia singing "Long Black Veil," "House of the Rising Sun," "Man of Constant Sorrow" and "Amazing Grace."
Grisman and Rice provide consistently exciting and extraordinary backup. As "Louis Collins" comes to an end, the guys are heard laughing with a feeling of accomplishment and satisfaction. Then someone says, "It had moments of brilliance." It is interesting to hear the men evaluate their playing. For example, they describe "Shady Grove" as "smoking" (that is to say fast, clean and together). There could not be a more appropriate word for it.
Two other of the most outstanding tracks on The Pizza Tapes are swinging instrumentals: a smooth and cool "Guitar Space" and a jazzy version of Miles Davis's "So What."
In this reviewer's opinion, it is usually interesting the musician's small talk between numbers but this CD is not improved by the frequency of the F-word. Such vulgarity has nothing to do with the music and should have been deleted.
Acoustic Disc, the Pizza Tapes label, is dedicated to the preservation and integrity of acoustic music, musicians, and instruments. This project certainly achieves that goal. For more information, write to Box 4143, San Rafel CA 94913. You can also call 1-800-221-DISC, or on the Internet visit www.dawgnet.com.
Three Bags Full, Sir
Cotton Baggin' 2000 (OMS Records)
Kenny Baker
At age 74, he still has it. Although Baker has countless recordings under his belt, this is his debut release for OMS Records. And what a release it is. The project, his first solo effort in over a decade, is a welcome end to a long musical drought. Kenny's mountain longbow style is as smooth as ever. His fingers literally dance over the fingerboard and can produce a sweet sound when they slow down for a waltz.
Ever since his first stint with Bill Monroe, other fiddlers have copied arrangements note for note and tried to emulate his unique fluency. Indeed, he has been a major force, setting the standard for those who love the original recipe for Bluegrass music. Monroe repeatedly introduced Baker, with good reason, as the "greatest fiddler in bluegrass." One listen to this recording will confirm what Monroe said.
Ably assisting Baker old friends who themselves are held in high esteem by the discriminating Bluegrass fan: Jessie McReynolds and Bobbie Osborne on mandolin, Josh Graves on dobro; and Blaine Sprouse on twin fiddle. Rounding out the sidemen are Ernie Sykes on bass; Hugh Moore on banjo; and Billy Rose on guitar.
Six tracks are Baker originals and five tracks are from the pen of Bill Monroe. Some of the more illustrious cuts include a zesty "Pretty Birdie," which also contains some fine upright bass work. Bobbie Osburne outdoes himself on an extended arrangement of "Paris Waltz," perhaps the loveliest piece of the project. "Road To Columbus" is a new cover for Baker's legendary classic recording. Moore's banjo and McReynolds's mandolin work are breathtaking.
To learn more or to obtain a copy of this CD contact OMS Records, PO Box 52112, Durham NC, 27717. On the web, visit www.omsrecords.com.