Dan Hicks & the Hot Licks
Okay, let's admit it right up front – Dan Hicks is not politically correct. Any musician who would call his two-woman backup vocal crew "the Lickettes" has failed the Proper Feminist Test.
That having been said, it should be noted that few, if any, in the near-capacity crowd on Thanksgiving night at Jim Porter's left in a huff over his mild Nineties apostasy. Indeed, the predominately boomer-aged crowd was considerably calmer than the last time Hicks appeared there, reflecting either advancing age or the effects of too much turkey.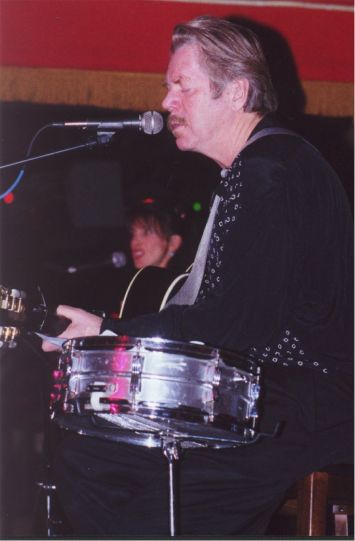 Dan Hicks
T The failure of the opening performer to appear delayed the kick-off of the show but advanced the appearance of Hicks, who was forced to sit on stage while a sound check was performed. (His comments were less than laudatory.) That completed, he launched directly into "Canned Music," his diatribe against the domination of recorded music. True to his reputation for liking old music, he followed that with a Hicksian version of Red Foley's hit, "Chattanooga Shoeshine Boy," then the Les Brown-penned "Comes Love."
Hicks' sarcastic, self-deprecating humor was evident throughout the show, though he delivered his bon mots with a certain relaxed casualness that suggested a cooling of the fires. His songs, however, have lost nothing: "I Scare Myself" still worked; "Where's The Money?" was as pointed as always, and the splendidly titled "How Can I Miss You When You Won't Go Away?" reminded that country music doesn't have a lock on punchy titles. The instrumental portion of the show offered extended solos on a medley of "Caravan" and a tune called "Four Brothers."
The new CD, Beatin' the Heat, provided Hicks' take on the Tom Waits barfly tune, "The Piano Has Been Drinking." If anything, Hicks' vocals improved the tune. Beatin' the Heat also was the source of another Hicksian thread: every time he mentioned the name of the CD, the "Lickettes" would tear off a three-second bit of Betty Boop-ish melody and dance routine, an idea that could be adopted and adapted by other acts peddling their products.
The evening went by far too quickly, as it often does in at a Hicks show. The band put a wrap on the night with the peculiar "I've Got a Capo on My Brain," complete with high-pitched vocals, then headed for the CD table to sell Beatin' the Heat.
Boo doo de doop.