Down On The Corner
• For those of you who might have thought that the cover of the November issue was yet another screw-up by the clowns and idiots at Louisville Music News, please note that the photo was provided by Elliott's record company and looked exactly like what was on the cover.
The band was one the West Coast on tour and was unavailable for a photograph session, hence the headline "Too Damned Busy To Pose." While the record company was cooperative about sending what pictures they had or could find, of the four photos they provided, the one we used was the only one that would work on the cover, due to technical issues, specifically, aspect ratio. We make every effort to shoot our own cover photos, thanks to Ralph Sidway and Jim Moses, and will redouble those efforts in the future. In the meantime, we apologize for the less-than-wonderful cover.
• The Grace Notes column has been taken over by Chris Cain, who works at Christian radio station WJIE. Chuck Jeter found that time constraints prevented him from continuing. Thanks for your work, Chuck and welcome Chris.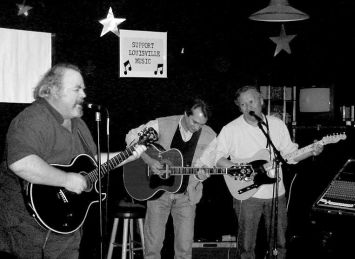 Tim Krekel And Friends
• Comes the fall and new activities always seem to start up in the Louisville music scene. At the Lighthouse on Frankfort at Pope, a Tuesday night open stage has been attracting a fair number of working players, some of whom live in the immediate neighborhood. The host is John Thornbury and things kick off at 8 p.m. Like most such events involving musicians, however, it doesn't really get hot until some time later in the evening, so you can drop by most any time after eight for some impromptu jams. Those of you who remember that room several incarnations back will find that it has been thoroughly rehabbed and cleaned up and is all-in-all a comfortable establishment to listen to music and have a meal.
• Since we're on Frankfort, we should mention The Frankfort Avenue Pub, 2248 Frankfort Ave., just up the street a ways from the Lighthouse. Mark Watson of the Marks has been playing this little room and touting the place pretty heavily. The new owner, Karen Maddox, is very much interested in establishing the space as a music room, a la the Twice Told Coffeehouse, though TFAP is a beer bar, not a coffeehouse. It is, as they say, intimate.
• Hasting's, the entertainment software store on the Outer Loop at Preston has closed. That's one less outlet for Louisville music.
• Speaking of the Marks, the sometime drummer for that act, John Hayes, who is a carpenter in his "real" life, has taken to building drums, including a set that he played for the first time on a recent taping of the television show "Mid City Mix." He's so into it that he has named his drum building business Acoustic Woods. He's currently trying to get a little publicity for his drums, so keep your eyes open.
• Louisville band New World Buffet is now Monorail, beginning in December. With the addition of two new members this fall, the sound has evolved significantly, hence giving rise to a new band "personality." They are currently at work on their next album, scheduled for release early in 2001.
• Heidi Howe is looking for some new singer/songwriters for a monthly artist showcase she is hosting at O'Shea's. By "new," she means folks who are recently new at the business. It's whatcha call an opportunity. Contact Heidi at Heidi@HeidiHowe.com
• If you're looking for a suitable Christmas gift for your favorite music lover, then you know what you have to do: buy them some Louisville music. You'll give a double gift: the recipient will get some fine tunes to listen to and the Louisville musician will get some money, which will encourage that musician to make more money. Simple, huh? Merry Christmas.
• If you're going downtown to the Kentucky Center for the Arts, you'll find that you can't go in the front door - the steps are blocked off by construction. Go to the Drive-Thru entrance on the left and go that way or come in from the Belvedere or take the elevator from the parking garage. It'll be that way for some time, it appears.
• The 2001 University of Louisville Grawemeyer Award for Music Composition has been awarded to French avant-garde composer Pierre Boulez, one of the more prolific and influential composers of the last half-century years. He won the $200,000 prize for his 1998 composition "Sur Incises," scored for three pianos, three harps and three banks of percussion instruments.
In spite of the size of the prize, Boulez will not attend the award ceremony in April. He hopes to make a quick dash by sometime in 2002, in between trips to bigger cities. Described as an atonalist, Boulez' works have often been criticized as inaccessible and difficult to understand by non-specialist audiences. Boulez says that the audience should "have confidence in the composer."
The Grawemeyer Award for Music Composition has been given annually since 1985, when the award was created by an endowment from the late H. Charles Grawemeyer, industrialist and philanthropist. The UofL-based foundation also awards prizes in psychology, education, religion and world order.