• Christian music's most popular group, dc Talk, took part in a live television broadcast November 18 in Nashville. The program, titled "A Decade of dc Talk", aired coast to coast on the PAX network.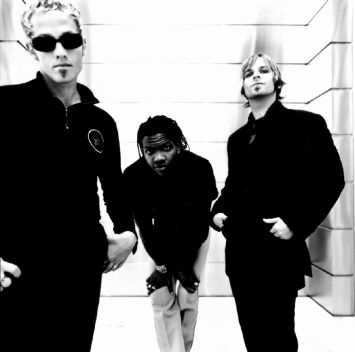 dc Talk

"Decade" marks several milestones in the career of dc Talk (Toby McKeehan, Michael Tait, and Kevin Max). First, dc Talk released a greatest hits album, Intermission: The Greatest Hits on November 21. Second, the group celebrated its first double platinum certification for an album, Jesus Freak, in October. Third, each member of the group is in fact taking an "intermission". All three plan on releasing solo projects in 2001.

While "Decade" turned out to be an interesting look back at dc Talk's eleven-year rise from independent rap group to major label powerhouse, the program addressed the biggest issue right up front. As the show opened, a narrator announced in a robotic voice, "Attention ladies and gentlemen! Attention ladies and gentlemen! dc Talk is not breaking up!"

Since the end of the group's 1998-99 "Supernatural Experience" tour, rumors have circulated that the group was going to put out one more release, a greatest hits compilation, and break up. Word was that Max, who could be described as the "loose cannon" of the group, wanted to go solo and that Tait and McKeehan were happy to oblige. As it turns out, all three members have been working on solo projects, and Max says the group never talked about breaking up. All three members admit there have been personality clashes in the past, and Max admits that he likes to "push people's buttons . . . sometimes too far". But dc Talk emphasized that they are not breaking up.

"Decade" did, as expected, take a look back at the highs and lows of the group since their 1989 self-titled debut. For newer fans of the group, some of the older footage of the band, in its old school rap days had to be an eye-opening experience. Toby Mac (McKeehan), K-Max (Max), and, yes, MC Comfy (Tait) danced and rapped in a way that was totally in sync with the Tone Loc's and Young MCs of the late 80s and early 90s. "I offer no apologies (for our older music)," said McKeehan, who then laughed and said, "O.K. maybe some apologies." Max referred to the music as, among other things, "dumb . . . and honest."

Critics slammed their debut. I remember thinking they were a musical embarrassment to the Christian community. However, that debut album struck a chord with fans, and soon dc Talk was on their way to becoming one of Christian music's biggest sellers.

By 1995's Jesus Freak, dc Talk's popularity was about to go through the roof. They inked a deal with Virgin Records to market their music into the "mainstream", and MTV put the video for "Between You and Me" into rotation. The album went on to sell over 2 million copies.

1998's Supernatural was a hit with the critics (Rolling Stone gave it three stars) and fans (over 100,000 copies sold it's first week out). It debuted at #4 on the Billboard Top 200 Albums Chart. The group embarked on one of the most successful concert tours of the year.

I attended the broadcast of "Decade" which aired from a TNN sound stage next to the Grand Ole Opry. The director's daughter sat next to me. She said she grew up watching "Hee Haw" filmed on that set. Now that's cool.

All three guys were relaxed and joked around almost the entire time, both on and off camera. Kevin Max's often strange antics on-camera were no different off-camera. On-camera, he wore a purple feather boa with his suit (all three members were in suits) and bizarre red or purple glasses. Off-camera, during commercial breaks, he was a man in motion: disappearing off stage until seconds before air time, joking with the in-studio audience and even knocking over the lamp next to the couch the group was sitting on for the program. The lamp never came back on and the director did not look happy.

Toby McKeehan and Michael Tait were much more laid back, taking questions from the crowd and from across the country via telephone and e-mail. Tait appeared a little nervous at times, but McKeehan seemed like he'd done it a thousand times before.

"Decade" was an interesting look at the career of one of the most talked about groups in music and it did answer the question: Is dc Talk breaking up? The answer is no. For now.

**Also in stores now, Michael W. Smith's instrumental release, Freedom. The Michael W. Smith/Anointed/Katinas Christmas tour kicked off on 12/1 in Normal, Ill. Expect to Christmas music along with selections from the new release.

• Wow 2001-The Year's Top 30 Artists and Hits had a big debut recently, coming in at #36 on the Billboard Top 200 Albums Chart for the week of November 18th. The album features a variety of artists from Steven Curtis Chapman to P.O.D.

<

• Amidst rumors of a band break-up, modern rock worship band Sonicflood recently launched the 30-city "Sonicpraise" Tour. The tour kicked off in Louisville at St. Matthews Baptist Church in September. The tour visited Cincinnati, Denver, Seattle and Minneapolis before ending in Atlanta on November 12. In addition, Sonicflood has recently signed new management and booking agreements with Muse Management and The Breen Agency.

The first weekend of the tour produced great responses from concert attendees and promoters alike. Said Mike Clark, promoter of three of the first Sonicflood tour dates (including Louisville): "We had a wonderful experience with Sonicflood. The audience had an excellent time and the worship was very well done. The band was great and I look forward to working with Sonicflood in the future!" I was at the Louisville date and can tell you that the crowd response was very enthusiastic, to both Sonicflood and opening band Tree 63.