Louisville Rock Lowdown
"The Marks"
You've seen the 8 1/2/X 11" flyers around town: "SUPPORT LOUISVILLE MUSIC." You can thank Mark Watson for most of those public service announcements.
"We want to get people out of the mindset that every local act out there is mediocre," Mark Watson said
Watson and his band of gypsies are known as The Marks, a name he's used since June of 1998. Watson is a dynamic saxophonist/vocalist. I first had the opportunity to see The Marks at the Golden Nugget (with former partner David Marcum) last March. If you had a chance to read the November '99 issue of LMN, you would have noticed the guys on the cover and learned all about them via Tim Roberts. Since then, Marcum has left and Watson has assembled a full band to be the Marks.
Since the cover story, the band released their new album, Beer and Chocolate, and has been busy playing gigs all across town. Mark and his boys are some of the most actively gigging Louisville musicians around. They can often be found at the Air Devil's Inn, Twice Told Coffee House, O'Sheas, Frankfort Ave. Pub, and on and on. The Marks recently made an outstanding performance on the weekly television show "Mid City Mix," which is taped at the Comedy Caravan monthly. Watch for its airing on WYCS Channel 24, Thursday nights at 8:30 p.m. Be sure to keep yourself up to date on the Marks show dates, as well as all local band dates in our Live Music Calendar or on the web at louisvillemusicnews.com.
Their sound has been described as "pop-and-roll by Jeffrey Lee Puckett of the C-J, and their feel was described by our own Tim Roberts as "a finger snappy bounce" I would best describe them as "Pop Rocks," like the candy. Sweet and sour at the same time. Explosive when necessary, yet savvy enough to make it all better if you didn't like it at first.
Mark Watson is animated in every way. (Man, this is already sounding like a bad dating service ad, isn't it?) He was animated, literally, the first night I watched him and his partner in crime play at the Golden Nugget. His Loony Tunes T-shirt was a very good depiction of his stage persona. The backwards baseball cap further reinforced this, as well as the blue-jean shorts in the cold, rainy weather and the black sunglasses he was wearing indoors (and at night), which were reminiscent of a ZZ Top concert.
While the Marks write most of their own material, they also use tunes by friends of the band, bringing a whole new meaning to "group effort." The band draws influences from many different acts and genres: the Beatles, Tom Petty, Paul Simon, Aretha Franklin, Patsy Cline, Hank Williams, Sr. and Living Color. Even Sly and the Family Stone made it into the discussion of favorites, especially of Mark's, considering his love of horn sections.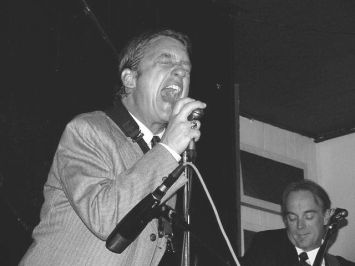 Mark Watson, left, and John Grammer
The instrumentation of the band is a little unexpected: saxophones of all shapes and sizes and guitars (along with vocals). Mark plays tenor, alto, baritone, soprano and C melody saxophones in his recordings and live acts. Since David Marcum's departure from the duo, Mark has been in the habit of playing out with a full band, the Markshow, which includes drums, acoustic guitar, electric guitar, bass and backup vocals from all of the above.
The group thinks it important to cater to the audience in any situation, whenever possible, without "selling out." They mix in a few cover songs (that have not already been played to death). I heard them do a version of Pink Floyd's "Wish You Were Here" that was done rather . . . differently. The same is true for Eric Clapton's "Wonderful Tonight," only it was stretched further from the original than even the previously mentioned tune. Being able to understand the lyrics also seems to be a crucial element as well.
You can e-mail Mark at: themarks9@juno.com for information on shows, booking or merchandise. Mark is well known for putting out e-mails on a regular basis to let everyone know their busy playing schedule.
Be sure to go check out the Marks live sometime and treat yourself to a night of good music. Beer never hurts either. Neither does a good-looking date to accompany you, along with a game or two of pool. Maybe a dance by the jukebox to Stevie Ray Vaughn's "Little Wing" in between the band's sets is a good idea too.
Who the hell am I fooling? I need a date bad! But I digress…
Hallopalooza did not go well for me (the promoter), as anyone who attended can tell you. I had a rough night, filled with a late start, a low attendance, a fiery, deafening explosion, a broken window and a headlining band that did not show up. Here's the skinny: things started a little late with Inmate 42, who played a killer set. A big thanks goes out to those guys for coming through for me at the last minute. The band is great, you should go check them out sometime soon.
The band Scout's Honor kept things rolling with a powerful set, but, much like Inmate 42, had a small crowd to play to. Scout's Honor is another excellent band whom everyone should go see. They, too, came through for me at the last minute. I have had an opportunity to play other gigs with both bands and really enjoyed them.
Things got a little shaky after this point, as an impromptu reunion of The Slackers for a cover of "One," then an impromptu reunion of Captain Ameba occurred for a few cover songs, serving as a pathway which sped downhill at the speed of light. The dark cloud parked over my head when my own band's pyrotechnics went wrong, causing an explosion that nearly killed everyone within a 3-mile radius. (You may have seen the giant mushroom cloud that was in the sky over the building.) It deafened our bass player, blew out a few of our amplifiers, split a metal flash-pot in half and filled the entire hall with an opaque smoke. Oh yeah, it also scared people. It goes without saying that we did not make it through our first song.
Aqua Jones and some free prizes I gave away made things all better for a while, bringing people back into the building and erasing the explosion from their memories momentarily. The band (Aqua Jones) kicked and really contributed to the smoothness (if that were possible) of the rest of the night. A big thanks goes out to them as well.
Then, last but not least, Flaw did not show up, nor did they call me to let me know what was going on. I talked to them the next day, and they said they had some "issues" come up with the police at a party they were playing at before the show. No hard feelings, but a phone call would have been nice. Congratulations to them on their record deal, and I wish them the best of luck in the future.
As far as this whole "putting on a show" thing goes, it sucks. Sen canceled, Sabrosa Red canceled and Flaw did not show up. This was magnified by all the shady stuff that happened at the show. It is a lot of hard work, and it is difficult to succeed at.
Will I do it again? Yes. I love music too much not to. I have so much respect for the people who are not afraid to take risks like that, and who actually do something about the scene instead of just complaining about it. Which leads me to…
Another risk-taker who loves music, Colby Keeler (a Sony representative) is putting on a show at Headliner's December 16, called the First Annual Louisville Metal Festival. Bands scheduled to appear include local heavies Flaw, Aqua Jones, E-Flat, Faceplant, Factor IX, Incursion 502, Intak, Leaves and MSD. Admission is $10. The event will also include some surprises, such as fire-eaters, dancers and tattooing. It will be the best show going that night, so no excuses for not being there!
Support the supporters of local music and give some love to the bands making it happen. We need to keep this kind of thing alive and not limit ourselves to the mediocre shows that happen every weekend.
Be sure to keep checking the Live Music Calendar in the center of the Louisville Music News every month for all the best shows around town! Keep rocking' and sending me your band information for upcoming installments of the Louisville Rock Lowdown. Send your E-mail to me at JJKSLACKER@cs.com or leave a message at (502) 262-8728.
SUPPORT LOUISVILLE MUSIC!