An Interview with Vinnie Paul of Pantera
I had the privilege of interviewing one the best drummers in the world today, Vinnie Paul of Pantera. At the time of the interview, a tour was scheduled with Morbid Angel and Kitty, with a Louisville date of December 3 at the Gardens. All that has changed, due to an unfortunate accident at the House of Shock, when lead singer Phil Anselmo broke two of his ribs, resulting in the postponement of the tour. The new Louisville date has been moved to March 2, 2001. The venue is still the Gardens, but the supporting acts will change slightly, now featuring Morbid Angel and Soulfly.
Here is the chat that I had with Mr. Paul…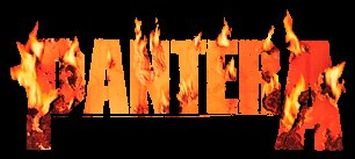 LMN: You guys are gearing up to go on the road with kitty and Morbid Angel: how did you choose the lineup?
VP: Well, it was pretty simple, I mean… we were on Ozzfest, and obviously the Kitty girls are big Pantera fans, they were over at our dressing rooms several times to have some drinks. We went over and saw them three or four nights in a row and it was just amazing: the crowd reaction that they got, and how many people were always coming over to the side stage to see them, and they always had the biggest crowd over there, so… we knew a lot of people really liked them, and they're just really, really cool people. We enjoyed them, and they just jam the f%#k out, so we hooked them up. We always feel like it is important to us to bring an underground band on tour with us, a band that might not ever play anything but a small club, you know? The Morbid Angel guys have always expressed interest in touring with Pantera, and the time was just right. We got a heavy, heavy dark underground band, we got a new up-and-coming band and then you got the Kings of Heavy Metal - Pantera!
LMN: Absolutely sounds good. What kind of new additions and surprises will Pantera fans be in store for on this upcoming tour?
VP: Well, I think that anybody that is a Pantera fan knows that we've always been about the band, the fans and the music. It's never been about a big, elaborate Hollywood production or anything like that, but we do have a couple of licks and tricks. We bring a hell of a live show. We always bring a f*****g PA bigger than anybody else's, and we just jam. That's the bottom line. So they can expect nothing more, nothing less than what they've ever had in the past, but they will get their ass kicked and that's the bottom line.
LMN: I hear you guys are working on material for the "Dracula 2000" soundtrack.
VP: Done! All done. Comes out December 2nd, the song is called "Avoid the Light." It's a very, very cool, dark song, obviously with a title like "Avoid the Light." It's all about Draculas… and it was specifically written for the movie, they actually approached us and really wanted us to be a part of it: all of us being horror movie fans, and Halloween and Draculas, vampires and all that s&*t. Pretty cool with us, so we did the song and it turned out great. It's a cool song and it's something that I think that anyone that's into Pantera will dig. I think it's a song that a lot of people that don't listen to Pantera and aren't really into that s%#t will find attractive to them.
LMN: Where did you guys record that?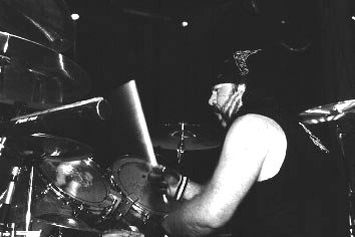 Vinnie Paul At Ozzfest
VP: We pretty much do everything at our studio (in Texas).
LMN: What are the bands' plans after this tour?
VP:We have a long ways to go for this record. We did two months in Europe, a couple weeks in Japan, we just did three months on the Ozzfest, we just played in South America, and we are getting a little break now. We start back on our headlining tour here in the States till the middle of December, take a little break for Christmas and New Year's. We start back at the end of January, go all the way through February and March in the U. S., and then we go to Australia, New Zealand, Japan, Korea, all that s**t. Then it is South America, and then we take a little break and we will either do one more summer time tour in the U.S. or start working on the new record then.
LMN: You have got to be the most touring band I have ever heard of!
VP: Well, we are a band that doesn't rely on MTV or the radio to take our music to the people, we do it ourselves, we've always done it that way, so it is important for us to tour.
LMN: Speaking of which, I know you don't get a lot of support from mainstream media like MTV and such, so do you think the support of the fans in the underground scene made it easier to stay true to your roots musically?
VP: Look at it this way: I don't ever have to worry about my next record not having a hit. Bands come out and they have a hit, and the next record for some reason, radio decides that song is not a hit- their career is over. You know, for us, we consider every song we write a hit. Just because they don't play it on the radio, it's not a hit- but to us, it's a hit, and to our fans it's a hit. Being able to be a live band, and be something that is "grassroots" so to speak has definitely worked to our advantage.
LMN: I compare that to Tori Amos, believe it or not, because everybody that goes to her shows is a Tori Amos fan, everybody that goes to a Pantera show is definitely a Pantera fan.
VP: Absolutely. I totally agree with you.
LMN: I dig that a lot. So how do you guys keep from killing each other out on the road spending so much time together in tight quarters?
VP: It's easy. We learned a long time ago that it is a give and take world. We are one of the only bands I can think of that has been together as long as we have. When Phil joined the band it was '86, that's f*****g 14 years now, so we know when somebody's had enough of this or that, when somebody needs a little space, or when somebody needs a little pep talk or whatever. We really love doing what we do; otherwise we wouldn't do it. Especially when we have done it this long and we are still enjoying it. It's not a difficult thing for us.
LMN: You are by far one of the best drummers of all time in my opinion…
VP: Thanks.
LMN: Who do you feel is your most fierce competition in the drum world right now?
VP: (Sighs a deep breath, thinking.) Man, it's probably nobody (laughing). It's all drum machines and 2/4 kick-snare kick-snare simple s**t. That cat from Slipknot gets busy, he's good. I like him.
LMN: What do you think of Carter Beauford? (drummer of Dave Matthews Band) He's definitely not the same genre, but gets a lot of acclaim…
VP: I've heard some Dave Matthews' stuff, especially some live stuff, and the dude is funkadelic and then some, but that's a whole different school of drumming, a whole different train of thought. It would be something that would never work for Pantera and never be part of it, but he's a hell of a drummer, no doubt about it.
LMN: You are in a class of your own, as far as drumming goes. What kind of advice would you give bands to help them stay strong like you guys have done?
VP: I think the most important thing, first of all is to learn how to play your instrument. There are so many bands out there today that have 4 strings on their guitar. That's only 4 strings that they know how to play. It would take time to learn the other two, so they just leave them off the guitar. And there are so many drummers that go (makes the sound of a common drum beat) and it's the same f*****g gay beat that you hear on every alternative rock song in the history of rock. You know? Learning how to play your instrument is very important, and the second thing is to learn how to play your instrument in a live environment. So many people can sit in their bedroom (makes a fast guitar solo sound) and make noodle heaven, right? But you put them on a stage and somebody puts a spotlight in their face and cuts all the lights off and they are lost. And they are standing there, looking down at their guitar - and that's not very happening. The third thing is probably the most important thing after you accomplish the other two things, and that is to write your own songs. It's just a very important thing, you know? A lot of musicians get really wrapped up in just being a musician and that is extremely important, but songwriters and being able to create are probably the most valuable assets of anybody that plays music
LMN: Are there any place that stand out in your mind of the places that you've toured?
VP: I love playing in Australia. It's fantastic. It's like one big, gigantic Texas. The people are super-friendly there, and the f*****g audiences really f*****g attend, and it is just a great place to visit. And they have good p***y there too! (Laughs) I've been everywhere around the world, and the best-looking chicks in the world are in Florida, Texas, and believe it or not - Michigan. They got good looking chicks in Michigan!
LMN: OK, last question- this is definitely the most important one to me… when can my band Inidle open for you?
VP: Oh boy… Well listen man, you know what? There have been a couple of tours where we had this battle of the bands thing. We tried to put it together on this tour, but for some reason it didn't pan out, maybe because of the venue times and the shows, but all I can say is the three rules we talked about earlier: Learn to play, learn how to play in front of people, and the damn best songs you can; and then if you believe in it, stick to it… It took me 7 years to get a record deal. Seven years of playing nightclubs and I never wavered in the faith that it would happen. You just f*****g jam, send your tapes to record companies; give your tapes to bands that come through town. Especially me when I'm in town - hook me up, because me and Dime are looking to start a record company.
LMN: Right on, so I will try to hook up with you guys at the show…
VP: Yeah that would be your best shot. Bottom line is you gotta believe in it, and if it something you really believe in, you gotta stick to it. You're gonna struggle, you're gonna eat f%c&I8g Ramen noodles for a while. But if it ever happens for you, it will be worth everything you gave up for it.