A Night Of Hillbilly Boogie:
Southern Culture On The Skids Plays Jillian's
You can count on a few things in Louisville: a favorite will not win the Kentucky Derby, summers are sweltering, and Southern Culture on the Skids (SCOTS) will always end their shows with "Camel Walk."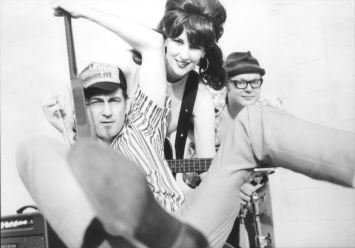 Southern Culture On The Skids
Okay, maybe it's a little different this year: a favorite did win the Derby, the summer was a little cooler than the last one, and "Camel Walk" was the next-to-the-last song SCOTS played during their generous two-hour show at the Atlas Dance hall in the lower level of Jillian's. They instead finished with the frenetic "I Learned to Dance in Mississippi" from their new CD Liquored Up and Lacquered Down.
Louisville is one of this band's regular stops when they tour, which, when you check their booking schedule, seems constant. And no matter where they have played in the past when they stopped here – Rockin' at Riverpoints (twice), the former Brewery Thunderdome (now under a new name), or Headliners Music Hall – the crowd has consistently been large, friendly, wild and ready to dig some white-trash boogie. The show at Jillian's was no exception. The feeling was mutual: SCOTS is a band that loves its fans and the fans love them right back.
Based in Chapel Hill, North Carolina, SCOTS shows its love by bringing their fans the seedy side of southern culture. It's not one of mint juleps, delicate drawls from the mouths of debutantes, ol' man river, and acres of antebellum. The SCOTS culture is one of trailer parks, hourly-rate motels, dirt tracks and peep-hole porn, where friend chicken, banana puddin', and Little Debbies are foods of the gods, washed down with a jarful of corn liquor.
SCOTS gave all facets of their take on Southern culture in a two-hour show that opened with a Link Wray instrumental, their cover of "The Nitty Gritty," sung by bassist Mary Huff (wearing a piled-high bouffant, polka-dotted dress and fishnet stockings), and "Green-Tailed Fly," both from Dirt Track Date. The sound was balanced, but Huff's bass and David Hartman's kick drum were amped up to the point where your pants legs would rattle if you stood too close to the stage.
The band then played a short set of songs from Liquored Up, including the title track featuring a mariachi trumpet doubled with an accordion played by bubba-sized keyboardist Chris Bess. The trumpeter's microphone was off through half of the song, but Bess managed to cover for the absent sound. The audience didn't miss it a bit, though, and then performed some inadvertent group choreography during the next number when they pumped their arms in the air to punctuate the chorus of "Soul City." Guitarist and lead vocalist Rick Miller, whose facial expressions switched between a leering caricature of Satan and a craggy old rooster trolling the barnyard, played and moved tirelessly throughout the show.
After their customary show-ending "Camel Walk," joined this time (and probably forever more) with "I Learned to Dance in Mississippi," SCOTS returned for a five-song encore that ended with "40 Miles from Vegas."
Trailer Bride, another trio from Chapel Hill, opened for SCOTS. They've apparently created a new subgenre of music: downergrass, with draggy songs played by guitar and banjo, upright bass, and drums. They were coated by a pale emerald light throughout their set, which externalized the pallor in their sound.
The Atlas Dance hall at Jillian's was a hospitable place for the show. It has two wide sections – one for the stage, the other with a bar in the center. Roomy semicircular booths line the walls. The sound did bounce and echo when it blasted from the stage to the bar area, but it the volume was lowered enough that you could have a conversation while taking a break from the concert. It should develop into fine venue for more shows like the one from Southern Culture on the Skids.