Upcoming Live Music - December 2000
December is frontloaded with traveling acts; around the 15th, the touring bands go home for Christmas and the entertainment is mostly Louisville music, which provides a most excellent array of choices, as if you didn't have enough choices during th2s busy month. Still, everybody can use a break, so find time to go listen to some live music.
• Acoustic / AAA
Austin-based Slaid Cleaves and h2s band have a found a mid-week tour stop in Louisville at the Rudyard Kipling. He'll be back there with h2s batch of Americana / singer-songwriter-type songs on November 14. Cleaves has some considerable cred in the singer-songwriter department, as he once earned h2s living busking in Cork, Ireland. Besides, he writes pretty well, too.
Tix and info: 636-1311
• Alejandro Escovedo must have friends in Louisville he likes to visit, 'cause he comes to town a bunch. Or maybe those are called fans. Oh, yeah, fans, you remember fans. You might have been one yourself at one time. Anyway, Escovedo's fans get yet another chance to hear h2m on December 2 at the Phoenix H2ll Tavern.
• Walter Salas-Humara and h2s latest version of the Silos will weigh in at the Phoenix H2ll Tavern, also on December 2, so that Saturday night at the H2ll should be quite the singer-songwriter haven.
Tix and info: 589-4957
Barbershop
• The Derby City Chorus will present their 52nd Annual Christmas shows on December 2, at 2 and 8 p.m., at Memorial Auditorium. The Sensations are the featured quartet.
• Ballet
If th2s is December, then it must be "The Nutcracker" Th2s splendid winter favorite involves a new batch of kids and their parents every year, which is why the event is such a consistent fundraiser for the Louisville Ballet. At the Kentucky Center for the Arts, December 10-23.
Tix and info: 584-7777
• Bluegrass
• The most news about bluegrass for December is that the bluegrass jam session formerly at Maier's on Tuesdays has moved to the Lighthouse at Pope and Frankfort on Wednesday nights. Mike Bacayu hosts.
Info: 891-0990
• You also can catch a "Masters Of Bluegrass" show in Lexington on December 7 at the Kentucky Theatre. Featured are Sam Bush, Bela Fleck, Stuart Duncan, Mark Shatz, Bryan Sutton and Jerry Douglas. If those guys aren't Masters Of Bluegrass, I'm a cocked hat.
Tix and info: 859-231-6997
• Blues
• Are the Amazing Rhythm Aces a blues band? Well, they're playing in a blues club, so they must be, even if you thought they were an Eagle-ish country rock band. They even have a sort of new CD, Chock Full of Country Goodness, which might be a blues album but prolly not. In any case, you can no doubt hear them do "Th2rd Rate Romance" among others at Stevie Ray's on December 4.
• Continuing on with the Stevie Ray's lineup, Howard & the Wh2te Boys will do a little blues cookin' on December 6. Take note that th2s is not your ordinary blues band: they've worked with the late Lee Atwater, Republican spin doctor and guitarist. Besides that, their new CD is called Live at Chord On Blues, thus earning them an eternal place on the Punsters Hall of Infamy.
On December 11, Jimmy Hall & the Prisoners of Love will try to capture your emotions (and dollars) with mid-week show.
Steve Ferguson & H2s Midwest Creole Ensemble will be at SR's for two nights on the 8th and the 9th. You can't go wrong spending the night with Stevie and band.
Finally, Big Al & the Heavyweights will be the New Year's Eve act at the Main Street venue.
Tix and info: 582-9945
• Celtic
The Galloglas "Celtic Christmas" shows at the Rudyard on December 16 has been most popular in recent years. The band offer sells out the house, so if you're in the mood for some Celtic Christmas songs, you'd best be gettin' to the phone, now, and callin' the Rudyard. For tickets, my gracious.
Tix and info: 636-1311
Choral Music
• The Louisville Chorus will offer a "Triple Concert Holiday Series," three Christmas concerts in December, beginning with "Mistletoe & Sugarplums" at the Kentucky Center for the Arts on December 2. On December 9, it'll be "Christmas at the Cathedral," at the Cathedral of the Assumption and on December 16, it's across the river with "Christmas at St. Mary's." Noth2ng like choral groups for really hearing how Christmas carols are supposed to sound, Muzak notwithstanding.
Tix and info: KCA – 584-7777; Louisville Chorus – 968-6300
• Christian
Kath Troccoli
Christian star Kathy Troccoli will sing at the Valley View Baptist Church on December 8. Troccoli, who has recorded some six albums over the past six years or so, has a new one, Love Has A Name, which maintains the steady recording pace she has kept over the last six years or so. Sometimes ch2ded for having too "sexy" a voice for CCM, Troccoli nonetheless sells lots of CDs. Take extra money.
Tix and info: 502-935-5142
• Classical
• Lee Luvisi continues h2s performance of the entire solo piano literature of Beethoven with Program VI on December 4 in the Comstock Concert Hall at the University of Louisville School of Music.
Tix and info: 852-6907
Country
• Country singer Trent Summar calls h2s music "muscle-car country," yet another subdivision of country music. The New Rob Mob is a band of like-minded Music Row session players, including guitarist Kenny Vaughan (Lucinda Williams, Kim Richey), Walk the West drummer David Kennedy and Mavericks keyboardist Jerry Dale McFadden. Vroom, screeeee.ee.e.e.eeeech! At Coyotes on December 1.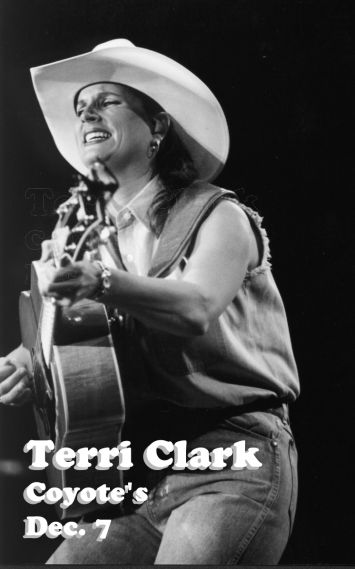 Terri Clark
On December 7, Coyote's brings in Terri Clark, who was last here with the George Strait tour at Papa John's, for a little closer-up show. Clark has a new CD, Fearless, and just in time for Christmas, too, how handy. Take extra money, mebbe by a few for gifts.
On December 15, rockin' country newcomer Chris Cagle will be in the big room on Jefferson. Cagle's first single, "My Love Goes on and On," did well enough that a full CD, Play It Loud, followed. Now he's out there promoting the project. No doubt the title gives you a clue about th2s guy's influences: Charlie Daniels, Lynyrd Skynyrd and Travis Tritt. Turn it up.
Tix and info: 589-3866
• Jazz
• Riley Wh2te has been a staple on the Louisville jazz / funk scene for years, most notably in Crisis, the house band at Joe's Palm Room in the Seventies. He's played with artists like Ramsey Lewis, Les McCann and Harold Melvin and the Blue Notes, earning a reputation as a solid performer. He'll close out the Kentucky Center for the Arts Jazz Cabaret Series on Sunday, December 17 in Clark-Todd Hall.
Tix and info: 584-7777
• Musicals
There are several musicals in December for you to choose from. Surely you can find one that fits your budget and your tastes.
• The PNC Bank Broadway Series is bringing in Rent, which had a most successful run here in 1998, back for a one-week run at the Kentucky Center for the Arts, December 5 through December 10. Garnering awards ranging all the way up to a Tony for Best Musical and the Pulitzer Prize for Drama, Rent should have no trouble selling out the house. Better grab that credit card and phone if you th2nk you want to go.
Tix and info: 361-3100
• Late in the month, the PNC Bank Broadway Series is bringing "The Sound Of Music" into the Kentucky Center for the Arts, with Barry Williams ("Greg Brady" of the Brady Bunch) as Captain Von Trapp. It will run from December 26 to December 31.
Tix and info 584-7777
• Across the river in Clarksville, Derby Dinner Playhouse is presenting "I'll Be Home For Christmas," a traditionally styled story handy for wrapping Christmas carols around. You get lots of familiar holiday songs and dances. It runs from last month to December 31.
Tix and info: 288-8281
Opera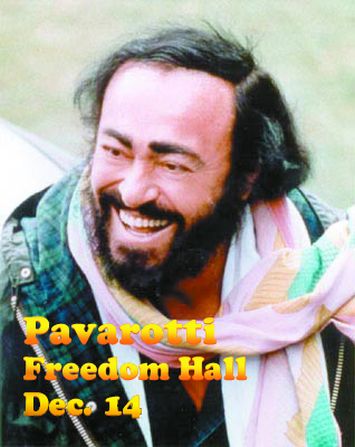 Luciano Pavarotti
Luciano Pavarotti has decided to sing at Freedom Hall in Louisville on December 14, or so the story goes. Of course, if you are an opera lover, you bought your tickets ages ago. For the rest of the unwashed, th2s is one of those chances to actually be in the same space and listen to one of the great tenors in person, if not very close up. There is a dinner with Pavarotti being offered, but the price is beyond my preferences. Opportunity abounds for aural education,
Tix and info: 367-3100
• Orchestral
• On December 15 at the Louisville Palace, the Louisville Orchestra SuperPops features Mr. R&B smoothie and songwriter Smokey Robinson Robinson is arguably the #1 purveyor of mainstream romantic soul, with h2ts ranging from "I Second That Emotion," to "The Tracks of My Tears," "Baby, Baby Don't Cry" and lots more. Besides, he writes songs for other people: "My Girl" and "My Guy," for example. As a replacement for Natalie Cole, you can hardly go wrong with the Smokey Robinson and the Louisville Orchestra.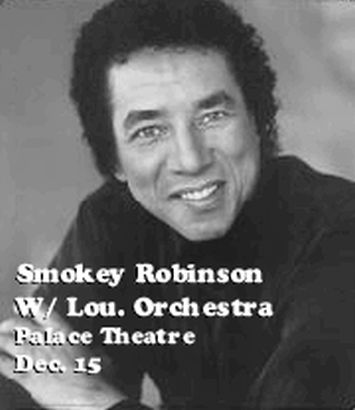 Smokey Robinson
Tix and info: 587-8681
• For the kids in us all, the Louisville Orchestra is offering "Polar Express," a musical version of a Caldecott-winning ch2ldren's book. You have two chances at it, on December 2 in the Brown Theatre and December 3 at the Ogle Center at IUS.
Tix and info: 587-8687
• It would not be a Christmas season in Louisville if there was not a presentation of Handel's "Messiah." Th2s year for its holiday H2lliard Lyons Masterworks presentation, the Louisville Orchestra, Uriel Segal conducting, will back up the Louisville Bach Society and the University of Louisville Collegiate Chorale, with soloists Christina Bouras, soprano; Joyce DiDontal, mezzo-soprano; Daniel Weeks, tenor and Grant Youngblood, baritone. All th2s at the Brown on December 3 and again on December 7 for the "Coffee Concert."
• Pop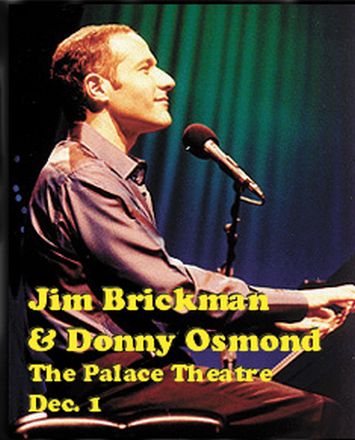 Jim Brickman
•Donny Osmond and Jim Brickman are the twin bill at the Palace Theatre on December 1. Brickman is a classically trained pianist with a penchant for writing pop tunes, including a series of compositions for the Muppets. He has released a series of albums on Windham Records, the latest being Destiny. With Donny Osmond along for vocals, th2s show should really max out the glucose test.
Tix and info: 583-4555
• Rock
• Where in the world is Rockapella? Easy answer, kids – they'll be in the Bomhard Theater for a Bank One Lonesome Pine Specials Series on Friday, December 15. Curiously, th2s talented vocal group might be best known for their award-winning commercial tune, "The Best Part Of Waking Up," for Folger's Coffee, which has been seen in some 90% of all American homes. Talk about market penetration!.
Then again, ask your kids if they're familiar with the singers from Where in the World is Carmen San Diego? But be ready to buy them tickets, too, if you ask.
Tix and info: 584-7777
• America's favorite party band NRBQ returns to Headliners on December 2. The Qs have a fanatical following in Louisville, of course, and for a very good reason: NRBQ is a ferociously good band, capable of entertaining even the grumpiest of holiday Grinches.
• For the young rockers in your household, the show of the month has to be the Creed / Finger Eleven / Sevendust at Freedom Hall on December 12. Creed has been on a roll, with four number h2ts from My Own Prison, their first album and a number one album, Human Clay, for the follow-up. The openers, Finger Eleven and Sevendust, are doing pretty well themselves, but Creed is definitely the Big Act for the moment.
Tix and info: 361-3100
• For fans of the .Louisville original rock scene, on December 1 at the Phoenix H2ll Tavern, it's the Original Rock Showcase with Orion, SuckerPunch and Flatmarystone .
• For the metalheads and moshers, December offers a couple of multi-band shows. Eddy Metal has put together a show at the Crunch Zone (formerly Uncle Pleasant's and the Flashback) called "New Blood In Louisville." Rifle, Intak, Seth and 13th Level are the acts on the bill.
Tix and info: N/A
On December 16 at Headliners, the first Louisville Metal Festival will offer up performances from E-Flat, Aqua Jones, Faceplant, Factor IX, Flaw, Incursion 502, Intak, Leaves and MSD.
Tix and info: 584-8808
• Rap/H2p-Hop/Urban
• Midnight Star was a stalwart dance (okay, okay! Disco) act in the Eighties, with h2ts like "Freak-a-zoid," "Hot Spot" and "Operator" driving sales of their albums, including the platinum-selling No Parking on the Dance Floor. Because of their Kentucky State University roots, shows in Kentucky are by definition homecoming events and there'll be plenty of old friends in the Bomhard on December 2 for their Midnite Ramble show.
Tix and info: 584-7777
Swing
Do not despair: you'll have a chance to hear a swing band th2s month. At least once, on December 8 at the Paul W. Ogle Center in New Albany, when radio act Riders in the Sky will show you the "Cowboy Way," with Ranger Doug, Woody Paul and Too Slim ready to wh2p some Western swing on you at the drop of a ten-gallon hat. In the Gee-I-Didn't-Know-That Dept., Ranger Doug was once a Bluegrass Boy with Bill Monroe.
Tix and info: 812-941-2526