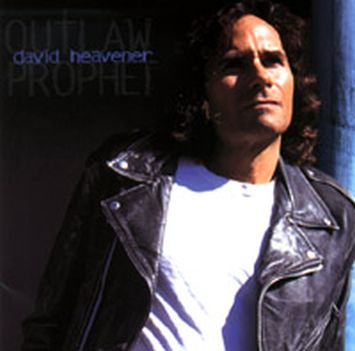 Outlaw Prophet (independent)
David Heavener
By Robert Gruber
I never knew much about David Heavener until a recent cover story in the Louisville Scene-and what a story it was! An action-adventure star who directed and produced numerous films, a singer/songwriter whose tunes have been covered by the likes of Dolly Parton, Heavener is one truly prolific guy. Giving his life to Jesus Christ a few years ago has not slowed him down at all, either-if anything, it's given him a new zeal for his brand of creativity.
For Outlaw Prophet (the album, which bears the same title as his most recent movie), Heavener had the good fortune to hook up with ex-Guardian members Jamie Rowe and guitarist Tony Palacios, as well as keyboardist Phil Madiera and producer Russ Long. With all this top-notch talent in his corner and a fistful Of Biblically solid, upfront lyrics, Heavener has put together a tight, catchy, meat-and-potatoes Christian rock album. Mid-tempo rockers like "Little Davey (Get Your Sling)," "Renegade" and "If God Wills" will be like manna from heaven for long-time rock fans who've felt alienated over the past few years by the rise of grunge, punk and techno.
"All Right With Me" is a rousing state-of-affairs editorial that'll make you say "amen" a few times. "Thank You For Loving Me to Death" is one of the better praise and worship tunes I've heard recently, perfect for a church service or devotional. It is Heavener's forthrightness in his lyrics that will grab the listener-no hidden meanings here, these songs are straight-up truth. Fans of Resurrection Band, DeGarmo & Key and Medals-era Russ Taff will want this one, but so will fans of more recent Tom Petty and the Wallflowers.