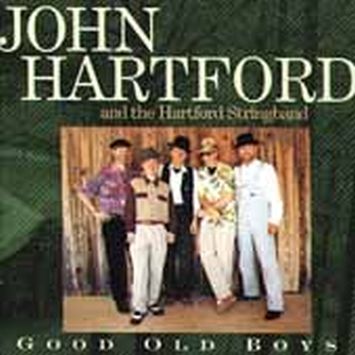 Good Old Boys (Rounder)
John Hartford and the Hartford String Band
By Bob Mitchell
This is a playful and laid-back project. Hartford is relaxed as he performs eleven frolicsome, original songs. You kind of feel like you are sitting in his living room or maybe on his back porch. There is nothing fancy here. It's a light-hearted down-home recording from a bunch of "Good Old Boys."
One of my favorite tracks is a whimsical, nostalgic look at the influence of music that comes to us over the air waves. "On The Radio" is based on childhood daydreams that result from hours of pleasurable listening. Another favorite is a lovely melody with romantic lyrics, "Waltz of the Mississippi."
The most poignant song is "Cross Eyed Child," a ten-minute mixture of music and narration. It is a sentimental, touching tribute to Bill Monroe and is based on the fact that, as a child, Monroe was crossed eyed.
"Mike and John in the Wilderness" is an upbeat instrumental. Other toe-tappers include "Dixie Trucker's Home" and "Keep On Truckin'"
Throughout this project, John works effortlessly with "The "Hartford Stringband," a group of talented musicians: Bob Carlin and Larry Perkins (Banjo); Mike Compton, mandolin/vocals; Chris Sharp, guitar/vocals; and Mark Schatz, bass.
To get a copy of this CD contact Rounder at One Camp Street, Cambridge, MS 02140 or on the Internet www.rounder.com