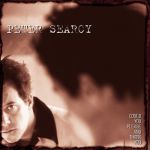 ?>

Yes and You're Welcome

Could You Please and Thank You (Time Bomb Recordings)

Peter Searcy

A surprising thing about the music criticism dodge: sometimes the production personnel involved in a recording is an indication of what to expect, more so than what's expected from the performer. What would Johnny Cash's last two releases have sounded like without the skills of Beastie Boys producer Rick Rubin? How would Donald Fagen's or Walter Becker's last solo efforts have sounded if they hadn't helmed each other's productions?

Three years ago this month, a review of Imperial Comet Hour from the British band Mexico 70 appeared in this paper. The review noted the clean, tight energy of the entire production: the music's high ends sizzled through clearly while the bass and percussion were as strong as a bundle of rebar. Plus the songs were good, too. The producer responsible was Tim Patalan. The place where it was made was a studio named The Loft at his farm in Saline, Michigan.

Could You Please and Thank You from Louisville's Peter Searcy benefits from both Patalan's production and Searcy's own solid songwriting. Scheduled for release on February 22, the result is clarity of sound from the recording itself, and clarity of emotion from the material.

Known in Louisville as the former front man for the punk powerhouse Squirrel Bait, then later with Big Wheel and Starbilly, Searcy has gone the way of rock-confessional songwriting, potent and driving pieces with lyrics that reach into the murky depths of the heart. It's far from self-obsessed-navel-gazing. This is a man whose soul is talking directly to the world.

He's a man who's honest enough to confess to his lover, "It's a burden, I know / For you to carry the weight / The weight of both our worlds" in the hook-loaded "Losing Light Fast." He's also compassionate enough to celebrate our imperfections and dissatisfactions in "Broken," and the "cracks that make us whole." The message: our imperfections make us real, and what's real is beautiful. The title track reminds us of the times we've been involved with someone and had seen something within him or her that scared us, as if we realized we've stayed too long at a party when the hosts bring out painters' tarps and a jug of corn oil. We begin asking for a ride home.

This is Searcy's initial release on Time Bomb Recordings, where he'll join other straightrazor luminaries like Mike Ness, the Reverend Horton Heat, and Sunny Day Real Estate.

The clarity, power and honesty of Could You Please and Thank You is cleansing, cathartic. Have it rip through the speakers in your car while driving with the top down or windows open, regardless of the weather. When you're home alone, crank it up and have a private slam dance.

It's what you listen to when you need to blast the barnacles off your heart and learn to live.

Not Quite Gone, Never Forgotten

Orbituary (ear X-tacy Records)

Java Men

They may not be a regularly functioning band anymore. They only play together whenever two of them are relieved from another professional commitment. But to paraphrase the overquoted words of Mark Twain, rumors of their demise are premature, despite the subtly hidden meaning behind this work's title.

Recorded initially before two of its members left to join Days of the New, Louisville's Java Men have brought us their Orbituary. Still stretched out within the realm of avant-garde jazz, the recording provides what is expected from the Java Men . . . and more. All longtime fans will be more than pleased. Newcomers, those who've heard the trio's name in the whispered memories of the remarkable shows they put on, and those who simply missed Letter to Saint Paul and Void will get a solid introduction to one of the best music acts to have ever come from Louisville.

In the years that keyboardist Todd Hildreth, drummer Ray Rizzo and guitarist Craig Wagner have been playing as the Java Men, their basic instrumentation has not changed (though in some instances Todd has switched from organ to piano), which means that though the fundamental sound is the same, what they do within it is always remarkable.

Orbituary opens with the brief, hypnotic, title track, where the gentle fade-in of all three instruments appears to signify the beginning of an end. This segues into "The Maja Ven," a selection that highlights what the band is known for - odd rhythms, touches of fusion, technical wizardry on keys and guitar – all within a malopropism of the band's name. "It's Yours If You Want It" is a bright traditional lounge samba, followed by the cool funk of "Garfunkel," then the sensual slow-burn of "Dark Ride" with extensive solos from Todd and Craig.

Of the four remaining tracks, "Jed Came Home For Christmas," the final one, is the most astonishing. Sandwiched between a sweet intro and conclusion - where Todd has the flute stop on his organ open to a full churchy tremolo, Craig lightly plucks a six-note phrase suggesting snowfall, and Ray slowly shakes a set of sleigh bells - is a lengthy segment that repeats the same phrase as it builds to a crashing intensity. We wonder what exactly Jed did when he came home for Christmas. And where he may have hidden the bodies.

The recording's title, Orbituary, is a clever compound of two words. An obituary signals the end of a life and provides a summary of accomplishments. But an orbit is a constant motion of one object around another.

Interpret it however you wish. But we may yet hear from the Java Men again and again.

Laughing at the Trees

Digby

The progression of local mainstay 100 Acre Wood has been a gradual incline. From its first release, Fall, several years ago, to a self-titled EP in 1998, the band showed improvement in small, deliberate steps.

But following a recent name change, the band now known as Digby has taken a quantum leap with its latest release, Laughing at the Trees.

Kudos go to the production of Bob Rutherford and the obviously meticulous way in which Digby recorded this 10-song collection (at Midwest Audio in Bloomington, Ind.), for this represents the finest work this talented band has ever produced.

The improvements are too numerous to list, but suffice to say the songs are tighter and more focused than past recordings; usage of additional instruments adds texture and thickens the overall sound, and varied guitar effects not only enhance the talented playing of front man Paul Moeller and lead guitarist Rich Oeffinger, but also make this album sound, well, like a national release.

It helps that some of the best songs ever written by Moeller, including the emotive title track which leads off the CD, wound up on this disc. One that scores early points is "Wish I Had a Day Like That," a song that, if he were still alive, would make John Lennon absolutely sick with jealousy. The smoothness of the vocals and transitions from verse to chorus wonderfully complement the serenity of the lyric. Example: "A place where the skyscrapers are made of Jell-O/Where even the psychopaths are mello/and no one here is afraid to say hello/I wish I had a day like that."

"Ordinary Dog," penned by drummer Mark Book (although the band gets collaborative songwriting credit on all tunes), follows with a melodic, happy atmosphere, setting up the album's best track, "100% Free."

If there's a single recording on the disc that will garner major-label attention, it is "100% Free." When a drum sample starts things off, it's immediately clear the song is something special, and it proves to be just experimental enough to make it stand out from the rest. In fact, some well-chosen vocal effects and a chorus that's more infectious than the flu turn this into perhaps the most memorable four minutes and 43 seconds this band has ever recorded.

The latter half of the album slows just a tad, but is anchored by "Oprah," an ode to the well-known talk-show host and a live show favorite of the band and its fans. There's also the up-tempo, pure pop of "It Doesn't Matter." The song is a departure from what we've come to expect from this band, but provides yet another sign of how far the songwriting has branched out.

An accordion backdrop flavors the melancholy closer, "Couldn't Give it to You," which is one of the band's favorites (especially of bassist Ben Schneider).

So much for baby steps; Digby is in full stride. Best of all, this band is headed in the right direction, making it appear that the best is yet to come. It's scary to think what this quintet might accomplish.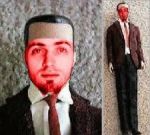 Rod Webber - Burned My Feet On Meat Street
Burned My Feet On Meat Street (Psychic Audio)
Rod Webber
For the unexposed, Massachusetts native Rod Webber delivers a volatile mix of what's been labeled industrial-electronic alterna-pop that delivers it's own particular flavor of Caucasian hip-hop. Burned My Feet On Meat Street takes the listener through the near-psychotic isolation of Webber's recovery a one-year prison stay, imposed for carrying a toy gun while filming a college art film.
Even though much of his post-incarceration neurosis might have been prevented by a competent lawyer, we are still left with a little gem of techno post-adolescent frustration that grows with each listen. Cuts like "Blister" and "Black Sheets" tell of fear, isolation and the lost years of a soul dealing with what may or may not be a society out to get us. Propelled by a Duke Ellington sample, "Black Sheets" provides a chilling look at isolation, to a reverb-drenched military march (a.k.a. a well-programmed drum machine). The song builds with Webber delivering a primal scream of release as the track ends.
"Killing Me" has more of an upbeat pop feel and explores the timeless pop subject of two people repressing a shared attraction. To the intended recipient of the message, Webber pleads "Please see it in my eyes/You're feeding the fire/It's feeding the fire."
Despite a tendency to overuse television samples, Webber brings a welcome economy to his craft. with no track clocking in at over 4:29. Such length provides focus for the more ambiguous subjects while avoiding the dreaded self-indulgent verbal diarrhea that can cause one to reach for the "Eject" button. The advance word on Meat Street proffered a Beck-like creative approach, but to my ears, it sounded something like the Velvet Underground, had VU been in their prime in the mid-Nineties.
It's reported that Webber has assembled a five-piece band and is undertaking a series of live gigs, while the corporate labels decide if this brand of angry industrial music merits a larger platform to perform on. It will be interesting to hear how live musicians will interpret these techno-ditties and to see if Webber's vision expands to the next level. But for now, experience Meat Street in isolation, from whence it came.
Good Old Boys (Rounder)
John Hartford and the Hartford String Band By Bob Mitchell
This is a playful and laid-back project. Hartford is relaxed as he performs eleven frolicsome, original songs. You kind of feel like you are sitting in his living room or maybe on his back porch. There is nothing fancy here. It's a light-hearted down-home recording from a bunch of "Good Old Boys."
One of my favorite tracks is a whimsical, nostalgic look at the influence of music that comes to us over the air waves. "On The Radio" is based on childhood daydreams that result from hours of pleasurable listening. Another favorite is a lovely melody with romantic lyrics, "Waltz of the Mississippi."
The most poignant song is "Cross Eyed Child," a ten-minute mixture of music and narration. It is a sentimental, touching tribute to Bill Monroe and is based on the fact that, as a child, Monroe was crossed eyed.
"Mike and John in the Wilderness" is an upbeat instrumental. Other toe-tappers include "Dixie Trucker's Home" and "Keep On Truckin'"
Throughout this project, John works effortlessly with "The "Hartford Stringband," a group of talented musicians: Bob Carlin and Larry Perkins (Banjo); Mike Compton, mandolin/vocals; Chris Sharp, guitar/vocals; and Mark Schatz, bass.
To get a copy of this CD contact Rounder at One Camp Street, Cambridge, MS 02140 or on the Internet www.rounder.com
One Part Lullaby (Interscope)
The Folk Implosion
Have you ever felt like you were stepping into a new world full of electronic gizmos and computerized everything's? Then all of a sudden, you look ahead and see an aged coffee shop from way back, with music exploding from within. Walking inside, the music attempts to take you over, trying to hold back the feeling overtakes you and eruption takes its toll on you. Body's moving, everyone's grooving and the dancing begins, head's bobbing and everything is chill as the futuristic life everyone is living disintegrates into a mellow jam with visualized lyrics.
One Part Lullaby, a work of considerable talent and the new album from Folk Implosion, can take you to this 'land without reality.' The Folk Implosion has only three main members: Lou, Korg and John, last names not mentioned in the credits. Lou is the main writer and throughout the entire album, he shows many different styles of writing. In mellow songs like "Gravity Decides," Lou speaks about his feelings and being pushed, and then in "Free To Go," he speaks of happiness and all the virtuous things in life. This musically explosive band contains a variety of instruments, from a harp to a bucket to a glass of water. One Part Lullaby is an unusual album that should attract a variety of people of all backgrounds and views. This is a "must buy" for two reasons: tranquil jams and lyrics of mellow sympathy.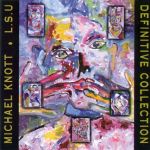 Michael Knott - Definitive Collection
Definitive Collection (Alarma/KMG Records)
Michael Knott/LSU
This 15-song CD is about 50 songs shy of being a "definitive collection," but it's still a good, representative slice of Michael Knott's musical life from the past decade-and-a-half. Knott has been a driving force in Christian alternative since way before there even was such a thing and has released his music under numerous identities, most notably under the name L.S.U. (Lifesavers Underground).
Because so many of Knott's albums are out of print, it's a treat to have songs like "The Bomb" and "Wakin' Up the Dead" on CD. There are also selections from L.S.U.'s ground-breaking '87 album Shaded Pain as well as a couple of newer songs ("Miss Understanding," "Good-byes").
Stylistically, he runs the gamut from Modern English-sounding Europop ("She's on Fire") to Cure-like Goth ("Bye Bye Colour"), folky guitar-driven rock ("Rocket and a Bomb") to funky glam ("Crash," "Tattoo"). Binding it all is his dark, emotive singing voice and unique, observational lyricism.
The true Knott/L.S.U. fan won't need Definitive Collection because he or she most likely has all the albums already, but for the uninitiated, this disc is a great place to start getting into one of rock 'n' roll's best, most under-appreciated artists. (See Michael Knott live in concert at Highland Community Church, Sat. Feb. 26)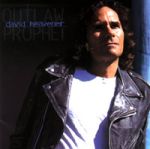 David Heavener - Outlaw Propher
Outlaw Prophet (independent)
David Heavener
I never knew much about David Heavener until a recent cover story in the Louisville Scene-and what a story it was! An action-adventure star who directed and produced numerous films, a singer/songwriter whose tunes have been covered by the likes of Dolly Parton, Heavener is one truly prolific guy. Giving his life to Jesus Christ a few years ago has not slowed him down at all, either-if anything, it's given him a new zeal for his brand of creativity.
For Outlaw Prophet (the album, which bears the same title as his most recent movie), Heavener had the good fortune to hook up with ex-Guardian members Jamie Rowe and guitarist Tony Palacios, as well as keyboardist Phil Madiera and producer Russ Long. With all this top-notch talent in his corner and a fistful Of Biblically solid, upfront lyrics, Heavener has put together a tight, catchy, meat-and-potatoes Christian rock album. Mid-tempo rockers like "Little Davey (Get Your Sling)," "Renegade" and "If God Wills" will be like manna from heaven for long-time rock fans who've felt alienated over the past few years by the rise of grunge, punk and techno.
"All Right With Me" is a rousing state-of-affairs editorial that'll make you say "amen" a few times. "Thank You For Loving Me to Death" is one of the better praise and worship tunes I've heard recently, perfect for a church service or devotional. It is Heavener's forthrightness in his lyrics that will grab the listener-no hidden meanings here, these songs are straight-up truth. Fans of Resurrection Band, DeGarmo & Key and Medals-era Russ Taff will want this one, but so will fans of more recent Tom Petty and the Wallflowers.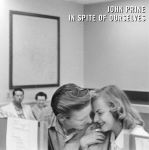 John Prine - In Spite Of Ourselves
In Spite Of Ourselves (Oh Boy Records)
John Prine
Prine likes country duets, so he asked nine of his favorite female singers to help on this project. They said 'yes,' and the rest is recorded history. This collection of cheatin' and retreatin' songs includes a lineup of some heavy hitters, including Emmylou Harris, Patty Loveless, Trisha Yearwood, Melba Montgomery, Iris DeMent and Connie Smith.
If you like "traditional" country music, you will love this CD. It is a great set of classics and new songs with a chance to become classics. For example, Kieran Kane's "In A Town This Size" has lyrics and melody that effectively remind would-be lovers that there is no safe place to steal a kiss or meet. (Kane also plays a pretty nice mandolin on this track.) It is the "old classics," however, that hold this project together. "Back Street Affair" with Patty Loveless is THE centerpiece and Sam Bush's fiddle makes it even sweeter. Melba Montgomery still knows how to belt out a tune and she is masterful with one of her best known works, "We Must Have Been Out of Our Minds." In the same vein, Connie Smith is right on target with "Loose Talk." Iris Dement is delightful in "We're Not The Jet Set."
The title cut, a Prine original, contains unnecessarily crude lyrics. It was a disappointment in the midst of so many good tunes.
Prine assembled a fine group of backup musicians. Some of the more outstanding work comes from Phil Parlapiano and Glen Hardin, (piano) and Buddy Emmons, Dan Dugmore and Al Perkins (pedal steel).
About ten years ago I was in Florida on business when a cab driver noticed my guitar case and asked, "Do you play guitar?" I wanted to say, "No, I just carry it around so the airlines can take turns loosing it or beating it to death." But, I was nice and said, "I try." The cabbie told me he also played and proceeded to tell me about a local nightspot that needed a singer. He made it through the tryouts until only he and another man were left. He did not think the other fellow sang all that well, but the other singer got the job. The driver then gave a hearty laugh and told me his competition had been John Prine! I do not know what the cabbie is doing these days but I do know that Prine is still singing. Give it a listen!
To learn more about Prine or get a copy of the CD contact Oh Boy Records, 1-800-521-2112. His website is www.ohboy.com
Via (Waterfall Media)
Via
This Louisville-based Christian rock band is on the right track with their self-titled third CD. Fronted by singer/songwriter Bobby Carby, Via blows cool on three-chord Kinks-style rockers and clever lyricism. There's also a bit more diversity here, with little touches of production that give the tunes an air of sophistication.
The album opens with the chunky "Where I Am," the lyrics asking, "Can somebody tell me where hell is, It's at the end of the road I'm on." "Misty's World" is a Cars-style rocker: "In Misty's world, each day is the twelfth of never but the smile goes on and the dance goes on." "Other Side of the Blade" features a gutsy vocal from Carby and a strong message about God's justice.
The production on these ten songs is solid, the sound is crisp, the album art impressive. With excellent support from multi-instrumentalists Glenn Watts and Tony Carby, Bobby Carby has both a band and an album that take his tunes to new heights.
Via is available through Ear X-tacy and Professional Music on Preston, or by contacting the band's e-mail address, theviaman@aol.com.