Down On The Corner
• Louisville resident Duke Robillard is much better known in the Boston area than in Louisville, so it's no big surprise that he is the cover artist for the January-February issue of The Boston Blues News. Good story, too.
• Peter Searcy is back in town. Searcy, who first secured a measure of fame with Squirrel Bait and went on to lead Big Wheel and Starbilly, had been living in Atlanta. He has a new solo record, Could You Please and Thank You, on Time Bomb Records. A tune called "Hateful" was featured on the December 1 episode of "Dawson's Creek." Read Tim Roberts' review of the new CD on page 27.
• Ken Clay, Director of Programming a the Kentucky Center for the Arts, has been awarded the 1999 Governor's Award in the Arts. He will be the guest of honor at a special ceremony in the Capitol Rotunda in Frankfort on February 9 at 4 p.m.
• Hoagy Carmichael fans can now find out everything they want to know about the composer of "Star Dust" at a newly created website that utilizes Indiana University's collection of Carmichael materials. The URL is http://www.dlib.indiana.edu/collections/hoagy/ .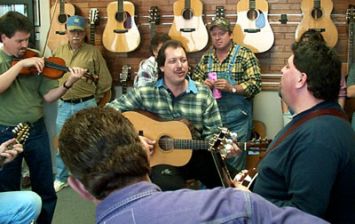 Mike Hartgrove, Russell Moore and Steve Dilling of IIIrd Tyme Out play a song from their latest CD, John & Mary, as their driver, Jack Nix, and an interested customer look on. The group was performing at First Quaility Musical Supplies in the Riverport. Photo by Eric Bradley
• Southern Gospel singers and songwriters have a pair of events to look forward to: on February 4-5 in Nashville, the Academy of Gospel Music (AGMA), a branch of the Gospel Music Association., will stage competitions and seminars. The second event will follow in Washington, D. C. on February 18-19. For more information, interested artists and songwriters can contact the AGMA at 615-242-0303 or by e-mail at info@gospelmusic.org.
• David Holland has been named to the newly created position of Public Relations and Media Coordinator for the Kentucky Center for the Arts. Holland came to the job form Clear Channel Broadcasting.
• Dick Sisto will return from a two-week jazz tour to Britain in early February. He be back at the Old Seelbach Bar on Friday, February 11. That weekend he will be joined by Barry Reis trumpet and drums and Drew Gress, bass, for a "Valentine Day's Special."
• Louisville native Geoff Schackert has picked up a Grammy nomination in the "Best Spoken Album" category for his production of audiobook The Chieftains - The Authorized Biography. This is Schackert's second brush with the Grammies. In 1996, he was associate producer for Jonathan Winters' Crank Calls, which won for "Best comedy Album." Schackert is a graduate of Shawnee High and Spalding University and is the vice president of The Publishing Mills Audiobooks of California.
• If this is February, then it must be time for "Singing Valentines" from the Pride of Kentucky Chorus. As usual, the barbershop group hires quartets from the chorus out for $35 a Valentine - the price includes a flower and a card, plus the performance - and they will go whereever necessary (in Louisville, of course) to deliver the goods. If you would like to arrange for performance, call 502-368-7664.
• Mike Baker, John Bahandas and Alex Tench have been putting in extra hours getting the new DSL studio up and running. The new facility, located at 10353 Bluegrass Parkway in the Bluegrass Industrial Park in Jeffersontown, features some rather beautifully built sound rooms, for which Bahandas gets a lion's share of the credit. It certainly appears to be a more pleasant environment to record in than a lot of studios. You can reach the guys at 502-499-2102.
• Meanwhile, across the river in New Albany, longtime Studio 2002 owner Rob Magallon has added short-run CD duplication to his array of services. There is a variety of prices for the various services, so give him a call at 812-949-2002 to find out more or e-mail him at stu2002@iglou.com.
• Down in E-town, Roy Minagawa has changed the manager for his coffee shop, Picassos. Gordon West is now handling the booking, so all you AAA types should make a note. The phone number is 270-769-9933.
Codas
• George B. O'Dell, 83, died on January 5 in Louisville. He was a member of the Buzz Saws musical group.
• Maurice B. Felde, 86, died in Louisville on December 30. Felde sang tenor with the Bach Society in the '60s and '70s and was the leader of a vocal and string ensemble that included his seven children.
• Kevin D. Lovelace, 34, died on January 21 in Louisville. He was a drummer for Smokey Mountain Express Band.
• Judith Carole Maixner, 60, died in Fredericksburg, Va. On January 4. She was former soprano for the Louisville Orchestra.
• Michael Dalton, 48, died January 1 in Louisville. He was the former trumpet player and guitarist of the old Lynchmen Band.
• Johnny J. Wright Sr., 61, died in Louiville on January 5. He was s former member of the old Spirits of Louisville singers.