Michael Knott, Unstrung Hero
In my early days as a Christian, I wanted to like Christian pop music really bad. After all, the Lord had delivered me from the crazy, mixed-up world of alternative rock (and all the evil that went with it), so I felt I owed it to Him to lobotomize my musical taste and settle into a wholesome diet of white bread and cheese. Before that actually happened, though, my wife came home with a cassette of 'This is the Healing', by a group called L.S.U. Very unusual stuff, a unique blend of techno beats and gothic vocal stylings, reminded me a lot of Bauhaus and Tones on Tail. "So this is Christian music?" I mused. And L.S.U. (along with other bands like The Choir, Adam Again, and Black & White World, to name but a few) rescued me from the yawning chasm of musical mediocrity.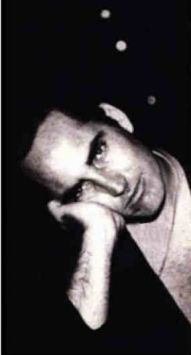 Michael Knott
To that end, I owe Michael Knott a debt of gratitude. His is the voice behind L.S.U. (which stands for Lifesavers Underground). Knott has spent the past two decades being unpredictable, unruly, "controversial"-a burr in the saddle of the CCM warhorse. And in that time he, along with an ever-changing line-up of some of the best musicians out there, has concocted some of the coolest music to be heard on either side of the non-profit wall.
At times folkish, dark and brooding, or Cali-punk and gloriously cacaphonic, the one constant through-out all of Knott's musical identities (including solo stuff, L.S.U., the Lifesavers, the Aunt Bettys) has been his voice-capable of a piercing shriek, a Gregorian-style chant, or a well-thought verse all given with equal amounts of power and conviction. His observational skill enables him to line his songs with odd details of the human condition-tragic, humourous, spent and spirited.
In addition to being a singer/songwriter, Michael Knott is also a producer of other bands, a visionary painter whose Picasso-like renderings adorn most of his album covers, a one-time indie label-head (Blonde Vinyl Records), and a loving husband and father.
Most recently, KMG Records put out a Michael Knott/L.S.U. "best-of" CD called 'Definitive Collection'. Knott is also working on a project with Social Distortion guitarist Dennis Dannell called "Strung Gurus"-something he describes as "Violent Femmes meets early Bob Dylan--even some loops on the drums, some jazz horn parts. It's a little bit eclectic.." In addition, Knott is finishing up an "unplugged" L.S.U. retrospective with members of Havalina Rail Co., a collection of songs solicited from fans who submitted their suggestions on the internet.
The internet has done wonders to shore up Knott's fanbase, and has made available his newer music, as well as some of his classic out-of-print stuff. At his official website (www.michaelknott.com), you can find a comprehensive collection of articles, tour dates, album art, lyrics, and of course, CDs for sale.
Because he so seldom tours, fans of Michael Knott will travel long distances to catch him live. Currently, Knott is on a short solo acoustic tour, which will wind its way into Louisville Saturday, February 26.
Michael Knott will perform live Sat. Feb. 26 at Highland Community Church, 1273 Bardstown Road. Show starts at 7 PM, tickets are $7. For info, contact Robert Gruber at (502) 893-8091 or by e-mail at Izzy81@aol.com. (Special thanks to Todd Brown and David Jenison)