Upcoming Live Music
After a brief pause in January so that we might catch our breath the torrent of live music events resumes in February, particularly at the Kentucky Center for the Arts. The final Van Kleeck-booked Lonesome Pine Special Series kicks off with Bela Fleck and Junior Brown, then things just continue on at that level. February is a particularly good month for jazz, plus nostalgia acts loom large on the schedule. Pick one or more and go see some live music, before everything retreats to the Web.
• Acoustic / AAA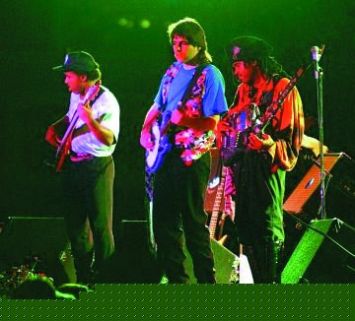 Bela Fleck and The Flecktones
As you might remember from last month's Upcoming column, the Bank One Lonesome Pine Special Series kicks off on February 18 with Bela Fleck and the Flecktones sharing the stage with the world's greatest (and only) git-steel player, Junior Brown. Such a combination could only be assembled on a Lonesome Pine stage, but then, Fleck and the Flecktones were themselves first gathered up for an LPS show and they have shared the KC A stage before with some intriguing, unexpected and talented guest artists (I'm thinking of the "Hands For A Hand" benefit.) Junior Brown has certainly seared his name into music history with his invention, the git-steel, a combination lap steel and 6-string electric guitar. Whatever. There is no doubt that it will be an incredible show - imagine Fleck, Brown and Victor Wooten in a hot licks duel - so get yer tickets yesterday.
• John Prine's guitar player, Jason Wilbur, will present a show of his original material at the Rudyard Kipling on February 3. Wilbur does these shows in between touring with Prine.
• Rounder Records artist Ellis Paul returns to the Rudyard on February 25. Paul has clearly found a home and an audience at the 4th and Oak eatery.
Tix and info: 636-1311
• Ballet
• In the "verrry interressting" department this month, you have your choice of either (or both) a show with jazz/tap artist Gregory Hines or the world premiere of the ballet "Peter Pan." Hines will be in town as part of the U of L Jazz Week and his program at the Palace on February 22 will be opened by U of L's Jazz Ensemble I.
Tix and info: 583-4555
• "Peter Pan," the familiar story of the boy who wanted never to grow up, choreographed by Alun Jones and Helen Starr and danced to music composed by Sir Malcolm Arnold, will be retold in dance, with a few special effects and surprises along the way. Your chances to introduce your children to ballet via "Peter Pan" will be February 24 - 26, at 8 p.m., with a 2 p.m. matinee on Saturday, February 26.
Tix and info: 584-7777
• Bluegrass
• Gary Brewer will kick off his new "Rambler Jamboree" series in the auditorium of the Kentucky School for the Blind, 1867 Frankfort Ave., on Saturday, February 12. Featured performers will be the Reno Brothers plus David Parmley and Continental Divide. Gary Brewer and the Kentucky Ramblers will also perform. Showtime is 8 p.m.
Tix and info: 448-9107
• C. R. Wilson's Bluegrass Music shows at Shepherdsville for February will include Larry Sparks and the Lonesome Ramblers, Feb. 4; the Karl Shiflett & Big Country Show, Feb. 11; the Goins Brothers, Feb. 18; and James Monroe and the Midnight Ramblers on February 25.
Tix and info: 239-8004
• Blues
• Kenny Neal will kick off Stevie Ray's February blues line-up on February 1. Neal was the headliner at last summer's Kentucky Kingdom Bluegrass Festival, but his credentials are far heavier than that.
• Our Sellersburg friend Wally will want to know about Duke Tumatoe and the Power Trio at SR's on February 2 and Little Mike and the Tornadoes on February 9.
Tix and info: 582-9945
• Celtic
• Galloglas will be holding forth at their annual "Celtic Hearts" night at the Rudyard Kipling on February 12. Read Decimus Rock's Celtic Corner on page 30 for more live Celtic shows.
Tix and info: 636-1311
• Chamber Music
• The Artemis Quartet will be in recital in the Comstock Recital Hall at the U of L School of Music on February 6.
Tix and info: 852-6907
• Christian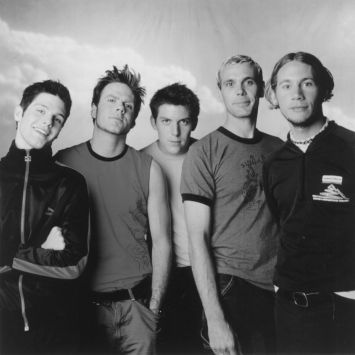 Audio Adrenaline
• Audio Adrenaline has found themselves a regular stop in Louisville: this is their sixth show in Louisville since 1996. It's okay, though, as AA is a certified radio act, with twelve #1 hits and two Grammies to their credit. Their new CD, Underdog, is buzzing right along on the charts as well, so a significant turnout is possible, given that the show will be held on February 3 at Valley View Baptist Church on Old Third Street Road. Raze and Fono will open the concert.
Tix and info:
Classical
• It's not everyday that one of the world's most important Czech pianists, not to mention the finest exponent of Czech piano music, comes to town. Mark that unusual occurrence down for February 29, when Rodaslav Kvapil will present a concert of works by Janack, Suk and Dvorak. The program will be presented in Heeren Hall of the Southern Baptist Theological Seminary.
Info: 897-4115
• Jazz
• The U of L School of Music will host Jazz Week 2000, February 21-26 on the Belknap Campus. In addition to various workshops, there will be performances nightly at various venues. Performers scheduled to appear include Terence Blanchard and his sextet; Gregory Hines; Charles McPherson; Bob Mintzer; Jack Wilkins and Rick Simerly and Slide Hampton. For a more complete schedule and descriptions of the various activities, read Tim Roberts' Jazzin' column on page 9.
Tix and info: 852-6907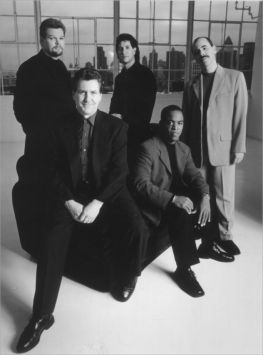 Spyro Gyra
• Spyro Gyra will be in concert at Jim Porter's on February 17. The Windham Hill group has a recent release, Got The Magic, to plug, so you know the routine. The Java Men will open.
Tix and info: 452-9531
• Dick Sisto will be traveling in the first part of February but will return on February 11, just in time for a two-night stand at the Old Seelbach Bar with New York jazz heavies Barry Ries and Drew Gress. Sisto has been bringing in a steady stream of solid-to-splendid players to join his trio at the Seelbach, so by now it might be supposed that real jazz fans in Louisville have already reserved their tables. What? You haven't? Why not?
Tix and info: 585-9211
• The KCA Jazz Cabaret Series presentation for February will be the Steve Crews Trio in Clark-Todd Hall.
Tix and info: 584-7777
• Musical
• Actor's Theatre will stage the "American tribal love-rock musical" Hair in the Pamela Brown Auditorium February 1 through March 4. All you aging boomers can go and be reminded of the time when you had some. Hair, that is.
Tix and info: 584-1205
• The Broadway Series is bringing in the mega-production, Tony Award-winning musical "Titanic" for their main February offering. The set for this has to be something, especially when they sink the boat. What? Yeah, the boat goes down, lots of people drown. At the Kentucky Center for the Arts February 8 - 13.
Tix and info: 584-7777
Opera
• The Kentucky Opera will present Carlisle Floyd's "Susannah" on February 5, 11 and 13 at the Brown Theatre. The Opera's Direction of Music, Kimcherie Lloyd, will conduct a free half-hour pre-show program that looks at the production and preparation for each performance. The composer, Carlisle Floyd, is scheduled to attend the opening night performance on February 5.
Tix and info: 584-7777
• Orchestral
• Broadway and film star Betty Buckley will appear with the Louisville Orchestra for the February 12 edition of Louisville Pops. Buckley recently received her second Tony Award nomination for her role in "Triumph of Love." She will be singing songs appropriate for Valentine's Day.
Tix and info: 583-4555 or 584-7777
• Across the river in New Albany, orchestra fans should find favor with a brand new offering called the Resolution 2000 New Music Festival. This three-day event, to be held at the Paul W. Ogle Center at Indiana University Southeast in New Albany, will offer lectures and various presentations but most of all it will offer multiple world premieres of new music. David Del Tredici, 1980 Pulitzer Prize-winning composer will speak. The February 11 performance will highlight two pieces by Del Tredici as well as new works by several other composers. Among the groups performing will be members of the Louisville Orchestra, the Louisville Mandolin Orchestra, the Kentucky Center Chamber Players and the Indiana State University Faculty String Quartet, among others.
The conference sessions are free and open to the public. Prices for the concerts vary. You can get lots more information at the Resolution 2000 website at www.ius.edu/music/res2000.
Tix: 584-7777
• Pop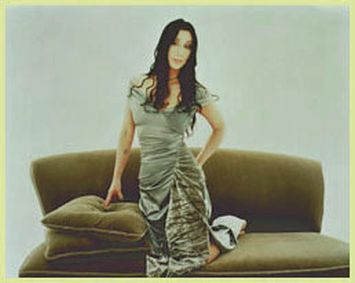 Cher
• Cher, Freedom Hall, February 9. Well, what else do what want to know that you already don't? I can't tell what clothes she'll nearly be wearing or how flashy the stage set will be, though it is likely that she'll be singing songs from her new CD, Believe. It's also a safe bet that there will be at least a musical reference to "I Got You Babe" and she'll do a little acting about Sonny, as well. Cher: WYSIWYG.
Male sex object Lou Bega will open the show with a set of material certain to excite the females in the crowd.
Tix and info: 361-3100
• R&B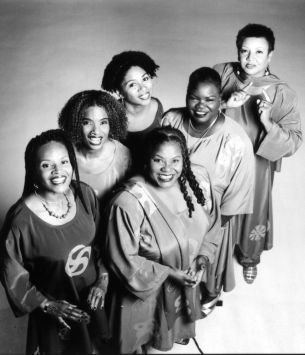 Sweet Honey In The Rock
• The women's a capella group Sweet Honey in the Rock will be featured act for the February Midnite Ramble presentation at the KCA on February 19. The group has been together for twenty-seven years, so you know they have their act down. It will also be signed from the stage.
Tix and info: 584-7777
• Out by the crashed airplane on Lexington Road, a twin bill of bluesy funk or funknblues and juke joint blues or something like that in the form of Galactic and the North Mississippi All Stars will be at Headliners on February 4. Galactic encourages the taping and trading of their live performances, so take your gear but don't ask the sound guy for a patch to the mix.
Tix and info: 584-7777
• Rock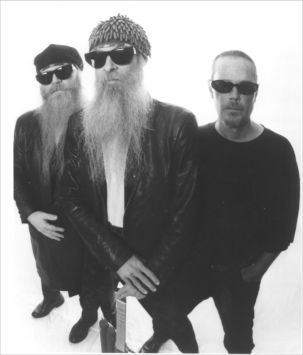 ZZ Top
• Get your tickets together, brethren and sistren, for the gol-durnedest twin bill of Southern rock we've seen around here in a coon's age. The most recent Louisville "appearance" by Lynyrd Skynyrd might have been nothing more than an April Fool's joke, but the upcoming concert in Freedom Hall on February 8 with the Skynyrd boys and ZZ Top is no hoax. Johnny Van Zant and the boys have a brand new album, Edge Of Forever, to promote and sell, as does that "little ol' band from Texas," which has just released XXX, which is a combo album of old hits and new material. So take extra cash and a designated driver as always.
Tix and info: 561-3100
• Metal fans, do not despair! Even though the Toy Tiger has been domesticated, there is still metal to be heard. This month, try the Original Rock Showcase at the Phoenix Hill Tavern on February 4. Scheduled to play are My Own Victim, Twist, Factor 9, Contortion and Sideshow.
Tix and info: 589-4957
Vocal
• The England-based King Singers will bring their extensive repertoire of songs to the Bomhard Theater in the KCA on February 15 as part of the New Masters Series. In addition to singing 16th Century Madrigals, the Singers do close-harmony arrangements of top-40 hits. With 60 recordings to their credit, the King Singers are no stranger to the stage and their show will demonstrate their skill and entertain the audience.
Tix and info: 584-7777
• If the King Singers are not of sufficient interest, how about the Vienna Choir Boys? This 500-year-old choral group will appear at the Ogle Center in New Albany on February 3. If you want tickets to this event, take note of the fact that when they were here last year, the event sold out.
Tix and info: 584-7777