I've Got A Mind To Ramble
Recycled Blues Bands
Blues clubs and blues bands come and go, but it's especially nice when a band makes a comeback. You may not have noticed but the Redd Snapper Blues Band had taken a hiatus this past year. Their drummer, Bob Ferguson, recently called to say that they are back, getting up and running again. In their first life, they were red-hot, winning the 3rd Kentuckiana Blues Society Amateur Blues Contest in 1995, performing at both the 1996 and '97 Garvin Gate Blues Festivals, plus gigging all over town at Zena's, Stevie Ray's and Jim Porter's.
It's the same line-up, with Kenny Lawrence and Chris Chancey on guitars and Steve Embry on drums, plus Ferguson. The reunion sort of happened by chance when Kenny and Bob were jamming at Steve's house and Chris showed up unexpectedly on his Harley. They got inspired again and have been rehearsing ever since. They are reworking old arrangements and shopping for new material. Their new sound will have more 'air' and may include a keyboard player.
Look for their first gig back around March.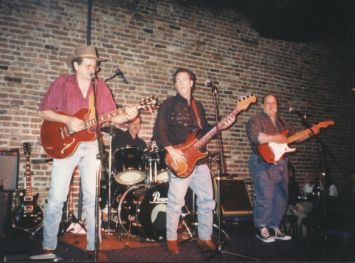 Redd Snapper Blues Band
Another band of talented players has recently come on the scene: the Last Minute Blues Band. The group's name came when former Blue Collar Blues veterans Marcus Tharpe and Matt Swenson hastily put together a band for a gig at the Smyrna Inn. They called on two other veterans, Sonny Sitgraves and James Watkins, to join them the next night. Tharpe had sung with Sitgraves and Watkins during the Sunday night jams at Zena's, when Foree Wells and Greg Blakney were there.
This new group brings together the diverse backgrounds of James' jazz and R&B bass experience and Sitgraves' old-school Chicago drum shuffle. Tharpe contributes his soulful Memphis vocals while Mart's country and rock guitar styles add to the mix. Mike Hood occasionally sits in on keyboards. This "Fathers and Sons" band has been working on covers of obscure blues material from Otis Rush, Jr. Wells, Jimmy McCracklen, Fenton Robinson and Little Milton. The band is working on a demo to use for getting club dates.
Tharpe told this story: "One night when the band had a gig at the Club KJ's in Jeffersontown, both James and Sonny recognized it as the place where they had met their wives - 35 years ago." At that time, it was the Hilltop Inn.
Smokin' With Red
I recently got hold a tape of an informal interview that Scott Mullins and Ricky Adcock had down with Foree Wells and Smoketown Red in Foree's home. The date was February 25, 1987. As blues musicians, Smoketown (Junie Downs) and Foree were very intimate with Louisville's blues scene. On this tape, Smoketown was doing most of the talking and the following are some excerpts of his conversations: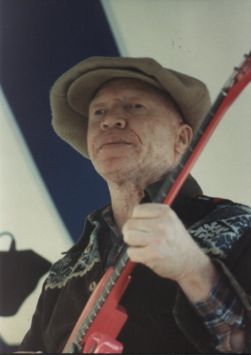 Smoketown Red
S.R.: "Let me tell you something about Smoketown, they don't call you by your name up there. Everybody's got a nickname. Like they used to call me Peep Sight, Cotton Top and they call me all kinds of names. Others they called Horse Head Slim, Crackers.
"They never did like to call nobody by their real name up there. That way if the police was lookin' for them and you giv'em that name, they never would be able to find them. But Foree gave me the name, Smoketown Red; he say 'Red from Smoketown,' he and Sonny Sitgraves."
F.W.: "The first blues band in Louisville that was a full blues band was the Morgan Brothers. They had Eggie Porter, Freddy Robinson, Bodie Green, Dave Morgan on drums and Luther on piano. They didn't play nothin' but the blues, nothin' else. This was back when I first started playin' guitar. This was back in the early '50s. They used to have the Club comedy at the Baptist Center up there by the projects off 12th St. They had a dance every Friday night and the Morgan Brothers played it. I never heard "Blues After Hours" before in my life. We were walkin' up there, a whole bunch of us from the West End, and we heard Bodie Green sing "Lawdy Miss Clawdy." I went up there and peeped in the window and Eggie did "Blues After Hours," and I about flipped my lid, and I wasn't looking for the guy. And he said come on in. I give Eggie credit for keeping me on the guitar, really, ' cause the guy showed me everything he knew."
S. R.: "I think Eggie Porter is about the first blues, really blues guitar player. He was kind of ashamed to be playin' the blues. He tried to play the blues and call it somethin' else, but I think he was the first one that did the blues sound around here. Seem like the blues was kind of like, you know, the musicians look down on the blues, man, like square music. If you like the blues you wasn't hip. So most people, they would go and buy their records and they would play them on the inside, in the house. I remember a time when everybody would say, Hey man, come on to my house and dig some sounds, and you just be goin' in the house and runnin' through their records and all at once, you see some Muddy Waters pushed back aside some B. B. King and that dude, Cecil Gant."
S. R.: "I'm goin' to tell you the first dude that made me realize that blues wasn't bad was Johnny Morton. Remember he used to have a little show come on. He would put full velocity reverb on the microphone like he was going down to his wine cellar and he would play nothin' but the blues. And he was a white dude, too, man. I said, man, if that dude plays the blues then it can't be all bad."
F. W.: "Johnny was Jewish."
S. R.: "Was he? (pause). Well, he was white to me."
Come back next month or millennium for more of Smoketown's nuggets of wisdom. You can catch him performing at Zena's Cafe every Friday nights with his Soul-Called Blues Band.