Kid Rock/ Powerman 5000 in Concert
There was more hype in the past three months for the Kid Rock show at Louisville Gardens on December 10 (along with Powerman 5000) than there has been for Y2K all year! (I am sure none of you are sick of hearing about the millennium yet, are you?). The show sold out three months before the concert date, which was more quickly than anyone expected. The result? One eager crowd.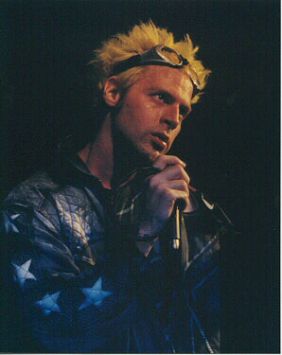 Powerman 5000
Kid Rock made a delayed entrance to the stage after his Twisted Brown Trucker Band kicked things off for him. "Bawitdaba" was the opening song of the evening, but Kid was no where to be found. After a verse or two without his presence, the entrance was made. Rising up above the action came Kid Rock, decked out in perhaps the most pimpin' white fur coat of all time. The crowd went wild, and he ate up every second of it. The music kicked off again, this time with full vocal power as the Detroit rocker Kid led the way. This is when I 'got in the pit' and tried to love someone.'
Underneath the pimp suit was the trademark red pants, hat and white "wife beater" tank top, as they are so affectionately called. The night just kept getting hotter and hotter as he played tracks off of the five-times platinum Devil Without a Cause album, as well as some of his earlier hits. A tribute to American rock and roll was made, as Kid covered some cover tunes with an American flag guitar: red, white and blue sparkles ... now that's patriotism. One of these covers was his own version of Hank Williams Jr.'s "A Country Boy Can Survive," in which he changed the words around to spread his message. This was done in the highest gratitude, I am sure, as Kid Rock states on his website (http://www.kidrock.com):
"I've been at this for ten years, and whether new or old, I have the most loyal fans in the world because they know I work hard at what I do and actually give a s**t about them. I don't need any critic to tell me who or what I am when Lynyrd Skynyrd, Run DMC, Aerosmith and Hank Williams JR told me I'm good." - Kid Rock
"I am the Bullgod" and "Cowboy" were the other major hits of the evening. "I am the Bullgod" actually dates back to the 1992 Continuum / Top Dog release, The Polyfuze Method. It was seen again on another 1994 Continuum / Top Dog release, Fire it Up. The same album also featured "A Country Boy Can Survive."
Sex, drugs and rock and roll are all good friends of the Kid. The pole dancers onstage could have given that one away. His music, if you don't already know this, preaches different issues like living the high life (no pun intended) while coming from a trailer park. "A twelve step program couldn't keep me clean..." You figure that one out. In a strange sort of way, I think Kid Rock represents every average guy and what they would like to become: a rags to riches story. I realized after this show that I have not given Kid Rock enough credit in the past.
This was the last show on the tour, so the bands pulled out all the punches for it.
Powerman 5000 was like an atom bomb that just kept exploding! Their single "When Worlds Collide" was obviously the highlight of their show, but I was just blown away by the intensity with which they played with all night. (Some of the hairstyles in the band were just as intense!) I was thoroughly impressed with the band in general, but their tightness and ability to get the crowd pumped up were most impressive. The power (once again, no pun intended) that was coming from their stage presence was incredible. The group really knows how to get people into the music, so much that I saw several of them passing out because of it! The floor was a breeding ground for overheated teens.
Powerman 5000's frontman Spider also has ties with the guru of Goth himself, Rob Zombie. Brotherhood to be exact. Zombie is featured on the Tonight the Stars Revolt!! album, more specifically on the track entitled "Blast Off to Nowhere." The band has no plans to tour with Zombie at this time, but I would not rule out the possibility in the future.
So what is it about the music of Powerman 5000 that is so appealing to today's crowd? To me, it is the combination of different elements they incorporate so seamlessly in their music. You obviously pick up on the rock/metal sound right off the bat, but the "evil disco" sound (as Static-X would put it) is there, as well as a cool vocalist with lots of diversity in his voice (a la Spider) which reminds me of the vocals of System of a Down. I cannot tell you how much I dig this band's sound! It is really refreshing to hear something like this in a time where everything playing on the radio sounds the same.