Louisville Rock Lowdown
Spy Ring
Lurking in the shadows of the 550 building is Spy Ring, an undiscovered act that creates music in an environment as unusual as the sound they achieve. Group members include Mike Gutterman on guitar, Manette Gutterman (you guessed it, husband and wife) on vocals, John Taylor on bass and Jae Brown on drums.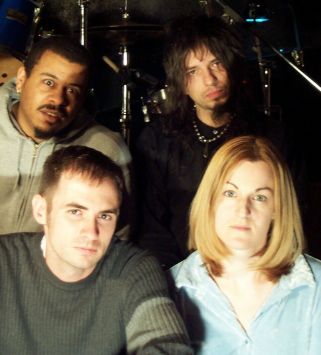 Spy Ring
The band's influences are mostly from the late Eighties and early Nineties. Gutterman mentioned that he was always a big fan of the Pixies, the Jesus and Mary Chain and U2. This, combined with a severe case of boredom, influenced him to learn to play guitar. On the other hand, Manette was too ashamed to say what some of her influences were before she got into music. As a result of her default, we will assume all of the worst possible answers with the highest levels of embarrassment: Vanilla Ice, New Kids on the Block, M. C. Hammer, the Backstreet Boys, Hanson (remember them?) and N' Sync. Did I leave any out? Oh yes... how could I forget the mega-girl-group Ace of Base? (Now, was that so hard, Manette? That's what you get when you don't answer my interview questions!=)) But seriously, Madonna might be a more appropriate answer.
Taylor was more into the Cars, BTO, and Head East. Brown was influenced by a different kind of force: sibling rivalry. His brother, a proficient trumpet player in a funk band, doubted Jae's ability to excel in music. Jae has definitely proved the non-believers wrong.
Over a span of two years, these influences have come together in a combination that is responsible for creating a sound the band describes as "noisy-girl-pop." I have to agree on this description. The sound is definitely noisy. My eardrums nearly bled when I watched them perform at their latest rehearsal. The vocals are very distinctive; I think that having a female vocalist is beneficial.
Aside from the fact that the vocalist is female, the vocal patterns and chord structures are also a little unusual. You can relate to what I am saying if you can remember a time when you were listening to the radio and you heard a new song for the first time. As the song progresses, you get a "feel" for it, and you can almost anticipate what will come next. The music of Spy Ring is not always this way. Every instrument sounds like it is pulling its own direction, yet they are all pulling the same load in harmony with one another.
Mike and Jae met each other initially and began with the usual steps to put together a band. The music in Manette's life before meeting Mike had been along the lines of choir and such. It wasn't until after marriage that she was introduced to indie rock and her love for rock has snowballed since.
John was sweeping the floors at the 550 building while the 3/4 group was practicing and sat in with the band. The rest is history. Jae and Mike also have a side project called Hurricane Willis.
The band works together on songwriting. Manette, whether it be an accidental side effect or a premeditated mission, has brought a more optimistic light to be band's lyrics. Dissonant as it may be, the music still has that feel of "pop" music, though not as dark as Garbage and heavier than No Doubt. They take simple chord structures and make good use of the space in which they put them in.
Another perk of the band is that not everything is in 4/4 time signature. It's definitely not your everyday sound, especially when it comes to some of the local bands in the scene right now. The riffs are heavy, and even the occasional bit of feedback adds a nice touch to some of their music. The band can be dark too, with hard-hitting drums, noisy guitar and a deep bass tone. The group's intensity is arrived at through heavy concentration, well-executed tunes and a burning desire to perform.
The band recently made the cut on a couple of compilation CDs, with both original music and a cover version of a Jesus and Mary Chain tune. Spy Ring submitted songs to a few record labels and Velvet Blue Music, in Huntington Beach, CA and Planting Seed Records, from Virginia Beach are the labels that used the group's material for the releases. The group learned of the compilation contests via Internet and has already received one of the disks in the mail. My favorites of the originals included on their CD demo are "Polaroid," "Speedskate," "Crawl" and "Lounge."
When asked about the troubles they have had in the past, the consensus was that it is difficult to get gigs, for a number of reasons. First, the band has a difficult time finding other bands with a similar sound to gig with. The group also said that many venues are limited to certain styles of music.
Everyone in the band expressed the strong desire for a place that offers local music as entertainment, no matter what the genre. This is hardly a novel idea, but I believe places like Headliner's have the edge.
The band argues that there is a "Louisville sound." Seattle supported itself and its scene during the grunge explosion, and there is a lot of talent going to waste here due to lack of cooperation. Slowly but surely we will get this town on the map for something other than baseball bats.
Spy Ring has a nice array of originals that they are looking to play. For booking, contact with Mike Gutterman at (502) 962-8187 or via E-mail at mgutter@iglou.com.