Well-Received American Opera Comes To Town!
By Henry C. Mayer
The opera is "Susannah," inspired by the book of Daniel and composed by Carlisle Floyd, who also wrote its libretto. Encompassing the sounds, melodies and revival meeting hymns of the Southern Hill Country, it has become the most popular of Floyd's nine operas. Last March, it was premiered at the Metropolitan Opera. Like most of his works, its action has a rural Southern hill country setting, where Floyd grew up.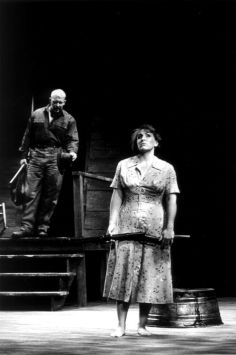 Susannah
"Susannah" takes place in New Hope, Tennessee, a primitive Tennessee mountain valley. A local 19-year-old beauty, Susannah Polk, has incurred the jealousy of local pious womenfolk by her appeal to all men, including the itinerant revivalist Olin Blitch. When the town's elders discover her bathing in the creek they want to use for baptism, they denounce and ostracize her. Her gentle and ineffectual brother Sam offers little comfort. Unwillingly, she takes his advice and attends a prayer meeting where the impassioned eloquence of Blitch plus the relentless congregational chanting nearly sweeps her into a "confession."
Blitch follows her home. He woos her but in her lassitude and despondency, she does not resist him. After she tells Sam what happened, he kills the preacher in the midst of a baptismal ceremony. An outraged congregation converges on Susannah's house but she repulses them with a gun. She makes advances to Little Bat, Elder McLean's weak-witted son, but when he responds, she slaps him viciously. She is left alone, an embittered woman.
Again, General Director Deborah Sandier has assembled a talented cast and her experience from staging this opera in New Jersey has a salutary effect. Most of the cast are making their first appearances with the local company.
This work offers several moving and unforgettable arias which present Susannah's various emotions. The sponsorships of Hilliard-Lyons and Brown & Williamson Tobacco Company have made this production possible.
Don't forget to take in the "Lunch and Listen" previews All together, "Susannah" should be unforgettable!
Show dates are February 5, 11 and 13. The first two performances begin at 8 p.m.; the third starts on Sunday afternoon at 3 p.m.