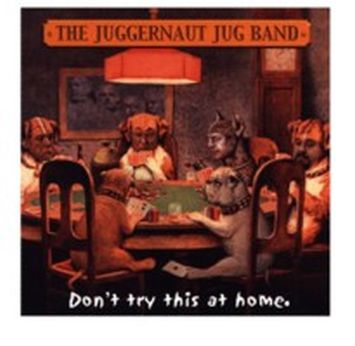 Rollick 'n Frolic
Don't Try This At Home (Independent)
The Juggernaut Jug Band
Pure unadulterated fun! Bubbling entertainment that exceeds the daily-required dose of enjoyment. A fast paced celebration of music, most of which comes from the late 1920s and 30s. Don't Try This At Home, from Louisville's Juggernaut Jug Band, is filled with warmth and respect for jug music and even contains an appearance from the world's worst Elvis impersonator. Don't Try This at Home is the JJB at its best. Every measure is as tasty and zesty as the west end soul food described in Jim Webb's original track, "Barbeque on Broadway."
It's blues, jazz, Hawaiian, and ragtime. A riot of tight arrangements that gets off to a flying start with swinging renditions of "Cowboy" and "Who Walks In When I Walk Out." The sounds of "Old Yazoo" are reminiscent of The Buzzard Rock String Band. The JJB's vocal arrangements are always tight, especially in "Borneo," "Minnie The Moocher's Wedding Day," and "Foldin' Bed."
Jim "World Wide" Webb, contributes his usual exceptional pickin', grinnin', and vocals. "Hawaiian Holiday" is another clever set of original lyrics and melody from the gifted Webb pen. And how many of you remember Jim in a former life when he was affectionately known as Gymnasium? (pronounced Jim-Nay-seum)
"Roscoe Goose" wails on jug, trumpet, and snare drum. But his finest cuts are the washboard work in "Coney Island Washboard" and harmonica work in "Move Out of Town." Meanwhile, the amazing Mr. "Gil Fish" provides bass, washtub bass, nose flute, and vocals. His artistry shines in a brilliant kazoo solo in "Foldin' Bed" and "Borneo." As a bonus, the CD insert contains instructions for one of his card tricks! Who else but the JJB gives you as much for your money?
"Big Daddy T's" forte is a mastery for guitar, banjo, dobro, and vocals. His best moment is the rousing CD closer, a cover of "You Really Got Me." Guest artist Jeff "Chainsaw" Guernsey provides some fine fiddle work in "You Ought To Move Out of Town" and "Who Walks in When I Walk Out."
This project is sheer pleasure. The JJB is a group of talented and accomplished musicians who have a clear knack for fun.
For your copy of this CD, contact Juggernaut Inc, 2821 Hoock Ave., Louisville KY 40205. Or check out www.juggernautjugband.com for more information, sound clips, and appearance schedule.