Cowboy Corner
Country Weekly Presents the TNN Music Awards Winners
The fans have spoken and they said that the "King of the Cowboys," George Strait still has it as he captured a whopping five trophies when the Country Weekly Presents the TNN Music Awards were handed out last month during International Country Music Fan Fair at Nashville's Gaylord Entertainment Center. Although he was not present to personally accept his plethora of trophies, George was named Entertainer of the Year and Male Vocalist of the Year, in addition to winning The Impact Award, Album of the Year for Always Never The Same, and Single of the Year for "Write This Down."
Following close behind on George's boot spurs was the hot newcomer Brad Paisley, who dominated an impressive three categories his first year out of the gate. Brad was all smiles as he captured The Discovery Award, and Song of the Year and CMT Video of the Year for "He Didn't Have To Be," which he co-wrote with his good pal Kelley Lovelace. This monumental song mirrors Lovelace's relationship with McCain Merren, his nine-year-old stepson.
The incredible Faith Hill retained her title as Female Artist of the Year, while hubby Tim McGraw never left his chair for even one blessed award. There was no surprise that the Dixie Chicks captured the Group/Duo of the Year Award. The most deserved award (in my humble opinion) went to Clint Black and his lovely wife Lisa Hartman Black when their "When I Said I Do" was titled Collaborative Event of the Year. Clint and Lisa fans can expect another duet from this happy couple on Clint's next album.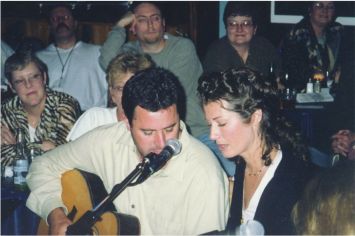 'Suprise Guests' Vince Gill and Amy Grant played at a jam session at the Bluebird Cafe in Nashville in April
A couple of other well-deserved awards were the Country Weekly Career Achievement Award and The Minnie Pearl Humanitarian Award, which were handed out to veteran Kenny Rogers and supergroup Alabama respectively. Kenny's live performance of his recent #1 hit "Buy Me A Rose" with Alison Krauss and Billy Dean on harmony was reason enough to win the award. (Kenny, Alison, and Billy each received a special #1 plaque from Billboard backstage at the awards show.) The most touching moment of the evening was Alabama's acceptance of their humanitarian award. Not only were many tears shed on stage during their acceptance speech, Teddy Gentry, Jeff Cook, Mark Herndon, and Randy Owen humbly shed many a tear backstage after receiving this prestigious award for their charity work with children's organizations as Teddy remembered a particular young boy he once encountered that suffered injuries to his head when his mother beat him with a can of vegetables.
The entire list of winners is as follows: Entertainer of the Year: George Strait; Female Artist of the Year: Faith Hill; Male Artist of the Year: George Strait; Group/Duo of the Year: Dixie Chicks; The Impact Award: George Strait; The Fast Track Award: Steve Wariner; and The Discovery Award: Brad Paisley.
Collaborative Event of the Year: Clint & Lisa Hartman Black's "When I Said I Do"; Album of the Year: George Strait's Always Never The Same, co-produced with Tony Brown; Song of the Year: Brad Paisley's "He Didn't Have To Be," co-written with Kelley Lovelace; Single of the Year: George Strait's "Write This Down"; and CMT Music Video of the Year: Brad Paisley's "He Didn't Have To Be," directed by Deaton Flanigen.
Career Achievement Award: Kenny Rogers; and The Minnie Pearl Humanitarian Award: Alabama.
Congratulations to all the winners!
2000 Ky. State Fair Goes Country
Fortunate for country music fans, the Kentucky State Fair's tradition of going country is once again being upheld. Although Dixie Chicks tickets have already gone on sale, tickets for the remainder of the country shows will go on sale at 10:00 am on Monday, July 10 at the Kentucky Fair & Exposition Center box office, as well as all Ticketmaster locations. Unlike years in the past, all ticket prices WILL include fair admission (thus the evident increase in ticket prices). Please call the ticket outlet you plan to purchase tickets from in advance to find out specific details regarding methods of payment. There will be a 12-ticket limit per show during the first day of ticket sales.
The entire list of ticket prices is as follows: Dixie Chicks with Ricky Skaggs on Thu., Aug. 17 -- $44 & $36; Brooks & Dunn with Lonestar on Sat., Aug. 19 -- $26; and Kenny Rogers with Pam Tillis on Fri., Aug. 25 -- $22.50. In addition to these paid concerts, the state fair will include a heaping portion of free country concerts, including: The Oak Ridge Boys on Sun., Aug. 20; Clay Davidson, Chad Brock, and Kentucky's own Montgomery Gentry on Tue., Aug. 22; and Ronnie Milsap on Wed., Aug. 23.
At press time, no concert had been announced yet for the traditionally country show on the last day of the fair, Sun., Aug. 27. Check back here next month to see if a country show pops up to close the fair.
The Women Of Country Sing For Charity
Tickets to this show may seem a little steep ranging from $25 - $45, but it will be hard-earned money well spent. You won't regret it for a moment—I PROMISE!!!!! Besides all of the great music, just think of how you are doing your part in helping others in the community by helping the Center For Women And Families.
Country Lawbreakers
Country stars have really been in the news the past couple of weeks, but it hasn't exactly been good publicity. It seems that some of our country boys have been gettin' a little rowdy these days. The Warren Brothers, best known for their debut single "Guilty" and their current duet with Sara Evans on "That's The Beat Of A Heart" from the Where The Heart Is soundtrack, had a little run-in with the law during Fan Fair. Brett and Brad Warren have reportedly been charged with simple assault after Brett allegedly punched Wildhorse Saloon manager Timothy Hatfield because Hatfield supposedly would not allow the brother duo to perform an encore because they had been drinking and pulling women onto the stage during their performance. The Warrens' publicist says that "nobody intended any trouble" and that the guys have "responded to the charges."
On a more publicized note, Kenny Chesney and Tim McGraw were both arrested in Buffalo, New York on June 3 following their performances on the George Strait Country Music Festival. Kenny is being charged with disorderly conduct for supposedly riding off with a police deputy's horse in the backstage area of the concert, while Tim faces a charge of second-degree assault on a law officer as he allegedly restrained a deputy who was trying to catch Kenny on the horse. Kenny and Tim each maintain their innocence.
Tim recently released the following statement on the matter: "I was just coming off the stage in Buffalo when I saw a police car burst into the private area going incredibly fast. My first thought was for the safety of my children who were playing there. I saw two officers leap from their car and run towards Kenny, who was riding a horse. Kenny raised his hands as if he were surrendering, yelling he had permission to ride the horse, when they reached up and began to rip him from the horse. Fearing for Kenny's safety, I ran over to offer assistance. At no time did I ever throw any punches or put anyone in anything remotely resembling a chokehold. One of the officers pulled his nightstick and hit me at least three times on my leg. The other officer kept saying this was all a misunderstanding…I am confident that once the district attorney has had the chance to fully investigate, all the charges will be dropped and justice done. If it's necessary, then I welcome the opportunity to go before a jury who I know will agree neither Kenny or I did anything wrong."
Music Row Awards
When the 12th Annual Music Row [Magazine] Awards were announced recently, Brad Paisley's name was once again not a stranger to the list of winners. Brad's smash hit "He Didn't Have To Be," which he co-wrote with Kelly Lovelace, was named Song of the Year. The entire list of winners is as follows: Critics' Pick Award: Eric Heatherly; Producer of the Year: Byron Gallimore; Song of the Year: Brad Paisley & Kelley Lovelace's "He Didn't Have To Be"; Breakthrough Songwriter: Carolyn Dawn Johnson (writer of Chely Wright's "Single White Female"); and Marketing Achievement Award: Dreamcatcher Entertainment for Kenny Rogers' She Rides Wild Horses CD. The following won Musician Awards: Jeff Balding (engineer), Eddie Bayers (drums), Stuart Duncan (fiddle), Paul Franklin (steel guitar), Liana Manis (background vocals), Brent Mason (guitar), Steven Nathan (keyboards), John Wesley Ryles (background vocals), and Glenn Worf (bass).
Congratulations to all the winners!
Hometown Gal Patty Loveless Prepares For Comeback
Louisville's very own former Country Music Association and Academy of Country Music Female Vocalist of the Year Patty Loveless is preparing for a big comeback following a much-deserved three-year break. Patty kicked off a national tour late last month in Atlanta, Georgia to promote her upcoming new album, Strong Heart, which is scheduled to hit store shelves on Aug. 28. Keep your ears open for the first single from Patty's new album, titled "The Kind Of Mood I'm In."
Welcome back, Patty! Please come home with your new tour!
Hall of Fame Inductees Announced
"Little Miss Dynamite" Brenda Lee announced this year's inductees into the famed Country Music Hall of Fame just last month at a ceremony in the lobby of Nashville's Hall of Fame. Charley Pride and the late Faron Young will become the 73rd and 74th inductees into the Country Music Hall of Fame during The 34th Annual Country Music Association Awards which will take place at the Grand Ole Opry House on October 4. Charley was totally surprised and moved to tears when his name was announced as one of this year's honorees. He thought he had been invited to the Hall of Fame that day to speak about the Grand Ole Opry's 75th anniversary this year.
Faron Young's son, Robyn Young was on hand for this ceremony in honor of his father, who died from a self-inflicted gunshot wound in 1996. Robyn has been lobbying for his father's induction into the Hall of Fame since the time of Faron's death, so this is a dream come true for the entire family. Robyn said, "When my father died, he wanted his ashes scattered on Old Hickory Lake, near Nashville. That meant that there wasn't really a gravesite where I could go visit him. I've thought about that for a while, and I decided that the best headstone he could ever have would be a bronze plaque in the Country Music Hall of Fame."
Fans will have the opportunity to see these Hall of Fame inductions as The 34th Annual CMA Awards program will be broadcast live on CBS-Television. Congratulations to Charley and Faron!
Well, that's it for this month. Good luck at buying good seats for the state fair concerts. Always remember: "Keep your boots shined up and your hat on straight, 'cause country music is comin' your way."