J-Tull.com at the Palace
Would somebody please get that phone?
About forty-five seconds into a rip-snorting instrumental off of one of the band's mid-Seventies albums, Jethro Tull was interrupted by a loud, persistent ringing over the PA: a cell phone. The band came to an instant stop and the members began a frantic search of all the phones on stage (there were at least "four") before finally unearthing a cell phone, which was handed to Ian Anderson.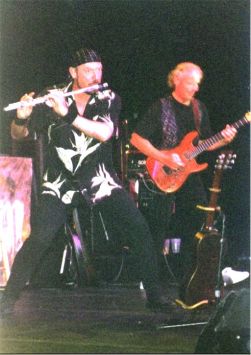 Ian Anderson and Martin Barre of Jethro Tull: middled aged men can rock.
"Hello? Yeah, oh, we're in the middle of a concert here, actually, though you wouldn't know it from the way people are jumping up and down in front."
"Uh-huh. Yes, well, okay, a slight young woman in a white top somewhere on the first row? Yes, I think I see her?
"What? She's her with your husband? Well, you better talk to her, then."
Whereupon he handed the "phone" to a somewhat startled young woman in front and the band began again, precisely where they left off, thus demonstrating without being at all obvious why they were often called a "thinking person's band." Lectures on behavior never sounded so good.
This was their second show in Louisville in little over a year, so comparisons between concerts come easier: the band was much tighter than in 1999, reeling off the old and the new material with a precision and polish that spoke of time on the road and practice. Pros that they are, they managed to make the show flow around several glitches, mostly related to balky electronics. Said glitch had little effect on the audience's appreciation of the tune that followed: "Locomotive Breath."
Curiously, the crowd was much less rowdy (despite Anderson's quip about people in the front row jumping up and down) than last year, which likely said more about the time between shows than anything. With lots of new material from a new album, J-Tull.Com, to present, the concert was blessedly free of the usual parade of All of The Greatest and Lesser Hits commonly seen with bands whose big hits were years ago. In the case of Tull, that is even less of a problem, given the large pool of material available to them from their many albums.
Otherwise, friends and neighbors, it was a terrifically good rock and roll show, staged by some terrifically good musicians, who apparently have decided that young can get old and still rock and roll and dance on one leg while playing a flute. As with Tull generally, the instrumental sections (and often whole tunes) of the music outweighed those with vocal parts.
Now to get that album.
The opening band, whose name I did not get, did it's job: the incredible volume (for the Palace) drove a great many people out of the main theatre to the lobby and bar, there to spend money.