Upcoming Live Music
Summertime and living is hot and the traveling is expensive, thanks to the surge in gasoline prices. That must mean your vacation(s) will be close by. Perhaps it's a perfect opportunity to catch some of the area's many live musical performances, eh?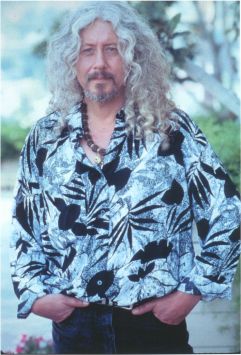 Arlo Guthrie
In the regular free event category, The Powertel/Nokia Rockin' at Riverpoints Concert Series, a.k.a. notalgia rock headquarters, will be wrapping up at the end of July. The four concerts left look like this:
July 7 - ex-Procol Harum guitarist and Eighties Rock God Robin Trower, Will Hoge and Stages. Stages is the house band at Zephyr Cove, for those of you unfamiliar with them.
July 14 - Molly Hatchet, Absolute Hickory and the Eric Jerardi Band. Hatchet you know about; the Eric Jerardi Band plays Stevie Ray's real regularly and Absolute Hickory is the regular Sunday night group at Gerstle's.
July 21 - For a break from the nostalgia rock, check out Chubby Carrier and the Bayou Swamp Band, plus Splatch and the Bluegills. Carrier was just in town a few months ago, so you're likely already familiar with that acts. Splatch is one of Louisville hotter jazz acts and the Bluegills play acoustic blues.
July 8 - The closer for this series will feature Eddie Money, Romeo Laureano and the Marks. Eddie Money is trying to break out of the nostalgia circuit with a new CD, Ready Eddie. Romeo Laureano is a Louisville boomer band and the Marks are a Louisville pop-rock group playing the last few shows before morphing into something else.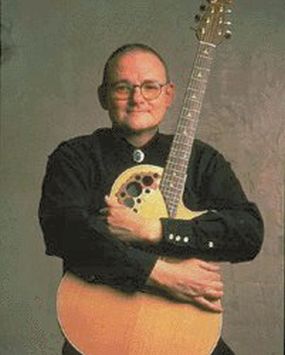 Adrian Legg
• Acoustic / AAA
• Paul Thorn was a prizefighter and skydiver before becoming a singer/songwriter. As a boxer, he once fought Roberto Duran, and as a musician he has toured and collaborated with Sting, Paul Carrack, Joe Diffie, Tanya Tucker, Ronnie Milsap and Carole King. With a couple of albums under his belt, we can assume that he has given up his ring habits and now only makes his guitar ring. Erk. At the Twice Told on July 1.
• July is an excellent month for fans for guitar wizardry. On July 29, Adrian Legg will show off his considerable chops at the Twice Told.
Tix and info: 502-456-0507
• Eddie Mattingly and Pat Kirtley are bound and determined to make Louisville music fans aware of the incredible talents of Australian guitarist Tommy Emmanuel. Kirtley, a Bardstown native, is a fingerpicker of no little talent himself. Mattingly is a songwriter who has morphed into a concert promoter specializing in Kirtly-Emmanuel concerts. Following every one of these events, all I've heard is rave-rave-rave from otherwise jaded guitar players about Emmanuel's astonishing guitar chops. They take a breath, then they rave some more. Get the message? June 11 in the Bomhard at the Kentucky Center for the Arts.
Tix and info: 584-7777.
• The 25th Kentucky Music Weekend will be held at Iroquois Amphitheater July 27-30. The lineup is heavy-duty, with Arlo Guthrie, Maura O'Connell and Jean Ritchie only a few of the big names in acoustic music set to appear. For more information, read Victoria Moon's Front & Center article on Page 11.
• Tish Hinojosa must be on her way through town and picked up a Tuesday gig to pay for gas. Ms. Hinojosa has made a considerable splash in the Americana radio market - she is a particular favorite of David Dye, host of NPR's "World Café." With a new Rounder CD, Sign of Truth, to promote, she'll be working extra hard. Grab this chance to see a large talent at the Rudyard on July 11.
Tix and info: 636-1311
• Bluegrass
'Tis the season for bluegrass and the closest bluegrass events in July are both in New Albany.
• The first event offers both fireworks and bluegrass music for your Fourth of July weekend. Fire up the family flivver for the very short trip across the Sherman Minton Bridge, take the first exit, take the first right, then drive until you come to the floodwall. The bluegrass is on the other side. The event is the New Albany 4th of July Celebration, featuring the Brewgrass Tour 2000 with J. D. Crowe and the New South, The James Monroe Band (James is Bill's son) and Gary Brewer & the Kentucky Ramblers. Of course it's free and the fireworks come after the music.
• Make plans (and a map if necessary) to drive to the Ogle Center at IUS in New Albany on July 22 for a high-octane bluegrass show. Ricky Skaggs will be there along with Gary Brewer and the Kentucky Ramblers and Bluegrass 101. Skaggs' Ancient Tones CD is still gathering lots of airplay and Brewer's "Jimmy Martin Songs For Dinner" has been climbing the national bluegrass charts for most of the winter, so this show should be hot, indeed.
Tix and info:812-941-2526
• Blues
• Little Charlie and the Nightcats are regulars at Stevie Ray's, even though they are in fact a touring act. That's just a comment on the crowd they draw, one might suppose. Be that as it may, this California-based group puts on a fierce show of mostly original blues with some 'adaptations' of obscure old blues tunes. At Stevie Ray's on July 10.
• Mike Morgan and the Crawl are another regular act at Stevie Ray's. They'll play in the long room on July 10.
• Smokin' Joe Kubeck with Bnois King will amble into Stevie Ray's on the 24th of July. This Texas-based, guitar-driven blues band is solidly in the old school of Texas blues, which ain't a bad label to hang on them. They're touring behind a new CD, Bite Me, so take along a little extra cash if you make this show.
Tix and info:502-582-9945
• Country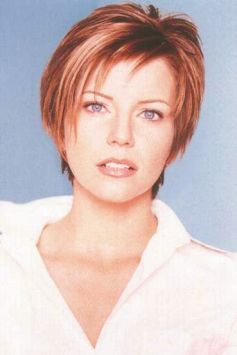 Martina McBride
• There's not much debate about the country show of choice this month. Pikeville native Dwight Yoakam will be at the Palace Theatre on July 11. Yoakam, who has carved out a musical space in country music that is not Nashvillian, is one of the biggest country stars to still sing in the old country music style. He has, of course, collected a stack of prizes, and, we assume, a few greenbacks, over the last decade or so. One friend of mine was just thrilled to get a third-row center seat, so if you're a fan, best grab the phone now if you haven't already.
Tix and info: 502-583-4555
•
• Jazz
• We'll list this show under jazz 'cause there isn't anywhere else to put it: Ray Rizzo & Todd Hildreth with Ethan Buckler Whooey, here's a show that's not for the musically faint of heart: Ray Rizzo and Todd Hildreth of the Java Men with Ethan Buckler of King Kong fame. Even Ray said it would be "interesting." At the Rudyard on July 22.
Tix and info: 636-1311
Latin
• Okay, call it Cuban music, then, but not necessarily salsa. Cuba Son, led by a native of the island, will be presenting "Friday Night Mambo" every Friday night at Omar's Gyro, 310 E. Main, across from the Louisville Ballet building. The show starts at 9:30 p.m.
Metal
• It's time for another "Original Rock Showcase," courtesy of Eddy Metal. Featured will be Krosmember, Dump Gang, Crone and Engrind. Strap on your helmet, pop those earplugs in, head on down to the Phoenix Hill Tavern and hit the pit. Okay, so you don't wear a helmet and earplugs. Just trying to save your body for your older self's use, dude, that's all.
Tix and info: 502-589-4957
• Musical
• "Swingtime Canteen" recalls the music of World War II, from the Andrews Sisters to Benny Goodman to Gene Autry. Perfect entertainment for the senior citizen crowd and for the kids who've never heard the tunes that turned their parents and grandparents on. At Actor's Theatre. The show runs from July 12 through August 13 .
Tix and info; 502-585-1210
• The musical "Ragtime," based on E. L. Doctorow's novel of the same name, has garnered Tony awards, Outer Critic's Circle Award and on and on. Get your dose of turn-of-the-last-century nostalgia, all beautifully sung, at the Kentucky Center for the Arts, July 14- 23.
Tix and info: 584-7777
• If you have children who like musicals, consider taking them to Derby Dinner Playhouse's "Snow White and the Seven Dwarfs," now set to run on Saturdays, July 8, 15, 22 and 29. It's never too early to teach the kids about styles of music other than Barney, Britney and Backstreet Boys.
Tix and info: 812-288-8281
• Orchestral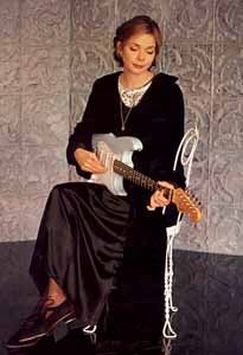 Nanci Griffith
• The Roarchestra events at the Zoo are usually quite popular with parents and kids. The shows for this month include Bryan White on July 8 and on July 15, the 'Pops' person joining the Orchestra is singer/songwriter Nanci Griffith. Griffith's songwriting is first rate ("Love at the Five and Dime", "I Knew Love"), but her singing is an acquired taste. Since her most recent album, The Dust Bowl Symphony, recasts several of her songs as a suite, complete with backing from the London Symphony Orchestra, don't be surprised to find some of those reprised at this show.
Tix and info: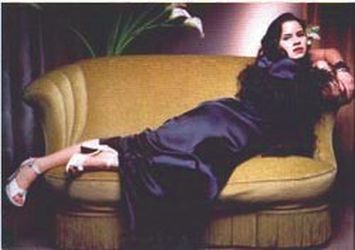 Natalie Merchant
• Pop
This show looks like one that the Pennies put together. If you are a modern pop music fan, then you need to hear the Pennies, arguably one of Louisville's most intriguing acts. Cursive is from Omaha and Slur 4 (sp.?) is from South Carolina and now you know everything that I do about them.
Tix and info: 646-1311
• R&B
Those "Emperors of Soul," the Temptations, will bring their oh-so-smooth vocalizations to the J. Dan Talbott Amphitheatre at My Old Kentucky Home State park on July 10. Just thinking about "My Girl" evokes memories of that famous guitar opening lick. It's not "Just My Imagination" that says these guys can still deliver after mumbley-mumble years in the business. Take the kids, show 'em what the Backstreet Boys really should sound like.
Tix and info: 800-626-1563
• Rock
Grab your credit card and head for the phone - your July 4 show of choice is clear: The Foo Fighters and the Red Hot Chili Peppers at Freedom Hall. Of course, Flea won't be posing a la that Rolling Stone cover, but, hey, it's the music you want to hear, right? With their new CD, Californication, making waves all around, look for a packed house. The Foo Fighters have just released their new CD, There is Nothing Left to Lose, so be sure to take plenty of extra money.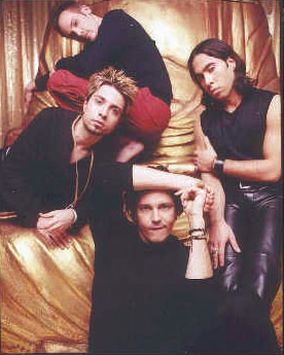 Third Eye Blind
Tix and info: 361-3100 or at www.ticketmaster.com
• Blood, Sweat & Tears with David Clayton Thomas? How much more Seventies can you get? Even though BST is currently little more than a concert back-up group for Clayton-Thomas, "Spinning Wheel," "When I Die" and "You've Made Me So Very Happy" are sure to be on the playlist, so if you're a BST fan, call the Ogle Center at IUS right away and reserve a seat.
Tix and info: 812-941-2526
• Are you up for some Mississippi-bred, radio-ready, post-grunge, aggressive alternative metal? Maybe it's just rock 'n' roll, but whatever you label, 3 Doors Down is building a reputation on the strength of their live shows and their first single "Kryptonite." They're looking for A Better Life, no doubt. Opening will be the Canadian band Nickelback, whose "Leader of Men" has been rising on the Billboard Mainstream Rock Chart, in spite of the fact that the song is a paean to euphoria-inducing fungi. At Headliners on July 14.
Tix and info: 584-8088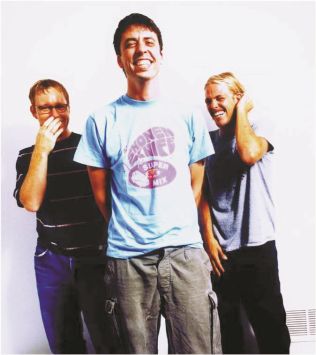 The Foo Fighters
• Third Eye Blind might well be living a "Semi-Charmed Life," but this post-grunge California band isn't acting like that. Rather, they're touring, touring, touring behind their most recent project, Blue. The tour, called The Red Summer Sun Tour , also features Splender and Vertical Horizon. If you don't recognize any of these bands, face it, you're getting old. At the Gardens on July 15.
Tix and info: 584-7777
• I guess I'll have to go see Cheap Trick at Headliners just so I can lay my eyes on the guy everybody says looks just like me (poor fella). Then again, I could go just to dig some cool rock 'n' roll, which these guys are aces at providing. Keep in mind that their last CD was titled Music For Hangovers; don't drink too much. At Headliners on July 25.
Tix and info: 584-8088