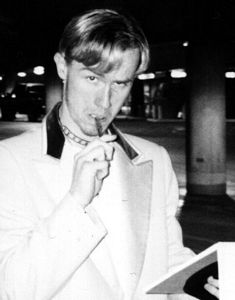 I hate sounding like a whiner, but I've had a really bad month! This column is going to serve a few purposes, none of which are directly related to any one band. Hopefully, things are going to wind down a bit soon, and we can get back into the swing of things.
First and foremost, I need to clarify an issue I addressed last month. I spoke of a Battle of the Bands to take place at the University of Louisville's Red Barn on August 19th (which leads me to another typo, as I said the 21st in last month's issue). This IS NOT going to happen now. The Barn has certain security issues that cannot coexist with the type of event we were looking to host. If any changes occur, I will keep you posted in upcoming issues. Again, I apologize to my readers for giving incorrect information, and I apologize to the Red Barn for the misunderstandings.
On a lighter note, I am organizing a show that I started two years ago called Hallopalooza. (It is going to remain an annual event, so go think up your own title.) Imagine this as the coolest Halloween party of the year. There will be four live bands, food, a costume contest, and more! Winners of the costume contest will receive prizes, so everyone is expected to dress up, including the bands performing onstage that night!
The date: October 28, the Saturday before Halloween, at the Fern Creek Community Center, 6104 Bardstown Road. Admission will be $10, and there will be a donation box set up for canned goods for Kentucky Harvest, so bring out some food to help the community.
I hope to see all of you there, and I will keep you updated on the bands as time goes by. For more info, call (502) 262-8728.
Next on the agenda, a cautionary tale: My girlfriend and I went to Bogart's in Cincinnati to see Crazy Town, Dope, P.O.D. and Staind. I drove around the club for 30 minutes looking for a place to park without any luck, because there was absolutely no place to park. I finally decided to park in the nearby Walgreen's lot. That was when things went really sour: First, I had numerous problems with the security, which caused me. to make a trip back to my car to put up my 6-inch wallet chain and UPS pocketknife (the size of a Starburst); then I didn't get the photo pass that Crazy Town put me down for at "Will Call."
After the show, we exited the 400,000 degree oven called Bogart's and headed to the prospective oasis of my air-conditioned car. It was missing. A less-than-friendly cop told me to "catch a ride" or "walk." Whatever happened to "don't take rides with strangers" or "you shouldn't walk through the ghetto late at night with your girlfriend in towns you are unfamiliar with"?
The only thing that made up for any of this was the fact that the bands were great to me. The management from Crazy Town let me use a cell phone to call the towing service, and the band's bus driver was the only reason I was able to take any pictures or see any of their performance at all! (Look for my full review and band interviews in this issue…) Oh, yes, and the towing fee was $80.
So what does any of this have to do with Louisville Rock Lowdown, you ask? I am here to say that Louisville has a great scene here, and that many of us, including, sometimes, myself, take that for granted. Nothing like this would have ever happened at the Twice Told Coffee shop.
OK, OK… now onto something more intellectually stimulating.
I was forwarded an email some eighteen pages long, originating with Butch Rice. It featured a speech by Courtney Love about a recent "technical amendment" added to a bill that defines recorded music as "works for hire" under the 1978 Copyright Act. This can be put into laymen's terms as: record companies now have the right to grab and keep everything. The target of this attack is Congressional aide Mitch Glazier, along with the RIAA for their support. Glazier's revision took place last November, and now the word is on the street: songwriters are being robbed of their own music - legally.
Love drew comparisons between books and CDs. The legal line on a CD reads ©1999 Atlantic Records or something similar, whereas a book's legal line may say © 1996 Stephen King. Authors own their own material and license it to publishers, and they get it back at the end of a contract. This is not the case in the music biz. Under the 1978 Copyright Act, artists could reclaim the copyrights to their work after 35 years. The example used was if you wrote "Everybody Hurts," you or your family would own the rights to it 35 years later. Now there would be no reversion clause: the record company would own the material in perpetuity.
I would be happy to pass a copy along to anyone interested in it. Just email me at JJKSLACKER@cs.com and ask me for it. I would also like to hear some opinions and feedback on it to be printed in upcoming issues of Louisville Rock Lowdown, so send me your thoughts.
Also, keep sending me your band information for the Louisville Rock Lowdown. My voice-mail number is (502) 262-8728 if you have any concerns or information. I want to see some email and feedback on this issue; so don't be scared to give an opinion. See you next month!