I've Got A Mind To Ramble
Blues Night For A-T
It's time for the blues community to come together again for another worthy cause. There is a rare and degenerative disease called Ataxia Telangiectasia (A-T) that slowly destroys the neurological and immune system of young children. Only about three hundred children in the U.S. are suffering from this disease, but one of them is Emily Erskine, a four-year-old 2nd niece of Steve Walls, the veteran bassist for the Saints. The family has been trying to raise money this past year for a special medicine which has been effective in reducing the effects of A-T. Now more help is needed and a benefit is scheduled at Stevie Ray's for July 16. The $5 admission will go to Emily's A-T Fund and the National Organization to Treat A-T for more research to cure or treatment.
Three of Louisville's top blues acts are donating their time and talent to raise funds. Sue O'Neill and the Blues Hounds will start things off at 4 p.m., followed by Lamont Gillespie and 100 Proof Blues. The Saints will close the evening.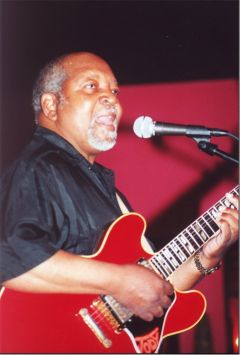 Jody Wiliams
I talked to Steve about the Saints have been and where they're going. Walls and Bruce Lively, the vocalist, are the two founding members still in the band, which was started in 1980. Their keyboard player, Bill Dean, came onboard early after Philip Burkhead left. Howard Warren is the current guitarist and Paul Hoerni is the drummer. The Saints were a hard luck band, as their original drummer, Dickie Durlauf, died suddenly and unexpectedly. Later drummers included Paul Tkac and Tim Sears. Rick Mason and Mark Stein have passed through the band as guitarists.
They have had some great sax players over the years in bill Jordan, a founding member, and later, Jerome Howlett. The Saints became a good regional band during the Eighties but never quite got it together to do a recording. There were some outstanding live performances broadcast over WDJX from Phoenix Hill during that era. The Saints disbanded seven years ago, with the hiatus lasting until last September, when they reunited to perform at Stevie Ray's.
Their current goal is to record that unfinished CD and start playing regionally again, doing the blues festival circuit. After this benefit, the Saints will be playing at O'Shea's on July 22 and back at Stevie Ray's again on August 12.
Blues Bits from Chicago
It was the seventeenth year for the Chicago Blues Festival and I've made sixteen so far. With four days of music and six stages, there are many opportunities for some memorable experiences. One such special occasion brought together Eddie Cusic and Little Milton Campbell. Little Milton is a well-known blues figure: Eddie was his mentor back in Greenville, Mississippi during the early Fifties. He had a three-piece band called The Rhythm Aces that played the local juke joints. Milton joined the band and took it over when Eddie went into the military, then took a day job to support his family. He dropped out of music for several decades, working as a stone cutter. Since his retirement in the Nineties, Cusic has started playing again, appearing at the Smithsonian Folklife Festival and in the documentary film "Mississippi Blues." He recorded a solo CD in 1998 for HMG called I Want to Boogie.
It had been forty years since Eddie and Little Milton had played together when they were reunited on the Juke Joint Stage. Milton acknowledged his debt to Cusic when he said "If it weren't for Eddie, I'd still be behind a mule." When they finally finished an extended version of "Catfish Blues," Little Milton said "The only thing missing is the corn liquor."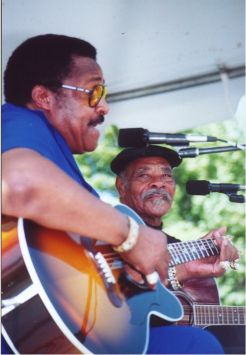 Little Milton Campbell
On Saturday, June 10, we went to the Hot House at 31 East Balboa, around the corner from Buddy Guy's Legends, for one of their Blues Fest Aftersets. The Chicago Blues Harmonica Masters with Willie "Big Eyes" Smith, were featured. Smith has gone back to playing his original instrument, the harp, now that his son Kenny has become an excellent drummer.
Little Meck Simmons has been on the Chicago West Side scene since the Fifties. It was good to see him performing on the stage rather than busking on the streets as in years past. Billy Boy Arnold played a long set until Sugar Blue arrived shortly before closing time. Arnold maintains a nice bounce to his harp style on songs like "Walkin' Groundhog" and "I wish You Would."
Sugar Blue, "the Charlie Parker of the blues harmonica," put on an animated set, taking his harp to the limits on "Hard Hearted Woman." The real surprise of the evening was the unannounced appearance of Jody Williams. Williams came to Chicago in 1941 and started playing with Bo Diddley in the late Forties, when Diddley had a group called the Hipsters who played on streets and at house parties. A then-fifteen-year-old Billy Boy Arnold had also joined the group along with Jerome Green, who played maracas. They all recorded on many of Bo Diddley's early Checker recordings in the late Fifties. Williams was also on some of Otis Rush's classic Cobra recordings from that same period. He was a frequent session artist and played club dates well into the early Seventies.
Billy Boy coaxed Williams to come out that night to play on stage for the first time in nearly thirty years. When he hitched up his red Gibson and sang several blues standards, it was plain he hadn't lost his touch. He just picked up where he left off. Billy Boy said that Jody many of his hits like "I Ain't Got You" when they were first recording together. Williams showed the appreciative crowd at the Hot House that night that he is ready to play the clubs and get in the studio again to acquaint the next generation with his jazzy style of urban Chicago blues.