Twice Told Coffeehouse:
By Jason Koerner
Every now and then a business comes around that is home to more than meets the eye. No, I'm not referring to Vancouver's hash bars or some sushi place in Chinatown. What I am talking about is Twice Told coffeehouse. Located at 1604 Bardstown Rd. in the Highlands, the TTC has been a multipurpose establishment that has catered to Louisville's more artistic population. Artists, writers and musicians alike have congregated over a cup of Joe in town to argue politics, the weather, or what show was better on TV the night before. Best of all, they have had some of the best music in town play on that tiny stage.
Though Logsdon continued to DJ, his music career caught a break when he opened a show at Memorial Auditorium for his idol, Hank Williams. Though the night started badly (Logsdon tripped over a guitar cord and fell flat on his face, sending his guitar flying across the stage) Williams was impressed with what he heard and promised Logsdon he'd see what he could do for him Nashville.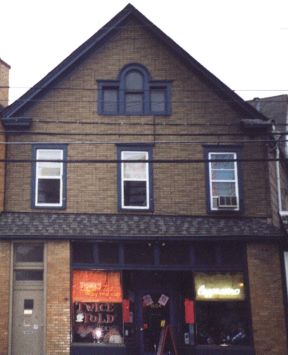 Twice Told Coffeehouse
If you haven't already heard, the Highland's coffee shop is now under the new management of Jim Roberts. The good news for us is that there is more music than ever. This is good news to local bands too, as it is a great place to play. Roberts is a music lover himself and has made it a goal to turn Twice Told into a central location for the best music in town with both local and national talent appearing.
The open mike night is one of the shop's biggest attractions. Anyone can perform on these Tuesday night shows if they sign up early. The club is very interested in local music, whether it is jazz, funk, rock, country, bluegrass, punk, etc. Craig Wagner (Java Men, Days of the New) hosts a jazz show called String Music on the 3rd Monday of each month. U of L and Bellermine both call Twice Told "Home" for their jazz recitals. Big names in the scene such as Ron Jones, the Java Men, Jamey Aebersold and more play regularly here as well as other nationally known acts.
Speaking of nationally known performers, Marcia Ball, Martha Stewart, Greg Martin (The Kentucky Headhunters), and Billy Gibbons (ZZ Top) have all visited the shop within the past few months. The venue is in the heart of the Highlands, and it serves not only as a great place to drink coffee, eat, and listen to good music; but it serves as a place where we can come together as a community and all be friends for a change. I have been treated like dirt in many clubs and places, so when I find some place as groovy as this one, I want to share it with the world. Go check it out and support the bands and other artists who are making it happen.
The new hours are 12 p.m.-12 a.m. weekdays, 9 a.m.-1 a.m. on Saturdays, and 9 a.m.- 3 p.m. on Sundays for brunch. It is now a non-smoking/ non-alcoholic venue serving some of the best food around at great prices. You can find entertainment there nightly, ranging from all different shades of music, poetry readings, and more.