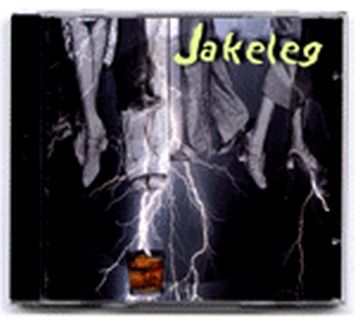 I Got 'dem Urban Single Guy Blues Again, Momma!
Pour Me To Bed (ear X-tacy)
Jakeleg
Jakeleg's Pour Me To Bed offers several well-written, guitar strummin' portraits of a single man's urban existence. Songs like "Frankfort Avenue Epic," offer a character sketch of a girl who's very nature suggest she needs to travel to "find herself," but instead chooses to stay with a man who is underachieving and degrading to her. As the up-tempoed Love-styled arrangement plays on, the song asks, "What we love must be our fate." The obvious reply being, "Just because it's our fate, does that mean we have to love it?"
Another Sixties-influenced tune is bassist Patrick Donley's "Mary Street," which tells of a Highlands neighborhood (probably west of Baxter) (it actually forks off from westbound Oak Street and runs between it and Kentucky Street – Ed.), where "Prostitutes and Prowlers (are) plodding up and down the block." Donley sings of a boy not yet twelve who is deeply involved in gang life and cannot read a three-letter word, but he "makes more money than I ever will see." While not offering any solutions, the song does appear to ask where the justice is in this twenty-first century social dilemma, which, unfortunately, is becoming more common.
Moving from the social conscience, the guilty conscience gets the once-over in guitarist Kirkby Tittle's "A Man Don't Need Redeeming (If he got a good hat.)" It seems the central character's way of dealing with the guilt of one-night stands and heavy drinking is to rationalize that, "you'll never know what's enough till you learn what's more than enough."
Knowing several recovering substance abusers, I have to question the wisdom of making a smug proclamation like, "all a man needs is his ass and his hat." I guess the point is that it's one thing to sing "Ain't Nobody's Business," as Billie Holiday did to those who didn't approve her lifestyle, but it's totally another thing to squelch your conscience with self-serving rhetoric that doesn't quite ring sincere. Dangerous, too.
Luckily, Donley checks in with "Architect," which has one of the coolest strummed bass riffs (a la Motown's James Jamerson's bass work on "Stop, In The Name of Love") that I've heard in quite a while. Delivering a dead-on Michael Stipe vocal, Donley tells of the obsession (most likely a female) that is the "architect of disaster," at least in his life.
Tittle provides one of Pour Me To Bed's highlights with the Alice In Chains-influenced "Strange and Foreign Moon," which explores the rage, fear, and guilt the darker side of society wreaks upon the rest of us. With all the negativity of today, it's no wonder the narrator proclaims, "I'm on fire like barrel-trash on a winters night."
It's not a pretty sight, because the neighborhood Jakeleg sings about may look safe on the surface, but if you snoop around in the alleys, the disillusionment of our fate lay among the shadows. And, as was said earlier, "What we love, must be our fate."