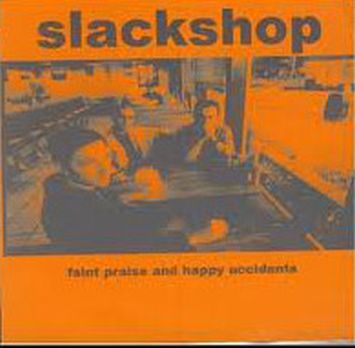 Alt-something or another
Faint praise and happy accidents (microdot recordings)
slackshop
Slackshop's faint praise and happy accidents has already situated itself apart from the flock. The album's sound is an original blend of pop and rock, and its rhythms are woven tightly together with poignant vocals. Perhaps the best description is the phrase they use to account for themselves: "hooky soulful pop." As a whole, the album has a wistful feel without being over sentimental. There is no trace of angst, but a deeper, contemplative intensity.
Lead singer Bill Bartley's voice gracefully coalesces with the guitar and drums on the recording. However, at times his howl creates a harmonic upheaval and his voice cracks around the appropriate key, then fades into an echo of overdubs. When the single "i feel" was played on a South Dakota radio station, listeners thought it was a song by Tom Petty. It was a fair assessment. Bartley's melancholy wail sounds similar to Petty's. Bartley's voice also resembles the harmonic twang of many alternative country bands. In rough, vague comparisons the voices of Paul Westerberg and Kevn Kinney also share the same tone as Bartley. However, his voice is nebulous and elusive, and, in comparison with the others, cannot be described accurately. But the songs can.
"tongue tied," is a beautiful song that rolls gingerly along with a catchy rhythm. It is filled with wistful reverie and fades out inevitably like color in old photographs.
"i feel" is hypnotic and poignant. "I feel my troubles are all the same / I feel we are all insane / Who I'm I today? Bartley then repeatedly chants, "I feel," which becomes cathartic and self-proclaiming. He's more than trying to conjure up empathy from the listener. He is affirming his own existence.
In "alone again" Bartley proclaims, "I'm done with love / you're nothing but lust." There's the impression that he's alone again, not because he likes it, but because there is no other way.
Some bands strive hard to capture a sound that someone else has already mastered. Others try to gain identity by fitting in to a certain genre. All good bands have found that their style is always in a state of change. As they change so does their sound, but they always create within themselves. So by searching for an outside sound, many bands never materialize. slackshop has achieved this non-searching on their first album. They found a groove and rolled with it. What they received is something authentic, bold and honest.