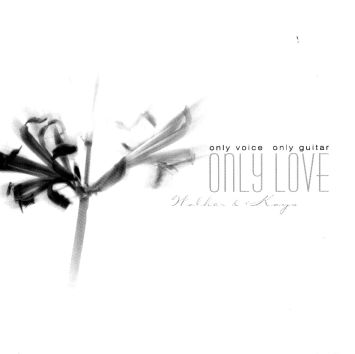 More than Standard
Only Voice, Only Guitar, Only Love (One Step Behind)
Walker & Kays
Jazz standards – love 'em, hate 'em, wish there were more like 'em, wish there were laws against playing 'em in public. Standards can be arranged in for full orchestra (such as the recent projects of Charlie Haden and the Quartet West), knotted into odd rhythms and tones (like early Miles Davis or even the Java Men), or, most commonly, played straight ahead with an intro, first verse, chorus, second verse, chorus, first solo, second solo, chorus, verse, chorus, tag, chorussszzzzzzzzzzzzzzzzzzz.
Or you can blend two instruments (voice and guitar), stretch out the lyric phrasing, diversify the selection of material (old stuff, new stuff, and originals), and create a gentle, artful tribute to the standard form, to some fine songs, and to each other.
Greg Walker (guitar) and Jeanette Kays (vocal) are two of Louisville's most prominent jazz veterans. Only Voice, Only Guitar, Only Love celebrates the 25 years these two have performed together. Mixed so that each instrument blends with the other (apparently there are no egos in this professional relationship), the sound of Only Love deviates from the traditional method of how jazz standards are often performed and presents a generous selection of moments to be experienced by candlelight.
There are 20 tracks on the recording, and space prohibits comment on all but the most notable. Among which is a dark rendition of Irving Berlin's "How Deep is the Ocean," which, in the hands of others, has become torturously overwrought. In this one, however, Walker and Kays pack it with passion. They follow that with a saucy blues rendition of Cole Porter's "Why Can't You Behave." Another Berlin selection, "What'll I Do," contains a guitar intro that might be a slow, extremely mellowed version of Guns 'n Roses' "Sweet Child of Mine." Kays nails the tricky opening phrases with billiard-shot precision. The result raises goosebumps. We get a refreshing samba in "Love Has a Way," the piece Walker and Kays wrote, and two songs later we get to hear Walker's sugar-daddy gruff baritone alternate with Kays in "Gee, Baby, Ain't I Good to You."
The entire sound of Only Love is relaxing – lullabies for grownups. It invites you to an intimacy with someone you love. And it invites you to share the music that two dear friends have made with each other for a quarter-century.