The Raining (Chorus) King
Vernon's Mud and Other Favorites (Independent)
danny flanigan and the rain chorus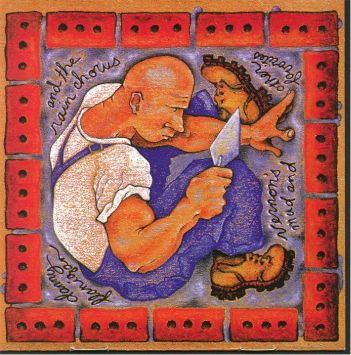 danny flanigan and the rain chorus - The Raining
danny flanigan has been pretty busy since his last release: getting married, changing jobs, having a baby, but perhaps one of the most obvious changes on this album is his move from guitar teacher to bricklayer. The quiet folksiness of previous releases has been turned up, tightened up, and strides with confidence across the stories of normal people living normal lives with as much poetry as they can. This is a sound that has muscle, and that muscle is what moves this release far out of the pack and makes it worthy of national attention.
Vernon's Mud stands out not only for its musical quality, but its message as well. If Kentucky's philosopher-farmer Wendell Berry picked up his guitar, his poems might sound like these songs. Full of stories of the pleasures of work, love and family, this is a slice of classic Americana that engages and provokes at the same time.
While the album is essentially joyful, it is not naïve. "Goliath" is a moody confession of self-doubt and at the same time a tentative confession of victory as flanigan quietly but firmly sings, "if I call you Goliath, then you must call me David." In "Faith Never Sleeps," he writes a modern-day Psalm contrasting depression with hope: "My times right now they are tough/I must not be praying enough/I'm gonna hold on to what I believe/Faith rests but it never sleeps."
The country-rock vibe that often pops up on Vernon's Mud is irresistible, and listeners who can avoid dancing while listening are stronger than I. "Girl Named Mae" and "Work the Change" are great examples of this. Occasionally, though, the toe-tapping, loose feel of the album gives way to a moody, jazz-like feel as on "She Talks of Family" and "Goliath." Both were made to be listened to by candlelight as soft rain falls.
As usual, the rain chorus more than ably backs flanigan, and it's hard to imagine anyone complementing his rough-edged vocals as well as Kelly Wilkinson's sweetly- confident harmonies.
The bottom line is Vernon's Mud And Other Favorites is more than substantial proof that Louisville is home to a bricklayer who also happens to be one of its greatest performing songwriters. This release deserves every ounce of national attention it will no doubt garner.
Honest Grit 'n Polish
Black Dog (Anelemma Records)
Nick Reifsteck & The Serotones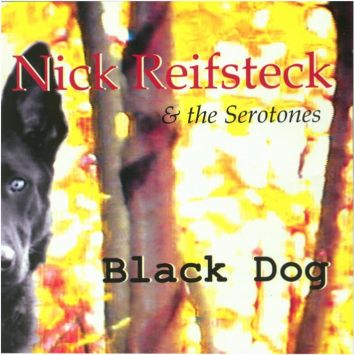 Nick Reifstech & The Serotones - Black Dog
The late writer John Gardner (author of Grendel and Nickel Mountain, not the one who churned out new, entertaining-but-photocopy-plotted James Bond novels throughout 80s and 90s) proclaimed that while authors can use a crateload of tools to construct a story, the tools are ultimately useless and their efforts wasted if they cheat their readers. Authors must be needle-in-the-eye honest about what they say and not engage in mere textual theatrics: e.g., plot sacrificed to symbolism, sugary sentiment used in place of real feeling, a dozen points of view sacrificed to solid structure. Put another way, authors need to keep it real (and Les McCann would answer gruffly, "Compared to what?")
Apply that same requirement to creating music. If the results were considered criminal offenses, about 90% of the past decade's Grammy winners would be serving time.
Very few wouldn't. Especially Nick Reifsteck. Black Dog might even be considered his "Get Out of Jail Free" card.
Reifsteck, another Louisville Music veteran (formerly of Jil Thorp and the Beat Boys, One Red Romeo, and others), has returned home refreshed and ready. He and his band the Serotones bring us Black Dog, 10 tracks of gritty blues with a country swing, or folk with the drive of pop (take your pick). Joining Reifsteck are Fred Lipsey on bass, vocals, and acoustic guitar, Charlie Stevenson on drums, Alice Stevenson on vocals, and Will Cary on vocals and harmonica.
The songs are short, poignant, and pointed. Through it all is Reifsteck's voice, an expressive, soaring tenor that cuts through each selection cleaner than a fresh scalpel. His vocal performance matches the lyrical and musical credibility contained in his songs. In them he takes on personas of different types of lovers, whether it's as the soon-to-be-jilted lover in "You're Gonna Miss Me," the disbelieving one in "Likely Story," the regretful one in "Two Hearts, or the eternally grateful one in "Madge." The latter is a warm, acoustic piece with an amazingly deceptive title that should replace "There Is Love" or any overwrought selection from The Phantom of the Opera as the standard music at weddings.
Midway through Black Dog is "Shambles," the finest track musically and lyrically. Sung from a similar point of view as the nameless first-person ghost in "Long Black Veil" (or, cinematically, like the wistful, deceased narrator Lester Burnham in American Beauty), "Shambles" tells of a man with no hope choosing the means of his demise with either "a bag, a needle, a bottle, and a gun / I was trying to kill my pain." His destiny is to be a shell of a man, "a sorry ghost in chains." There's a hint at redemption in the song's bridge, where he declares that if he can "break these cables holding me down / Then I could make that train and turn it around." The forceful pop rhythm behind the piece belies its outcome. It is by no means a positive song.
Reifsteck and the Serotones could have taken the cheap way out of a song like "Shambles" (or the others on the recording) and turned it into a cinchy hit that could be safe enough to play at youth retreats while its lyrics were printed, bound, and sold as gift books. But that would diminish the growl of Black Dog.
And it would be cheating.
As Original As It Gets
SWAY BACK (Myrmidon Productions)
Goshen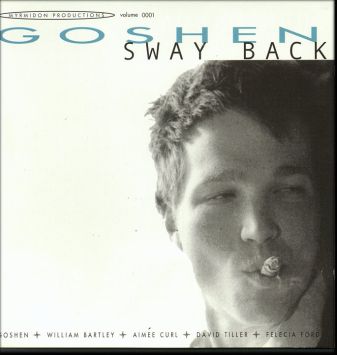 Goshen - Sway Back
Across the agricultural landscape of southern culture, the blues rose as a musical catharsis for many African-Americans during the middle of the twentieth century. Out on the segregated front porches and in the sleazy honky-tonks of the region, many repressed souls helped grow a musical tradition where the acoustic guitar became the instrumental foundation. As the Forties drew to a close, acoustic guitars gradually gave way to electric instrumentation as the players gradually migrated to Memphis and Chicago.
It's with the original foundational approach that Goshen (a.k.a., Grant Hayunga) uses in Sway Back: Acoustic guitar, bottleneck slide and the occasional trap drum set. What he's created here is a blues/scat hybrid that would sound right at home while you reclined on the front porch as the sun sets, crickets chirping peacefully in the background.
Several of the cuts convey remorse, such as "Country Jones," in which the narrator just can't seem to drink away his failure in a relationship. Understated slide work provides edge here, and in "Louisian'," where a father chooses to live with the guilt of leaving his mate and newborn for some "good old American Gasoline," as he puts more miles between himself the those who need him. The performer tends to take the role of a man who should know better, and, while never asking to be absolved, wants the listener to not judge him too harshly.
Goshen's flat-picking guitar style at time outshines his Leon Redbone-influenced vocal delivery. The acoustic playing is economical, but rich in southern charm, and the bottleneck fills provide an edge that plays off the tension of the conflict that develops in the music. Probably Keith Richards' raunchy work on Beggar's Banquet is the closest white-influenced blues to which Sway Back could be compared. In fact "Coming Down" and "Goddess Media," with its provocative mulatto prostitute character, would not sound out of context on a Rolling Stones LP from that particular era.
If there's one track that's a "keeper," my vote goes for "Slow Burn," with its mellow country feel, and its reoccurring theme of a man who knows himself all too well and has realized that he must live with these limitations indefinitely. This song and several others, for that matter, never really tell the listener what is so horribly wrong with the subject's life. Goshen chooses to leave his audience in a shroud of mystery, only singing of the deep hurt of the impending rejection he is about to suffer. Of course, that's when blues are at their compelling best: plugging into the shared hardships common to the performer and the listener.
Despite his forgivable weakness in song craft, this guy understands the gut level good blues operates on. Besides, it's about as organic as you're likely to get from someone just joining the tradition.
A Nice Ear-Bruising
If They Do (Initial Records)
Elliott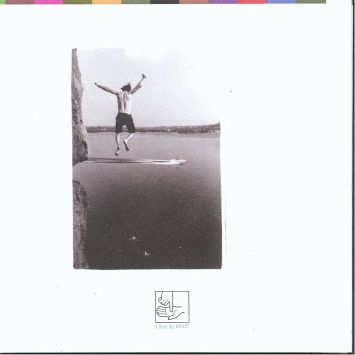 Elliott - If They Do
I admit it: I'm getting old. I, who just a few short years ago stomped around in combat boots, ripped T-shirts and more black clothing than Morticia Adams, glorying in my coal-black shaved head and counting the number of normal-looking people I could send scurrying to the other side of the street. I grew up on The Ramones, The Clash, Fishbone and Iggy Pop, listening to indie before indie was cool. The truth is, the last indie concert I attended I found myself wincing at the ineptitude of the guitarist who still clung to the adage that mistakes can sound better if they're turned to eleven. I even found myself thinking—just for a moment—that this whole concert was pretty darned loud, and I wondered if these kids knew what they're doing to they're hearing.
All this, of course, is to explain why I felt I might not be the best one to do an Elliott review—perhaps my age was making me a differently abled critic, more into jazz, power pop and my old classic punk albums than the cutting-edge of Elliott. I dropped the disc into my player with some trepidation, and within minutes found myself cranking up the stereo.
If They Do is richly emotional, dark and lush, an introspective scream. Elliott has always benefited from a massively talented front man in Chris Higdon, who can move from sweetly quiet to passionate rage in a heartbeat. If They Do is pure mood music, drawing you in and pulling you down. It's like bottled angst, only sweeter, and listening in the dark would be highly recommended. It's hard to pull out select songs and look at them apart from the whole, because it flows together too cohesively for that. The lyrics are vague and mysterious, and trying to dig pure meaning out of them just gives you a headache. This album was made to be felt. Not dissected.
My biggest complaint with the disc would be it's too short (6 songs), and that's a darn good complaint, when you think about it. On the whole, this is gorgeously loud, thick rock that, like a really good massage, can leave you feeling slightly bruised but desperate for more.
They've Got. . .
The Velvet Touch of the Los Straitjackets (yep roc/Cavalcade)\
Los Straitjackets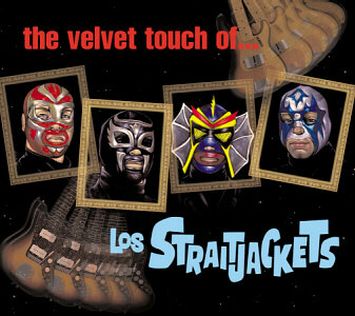 Los Straitjackets - The Velvet Touch of the Los Straitjackets
By John Kusak
This Los Straitjackets new release is their third since their debut The Utterly Fantastic and Totally Unbelievable Sound of Los Straitjackets in 1995. Dressed in Mexican wrestling masks and armed to the teeth with razor sharp Dick Dale-like staccato guitar riffs, they are ready to live up to the title "America's Instrumentalists." On Velvet Touch they have managed to produce an album with originality and variety.
Eddie Angel's fender vibrates sonic booms, and his tag team partners in his corner coalesce harmonically that creates a wonderful explosion of surf-rock. The first song, "Kwanga!," sets the tone. It explodes into a drum rolling frenzy, with rip-roaring guitar. The similarities with The Safaris's "Wipeout" are apparent and predictable, but their velvet touch is certainly noticed.
They cover "My Heart Will Go On," (yes, the love theme from Titanic) but they deliver a surprisingly great rendition. It's cool, and sensitive, but somehow I get the feeling there is some subtle sarcasm. They also cover Louis Prima's swing song "Sing, Sing, Sing," with style, but it falls short of remarkable.
The band's unique Latino style shows up in "Tabouli," with Latin rhythms and clarinet runs. "Rockula," is a snarling rabid song. "Close to Champaign" has a killer melody that deserves a listen.
Other instrumental classics include "Sterno," " All That Glitters," and "State Fair." The Los Straitjackets' versions are polished with their twang/Latino trademark that gives these songs a shine. "All That Glitters," is beautifully engineered; however, it is a ninety degree turn from "Kwanga!," by showing the band's versatility and skill.
On a scale of one to hang-ten, I give it an eight. It is a really solid recording packed with zesty Surf-Rock. Their style is original enough to separate them from the herd, and their skill might prove that they are "America's Instrumentalists," but as a whole the recording falls short of incredible.
Why Not Tell Us How You REALLY Feel About It?
WYSIWYG (Republic)
Chumbawumba
WYSISWG - Chumbawumba
The Top Ten Warning Signs Of A Very Bad Album:
10. The written explanations of the songs are much longer than the actual lyrics to the songs.
9. The written explanations of the songs are trite rehashings of political beliefs and spend more time trying to be clever than finding solutions.
8. You actually need written explanations of your songs—a sure sign your art doesn't even come close to standing on its own.
7. The songs reflect a paradoxical obsession with pop culture while simultaneously dissing it in an annoyingly superior way.
6. While dissing all pop culture and pop music have to offer, every song is a microcosm of every rehashed trick in the dance music book, sort of a historical sampler of pop music that adds nothing to the dance, pop, industrial, hip-hop, folk and rock genres it rips off. While imitation is the sincerest form of flattery, it ain't workin' here, folks.
5. Your album is 22 songs long. Yup. Twenty-two. That is (sadly) not a typo. Quantity is NEVER a replacement for quality in the pop music world.
4. One of your cynically deeper lyrics on an album you tout as cynically deep is "I got a plastic toy with my Happy Meal." I am not making that up.
3. There's a huge color photo of two dogs copulating as your album art, giving the listener the odd images of two copulating dogs nodding to the dance beat as they sing, "I'm just scraping the social dogma from the bottom of my soul."
2. The band's "cooler-than-you" pomposity tends to make its listeners about as sympathetic as Rush Limbaugh at Woodstock and much less patient. By the time the lyrics "stupid/stupid/stupid" are chanted, you agree wholeheartedly.
And the number one warning sign of a Very Bad Album:
1. Your one-hit wonder was a maniacally chanted celebratory anthem for drunks drinking too much and vomiting.
On a positive note, though, it makes a great drink coaster, but turn the copulating dogs side-down before your parents drop by.
Twice as Rice (And More)
Rice, Rice, Hillman, and Pederson (Rounder)
Tony Rice, Larry Rice, Chris Hillman, Herb Pederson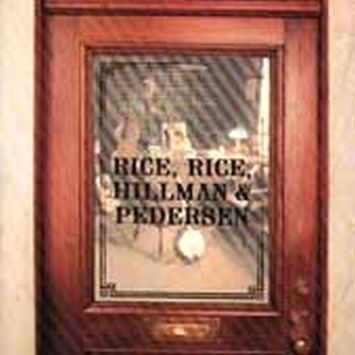 Rice, Rice, Hillman, and Pederson -
From the opening moment when Tony Rice's flat pick hits the string to the last note, a listener is thoroughly entertained by enjoyable project. Sadly, there are still no vocals from Tony, but what a picker he is. His powerful right hand is the driving force behind every cut.
Tony's brother Larry provides vocals and a steady mandolin. Three tracks are especially nice: "Side Effects of Love," a Delaney and Bonnie standard, "Friend of the Devil," and "Moonshine."
Someone once joked that banjo players spend half of their lives tuning and the other half playing out of tune. That may be true of some folks, but not Herb Pederson. He is one talented and busy fellow on this release as he handles vocals, banjo, and guitar. Perhaps his most poignant tune is "Out Among the Stars," a troubling story about young man who dies in an armed robbery.
Chris Hillman rounds out the main musical staff for this self-titled release and his lead vocal on "The Walking Blues" is outstanding. Additionally, he provides some fine mandolin and harmony vocals.
However, in addition to Rice, Rice, Hillman, and Pederson, other remarkable talents are involved. Fred Travers, on dobro, outdoes himself on "Never Ending Song of Love." Ronnie Simpkin adds his solid bass line, while Ricki Simpkin's fiddle is extraordinary. (by the way, if you have not heard his project, check out another family affair: Dancing On the Fingerboards, a fabulous Pinecastle release that features Ricki's brother Ronnie, as well as Tony Rice and his younger brother, Wyatt.)
This is the group's second release and it is classy from start to finish. Each track is an intimate musical conversation between long-time friends. It is a recording to savor.
To learn more or obtain a copy of this CD contact info@rounder.com.