The Feis is Here!
The Greater Louisville Irish Cultural Society, Inc. is hosting the 4th Annual Louisville Feis (pronounced FESH) on Saturday, June 10 at the Commonwealth Convention Center. This is an officially sanctioned event of competition, principally Irish step dancing, but also soda bread baking, music, singing and even needlecraft competitions. GLICS expects approximately 700 gorgeously costumed competitors from Indiana, Kentucky, Ohio, West Virginia, Virginia, Michigan, Illinois, Pennsylvania, Tennessee and beyond on six stages. It is quite a spectacle and the atmosphere is electric. There is a $5 admission fee. The Louisville Pipe Band will parade through around noon but the competitions start EARLY at 8 a.m. and are concluded by 5 p.m. Come see how "Riverdance" got its start! For more information or to volunteer call Beth at 721-8944 or via email at ceiliqueen@aol.com
15th Annual Glasgow Highland Games June 1-4
The 13th Earl of Kintore, Chief of the Name Keith, will preside over this annual Celtic bash, which features re-enactment groups doing armed battle; equestrian events; Scottish athletics; battle ax; caber toss; pipe band, solo piping and drumming competitions; highland dancing' Gaelic harp competition; kilted skydiving (from the sublime to the ridiculous and all fun) and the list goes on. Lenahan will be the featured performer. This is Celtic bagpipe rock (I confused this group with a band called Leahy in last month's column, sorry). Scottish Clan tents and interesting vendors abound. Seven Nations begins on Thursday, June 1 at the Celtic Rock Beach Concert with our own great Drowsy Maggie leading off. The Louisville Pipe Band will be there to defend its first place finish at the Kentucky Scottish Weekend at Carrollton. Come cheer them on as they prepare for the World Championships in Glasgow, Scotland in August. It all happens at Barren River State Park in Lucas, KY near Glasgow (just a wee 95-mile drive). A lovely campground also features sylvan arms. Contact (270)651-3141 and ask the bonnie wee lass named Maureen to tell you more.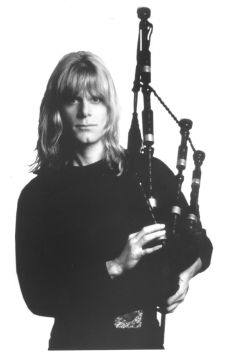 Tom Lenahan
World Fest June 17-18
The Celts will be represented at this first ever event sponsored by the Louisville Eccentric Observer newspaper at Waterfront Park. The Louisville Pipe Band will perform from 1 to 2 p.m. on Saturday and Galloglas will do their thing on the Cuervo World Beat Stage on Sunday from 1 to 2. Booths sponsored by the Ancient Order of Hibernians, The Scottish Society of Louisville and the Sons and Daughters of Erin will be friendly spots to visit. The McClannahan School of Irish Dance will also perform. Check LEO for up-to-date information as times are still tentative.
Celtic Music House Concert & Workshop
A workshop will be held in Lexington, KY on July 8, featuring Mike Dugger (fiddle and tenor banjo) of Kansas City and Turlach Boylan (flute) from Glenullin, County Derry. Mike was a member of Scartaglen along with singer Connie Dover and piper Kirk Lynch. Currently, Mike performs nationally with Sunrush and has privately published an extensive tunebook, along with several fine CDs. Turlach is the founder of Big Plain Records. He won the Senior All-Ireland for Slow Airs at the 1986 Fleadh in Listowel. There will be a two-hour workshop followed by a concert and then a session. There is a flat fee of $15. Contact Dan Cummins for more information (606)396-4491 or DJCummins03@aol.com
Don't forget the Sunday sessions at Molly Malone's 4-7 p.m. You can actually hear the unamplified music! No cover. Bring an ax!