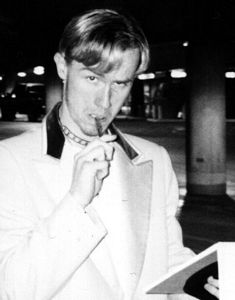 Leslie's Motel has long been recognized in Louisville and abroad as a symbol of southern rock at its prime. Think of their music as a "southern rock sundae" with blues, country and swing sprinkles and a jazz cherry on top. Damn it! I've made myself hungry…
Let's meet the band –
The original members of the band (since 1972) are Larry Holt (bass/vocals) and Rocky McClure (lead guitar). They both have a rather large musical résumé. The first four years of the band's life brought many good things to the group, including opening spots for many great southern rock and blues acts such as Willie Dixon and others, as well as experience on the road. The group spread its name to parts as far away as New York and Florida. They also maintained a good reputation here in Louisville by the exposure they received in bars and clubs such as Friend in Hand, the Windmill, Beggar's Banquet, Blue-Eyed Pisces and a host of other joints.
Leslie's Motel
After the group's breakup in 1976, the two went on to play first with Buster Brown then others. McClure then traveled to Las Vegas and played lead guitar in a touring band with Frank Sinatra. Holt continued to work the Louisville scene with the Pat Thomas Band, Kessler's Friends, the original Mudcats, the Robbie Bartlett Band and Mike Lundsford. He also did session work for other artists.
Nearly twenty years passed before a reunion came about. In 1995, Leslie's Motel regrouped and played a reunion show at Phoenix Hill Tavern. The group was then a six-piece act with the addition of Frank McCubbins on drums and vocals. McCubbins was no stranger to music either, and his list of references included turns with Fire Dept., The Rockers and the above-mentioned Pat Thomas and Robbie Bartlett. This combination of musicians released a self-titled debut in 1996, twenty years after the split in '76.
Two years later, another change was made in the lineup, and the band reverted to a four-piece setup, with Mike Owens added to the roster. Owens added lead vocals, rhythm guitar and harmonica. He played at the 1971 Toronto Peace Festival, gigged with some of the best names in music and has even performed at the Grand Ole Opry.
In 1999, Leslie's Motel released their sophomore album, entitled Room Service. This disc includes 11 original songs and can be purchased at Better Days Records and Ear-X-Tacy on Bardstown Rd. It is a great CD, and I think it appeals to many different age groups and listeners. The sound in general is best described as "original southern rockin' jazzy blues" (to quote the band). Some of my favorite tunes include "Juke Joint Jive" and "Don't Pity Me." There is a world of difference between the songs; one obviously more upbeat and swingy, the other jazz-rooted blues. I love the bounce and groove to "Juke Joint Jive" and "Mr. Lucky" while "Don't Pity Me" and others take you right into the smoke-filled room of your local coffeehouse. "Mi Vida Loca" is not to be mistaken with Ricky Martin's "Livin' La Vida Loca," and I am sure that all of you can guess which one I prefer.
The band has been writing new tunes lately in preparation for their next CD release to be out sometime in the near future. You can check them out at Air Devil's Inn, Beau Weevil's and other places. Be sure to keep you eye on the Live Music calendar on our web site at http://www.louisvillemusicnews.com for all of the best local shows and events in town.
I really dig this band, and I think that it just goes to show that there is hope for bridging the gap between younger and older audiences. (Well, not in every case … but this one at least!)
Things would also be made easier if we had some more decent under 21 clubs around here. Oh, that reminds me! Speaking of under 21 music events here in Louisville (- insert shameless plug here -), I am helping to coordinate an event sponsored by UPS and Metropolitan College called Metro Fest 2000. It is going to consist of a cookout and live music at the Red Barn on U of L's campus Saturday, August 21. Admission will be 2 can goods or 2 dollars, and the food and proceeds will go to a local charity. The event will be open to the public. There are going to be huge prizes up for grabs, and it should be a lot of fun for everyone involved! Bands can submit their demo tapes, CD's, or videos to:
Metro Fest 2000
1515 Fern Valley Rd.
Louisville, KY 40213
Attn.: Tom Duvall
There is a $25.00 entry fee, and entries must be postmarked no later than July 21st! Six finalists will be selected to perform that night, and they will be notified by August 1, so be sure to get your entries in soon and include contact information. That's all I have for you this month. Keep sending me your band information for an upcoming Louisville Rock Lowdown. You can email me at JJKSLACKER@cs.com or leave me a voice mail at (502) 262-8728. Rock on!