As Original As It Gets
SWAY BACK (Myrmidon Productions)
Goshen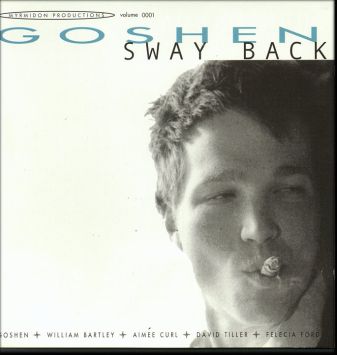 Goshen - Sway Back
Across the agricultural landscape of southern culture, the blues rose as a musical catharsis for many African-Americans during the middle of the twentieth century. Out on the segregated front porches and in the sleazy honky-tonks of the region, many repressed souls helped grow a musical tradition where the acoustic guitar became the instrumental foundation. As the Forties drew to a close, acoustic guitars gradually gave way to electric instrumentation as the players gradually migrated to Memphis and Chicago.
It's with the original foundational approach that Goshen (a.k.a., Grant Hayunga) uses in Sway Back: Acoustic guitar, bottleneck slide and the occasional trap drum set. What he's created here is a blues/scat hybrid that would sound right at home while you reclined on the front porch as the sun sets, crickets chirping peacefully in the background.
Several of the cuts convey remorse, such as "Country Jones," in which the narrator just can't seem to drink away his failure in a relationship. Understated slide work provides edge here, and in "Louisian'," where a father chooses to live with the guilt of leaving his mate and newborn for some "good old American Gasoline," as he puts more miles between himself the those who need him. The performer tends to take the role of a man who should know better, and, while never asking to be absolved, wants the listener to not judge him too harshly.
Goshen's flat-picking guitar style at time outshines his Leon Redbone-influenced vocal delivery. The acoustic playing is economical, but rich in southern charm, and the bottleneck fills provide an edge that plays off the tension of the conflict that develops in the music. Probably Keith Richards' raunchy work on Beggar's Banquet is the closest white-influenced blues to which Sway Back could be compared. In fact "Coming Down" and "Goddess Media," with its provocative mulatto prostitute character, would not sound out of context on a Rolling Stones LP from that particular era.
If there's one track that's a "keeper," my vote goes for "Slow Burn," with its mellow country feel, and its reoccurring theme of a man who knows himself all too well and has realized that he must live with these limitations indefinitely. This song and several others, for that matter, never really tell the listener what is so horribly wrong with the subject's life. Goshen chooses to leave his audience in a shroud of mystery, only singing of the deep hurt of the impending rejection he is about to suffer. Of course, that's when blues are at their compelling best: plugging into the shared hardships common to the performer and the listener.
Despite his forgivable weakness in song craft, this guy understands the gut level good blues operates on. Besides, it's about as organic as you're likely to get from someone just joining the tradition.