They've Got. . .
The Velvet Touch of the Los Straitjackets (yep roc/Cavalcade)\
Los Straitjackets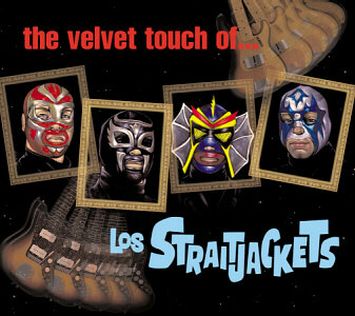 Los Straitjackets - The Velvet Touch of the Los Straitjackets
By John Kusak
This Los Straitjackets new release is their third since their debut The Utterly Fantastic and Totally Unbelievable Sound of Los Straitjackets in 1995. Dressed in Mexican wrestling masks and armed to the teeth with razor sharp Dick Dale-like staccato guitar riffs, they are ready to live up to the title "America's Instrumentalists." On Velvet Touch they have managed to produce an album with originality and variety.
Eddie Angel's fender vibrates sonic booms, and his tag team partners in his corner coalesce harmonically that creates a wonderful explosion of surf-rock. The first song, "Kwanga!," sets the tone. It explodes into a drum rolling frenzy, with rip-roaring guitar. The similarities with The Safaris's "Wipeout" are apparent and predictable, but their velvet touch is certainly noticed.
They cover "My Heart Will Go On," (yes, the love theme from Titanic) but they deliver a surprisingly great rendition. It's cool, and sensitive, but somehow I get the feeling there is some subtle sarcasm. They also cover Louis Prima's swing song "Sing, Sing, Sing," with style, but it falls short of remarkable.
The band's unique Latino style shows up in "Tabouli," with Latin rhythms and clarinet runs. "Rockula," is a snarling rabid song. "Close to Champaign" has a killer melody that deserves a listen.
Other instrumental classics include "Sterno," " All That Glitters," and "State Fair." The Los Straitjackets' versions are polished with their twang/Latino trademark that gives these songs a shine. "All That Glitters," is beautifully engineered; however, it is a ninety degree turn from "Kwanga!," by showing the band's versatility and skill.
On a scale of one to hang-ten, I give it an eight. It is a really solid recording packed with zesty Surf-Rock. Their style is original enough to separate them from the herd, and their skill might prove that they are "America's Instrumentalists," but as a whole the recording falls short of incredible.