Twice as Rice (And More)
Rice, Rice, Hillman, and Pederson (Rounder)
Tony Rice, Larry Rice, Chris Hillman, Herb Pederson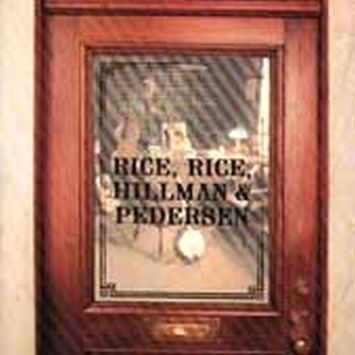 Rice, Rice, Hillman, and Pederson -
From the opening moment when Tony Rice's flat pick hits the string to the last note, a listener is thoroughly entertained by enjoyable project. Sadly, there are still no vocals from Tony, but what a picker he is. His powerful right hand is the driving force behind every cut.
Tony's brother Larry provides vocals and a steady mandolin. Three tracks are especially nice: "Side Effects of Love," a Delaney and Bonnie standard, "Friend of the Devil," and "Moonshine."
Someone once joked that banjo players spend half of their lives tuning and the other half playing out of tune. That may be true of some folks, but not Herb Pederson. He is one talented and busy fellow on this release as he handles vocals, banjo, and guitar. Perhaps his most poignant tune is "Out Among the Stars," a troubling story about young man who dies in an armed robbery.
Chris Hillman rounds out the main musical staff for this self-titled release and his lead vocal on "The Walking Blues" is outstanding. Additionally, he provides some fine mandolin and harmony vocals.
However, in addition to Rice, Rice, Hillman, and Pederson, other remarkable talents are involved. Fred Travers, on dobro, outdoes himself on "Never Ending Song of Love." Ronnie Simpkin adds his solid bass line, while Ricki Simpkin's fiddle is extraordinary. (by the way, if you have not heard his project, check out another family affair: Dancing On the Fingerboards, a fabulous Pinecastle release that features Ricki's brother Ronnie, as well as Tony Rice and his younger brother, Wyatt.)
This is the group's second release and it is classy from start to finish. Each track is an intimate musical conversation between long-time friends. It is a recording to savor.
To learn more or obtain a copy of this CD contact info@rounder.com.