I've Got A Mind To Ramble
Neal is the Real Deal
There must be something in the genes of the Neal family, for veteran Baton Rouge harpman Raful Neal spawned a whole generation of blues players – seven bluesmen and one blues woman. The multitalented Kenny Neal has become the most famous of Raful's sons, playing bass, guitar, harp and lap steel plus singing some of the grittiest vocals around.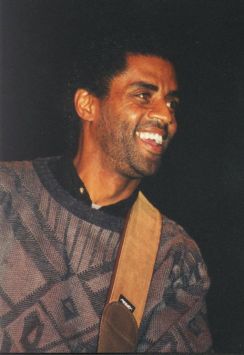 Kenny Neal
I first saw Kenny when he jammed with Tinsley Ellis at the Backstage Cafe in 1995. Neal was back in Kentucky at the Two Rivers Blues Festival in 1997. After he closed out his Friday night performance, he joined the fans who were camping out and played into the wee hours of the morning. Just a month later, Neal shared the featured stage with Raful, his sister Jackie and a multitude of his other siblings at the King Biscuit Festival.
Kenny Neal gives 100% for every performance, putting original, contemporary twist to his Louisiana-based swamp blues. In the late '70s, he was the bassist in Buddy Guy's band, where he picked up some of Guy's flamboyant techniques. After a brief stint in Canada with the Downchild Blues Band, where he mastered the guitar, he returned to Baton Rouge in 1984. His big break came in 1986 with his first recording, Bio On the Bayou, released first on the Kingsnake label, then re-released the following year on Alligator as Big News from Baton Rouge.
When Kenny came to Stevie Ray's on February 1 with three of his brothers backing him up on keyboards, bass and drums, the crowd was primed and ready, pumped up by the opening act, the Jimmy Roberts Blues Band. (Incidentally, Jimmy, Greg and Darrel made a good showing at the International Blues Challenge in Memphis, representing the Kentuckiana Blues Society in January. They played all-original material and got a lot of compliments.)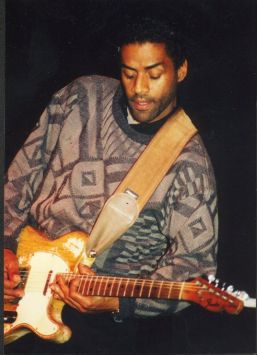 Kenny Neal pickin' on his well-worn Fender
Neal hit the stage blowing his harp and playing his lap steel on "Howling At the Moon" from the Bayou Blood CD. His live performances are no comparison to his recordings, with extended solos that usually segue through several songs, complimenting his youthful, animated stage presence. His vintage Fender guitar has a body that has worn through the white paint to the blond wood grain, and the fretboard shows the wear of all those chord changes.
Neal mixed things up nicely, from the classic roadhouse bump-and-grinder "There Is Something On Your Mind" to Muddy Waters' "I'm Ready" that segued into "Little Red Rooster." He closed out his 90-minute opening set with a version of "Blues Fallin' Down Like Rain" that had the whole crowd singing the chorus. This second-generation bluesman is destined to become on of the premier bluesman of the future.
Jammin' On Main Street
Blues jams have been a tradition in Louisville, with regular Wednesday night sessions at Zena's and Tuesday workouts at Air Devils Inn. Before that, there were some memorable Bluesday (Tuesday) jams at the Rudyard Kipling from the winter of 1986/87 until 1991. Rocky Adcock and Scoot Mullins came up with the idea and Curtis Marlatt frequently hosted the jams, with a different house band each month. Like all jams, one never knew who to expect on any given night and just what kind of blues chemistry might take place. The veteran guitarist Steve Ferguson often came, wearing his trademark stovepipe hat. The then-teenage Screamin' John Hawkins would show off his guitar technique while the Reverend John McClurg played keyboards. These jams were informal training grounds for developing blues chops and an opportunity for musicians from different bands to play together.
The Open House Blues Jam has recently been started on Tuesday nights at Stevie Ray's, from 9 to 11:30 p.m. Eric Ham, the sound man at Stevie Ray's, said there was a good response to the opening jam there on February 8. Members of Blue Swing Shooz were the host musicians for the second session on February 15. Mike Lynch and Reed Davis started things off on bass and guitar, with Gene Wickliffe of the Mudcats on drums. There was a clipboard on the front of the stage for sign-ups. Because so many musicians came late, a cut-off time of 10:30 p.m. was set for the sign-ups, so that everyone can get a chance to play.
Some of the musicians who sat in that night included Fuzzy Roth on harp, D.W. and Alex on drums, Milby on guitar and Dennis Talley on bass, plus a few vocalists. The jam came to an exciting climax with a rousing version of "Hey, Bartender" by Mike Lynch. If you're a budding bluesman or just want to listen to some free, unpredictable blues, check out these Tuesday jams at Stevie Ray's.