Down On The Corner
• A great big thanks goes out to Louise Cecil Costumes for providing the "Brunhilde" outfit that Fadel Friedlander is wearing on the cover. It wasn't all that easy to find, but Ms. Cecil was happy to oblige. Fadel loved it, too.
• Bill Ede called at the last minute to say that the Moonglows will be inducted into the Rock & Roll Hall of Fame in March. The Moonglows included two members from Louisville and were cited by reggae superstar Bob Marley as a major influence in his life.
• Chaz, a.k.a. Chaz Rough, has entered into an agreement with the Seattle-based Java Trading company the distribute his new adult contemporary CD Full Circle, featuring the single "Black Coffee," into coffeehouses in Japan.
"We chose to distribute Chaz's CD into our Japanese Coffeehouses because of his song Black Coffee," says Gellert Dornay, Program Director for The Java Trading Company.
• First Quality Musical Supplies and the Martin Guitar Company will present flatpick artist and master luthier Richard Starkey at the First Quality showroom on March 16, 2000 at 7 p.m. Starkey has played with a variety of country and bluegrass artists, including NewGrass Revival, Bill Monroe, Doc Watson and Johnny Cash. He will demonstrate his flatpicking techniques, offer a video tour of the Martin Guitar plant and answer questions. Martin guitar owners may bring their instruments for a free checkup as time permits. First Quality is located at 7006 Trade Port Drive in the Riverport business park in southwest Jefferson County.
Seating is limited to forty participants, with limited standing room. Call 877-293-0508 for reservations and information.
• Jazz drummers will likely be interested in an upcoming drum clinic. Carl Allen will give a clinic on Saturday, March 25 at 5 p.m. It'll be held at Mom's music store in Jeffersonville. Call either Mom's for information.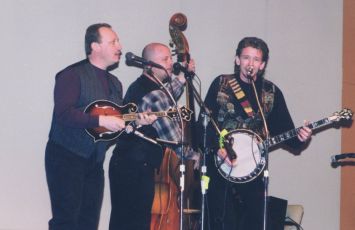 David Parmley and Continental Divide helped kick off the first 'Ramble Jamboree' at the Kentucky School for the Blind.
• Walker and Kays have a new CD, Only Voice, Only Guitar, Only Love, which they will be releasing on March 5 at a party at the Comedy Caravan. This year is, not coincidentally, their 25th anniversary as a performing duo, so the release party is do double duty as a celebration of the CD and the anniversary. For more information, call 459-0204.
• Melody Hill chief engineer, cook and floor sweeper Vince Emmett can now claim a degree of Grammy® credit - he played on Rebecca St. James Pray, which won the Best Rock Gospel Album Grammy® on February 23. "I've played on all her albums," Emmett said with a laugh.
• The Kentucky Derby Festival's new single/jingle that will replace the "It's For You" theme was recently produced for Ott Communications by Joel Timothy. Playing on the recording were Kentucky Headhunters guitarist Greg Martin; Guitar Emporium owner and bassist Jimmy Brown; drummer Marvin Maxwell of Mom's; Melody Hill engineer and guitarist Vince Emmett and singer Jimmy Vallandingham.
Timothy, who also got co-writing credit for the piece, said that the aim was to produce a "one-minute rock 'n' roll" song." A video shoot is scheduled for early March. Look for the rollout in April.
• The Kentucky Opera Guild will present the second Lunch & Listen program for the Kentucky Opera's presentation of Die Fledermaus. The program, entitled "Count Orlofsky: Whose Party is it Anyway?", will be held Wednesday, March 1 at Vincenzo's Restaurant. For reservations, call 584-4500.
• Jim Beam® Bourbon is now offering grant money through the newly established B.E.A.M. – Benefiting Emerging Artists in Music – program. Created in 1999, B.E.A.M. awarded $50,000 to 27 unsigned musicians. This year, the funds were increased to $75,000. Individuals who demonstrate a dedication to their work in the music industry, including performers, producers, managers and others, are qualified to apply. Applications are available on the Jim Beam Bourbon Web site at www.jimbeam.com or by writing to B.E.A.M. at P. O. Box 4723, New York, NY 10163-4723. The deadline for the next round of awards is April 29.
• The Whitesburg, KY-based Association for Independent Music (AFIM) has announced that their lobbying efforts on behalf of independent musicians has borne fruit: Billboard Magazine began publishing a Top Independent Album Chart. Now if AFIM could only achieve the same success with commercial radio . . .
Codas
• Gene Stewart, 71, died in Louisville on February 18. Stewart was a guitarist on the old "Hayloft Hoedown" on WHAS TV show, which aired from the early 1050s to the 1970s. He began his career performed with Curly Fox on the Grand Ole Opry and traveled with Pee Wee King and the Golden West Cowboys for fourteen years. His brother Redd Stewart also performed with Pee Wee King and was the co-author with King of "The Tennessee Waltz."
• John Lewis Bailey, 58, formerly of Louisville, died on January 28 in Glasgow, KY. Bailey was a former member of the Louisville Gospel Choral Union and Traveling Notes gospel singers
• James M Gilbert, 84, died on January 30 in Louisville. Gilbert was a professional piano player.
• Margaret Reed MacDonald died on January 18 in Louisville. She was a former organist and choir director for James Lees Memorial Presbyterian church and a former member of Louisville Philharmonic Chorus.
• Kevin Matthew Wettle, 26, died on February 6 in Louisville. He was the leader of Mire and a bartender at the Magnolia Bar & Grill.