VIA Releases New CD.
Louisville power-pop trio VIA has just released their third self-produced CD. Simply titled VIA, this ten-song disc is their strongest effort yet, with excellent production and artwork.
Available locally through the Wellspring Christian bookstore (both locations), Ear X-Tacy and Professional Music Center on Preston, VIA can be previewed online at MP3.com (search: VIA!).
According to Via front-man Bobby Carby, "Our main goal in creating [the CD] was for promotional purposes, hopefully obtaining places to minister through its distribution." Like most Louisville bands performing original music, Via has a hard time finding places to play. The Christian coffeehouse scene has dried up some since the days of Jubilee Coffeehouse and Jonah's Java Cafe (both now defunct).
Carby and company have no qualms about playing anywhere, anytime – they've played in parking lots, parks, churches, even ministered to the inmates at the River City Jail a few times.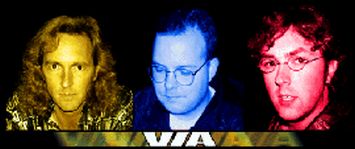 Via
"Our chief purpose as a band is to minister and share the gospel of Jesus Christ," says Carby. "Via means 'by way of,' and the reason we chose this for a band name is because what God does in this world He does by way of people who will be used for His purpose."
Via is currently made up of Bobby Carby (voice and guitar), Tony Carby (drums) and Glenn Watts (bass).
To contact them for bookings or CD info, call (502) 231-5166 or email theviaman@aol.com.
LUCENT Ministers On International TV.
New Albany-based music ministry Lucent (formerly the Sons of Thunder) were featured on a recent episode of TBN's "Real Videos," hosted by popular Christian rapper T-Bone. Two of the brothers from Lucent performed feats of strength, including rolling up a frying pan and blowing up a hot water bottle. They also got to share their testimonies with T-Bone and an audience around the world.
"Real Videos" airs locally on WJYL-TV channels 5 and 26 every Saturday evening at 1 a.m.
The Spirit of the Drum.
Though not necessarily a Christian music event, I felt compelled to mention a show I took in earlier this month at the University of Louisville. Students from Martin Luther King Jr. Elementary School (from grades 2-5) took part in the 4th Annual African American Music Heritage Institute.
Known as the Fabulous Leopard Percussion Group, these exceptional students rocked out on various and numerous percussion instruments with world-renowned percussionist N'dugu Chancler, one-time drummer for Miles Davis, Herbie Hancock and Frank Sinatra. These kids were awesome players, performing tunes by War, Herbie Hancock and Santana. Also featured that evening were the U of L Percussion Ensemble and the River City Drum Corps.
Upcoming Concerts:
Big Tent Revival will play March 10 at 7:30 at Broadbent Arena as part of a Louisville Panthers game. Call (502) 361-3100 for info.
Gaither Vocal Band with Mark Lowry and others will play March 11, 6:30 .p.m. at Freedom Hall. Call (502) 361-3100.
Avalon and Anointed with Nichole Nordeman, March 28 at 7:30, p.m. at Valley View Baptist Church. Call (317) 839-1092 for details and ticket info.
Jennifer Knapp and Third Day, March 18 at Immanuel Baptist Church in Lexington. Call (317) 839-1092 for info.
Three Strand will play March 12 at 6 p.m. at Okolona Christian Church, 4701 E. Manslick Rd. Call (502) 969-2281.