Meet Carlisle Floyd - An Interview
Carlisle Floyd composed both text and score for Kentucky Opera's recent production of "Susannah." First produced in 1956, when the composer was 28, it has been produced 1,000 times Since then, including presentations in Paris and Berlin.
"I was deeply moved by what I saw in Berlin three years ago " Floyd told several local writers at a press conference arranged by Kentucky opera's General Director Deborah Sandler and Director of Public Relations Gerald Farrar.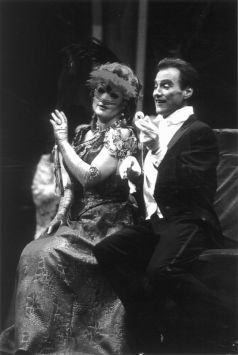 The Kentucky Opera will present 'Die Fledermaus' at the Kentucky Center for the Arts in March
Another local and close observer of the music scene described Floyd as "down to earth always; he lives for music; he is a passionate humanitarian; he has a great zest for life!"
How did he come to write "Susannah"?
"When I was teaching piano at Florida State and beginning to think about writing opera, a faculty friend called my attention to her story in the Book Of Daniel. As I perused the text, I was struck by its dramatic possibilities. It was also the time when Wisconsin Senator McCarthy was making statements and charges about various persons' loyalty to this country. His impact was felt on our campus; I had to take a loyalty oath.
"You can say that I was influenced by his questionable tactics but his activities were the direct inspiration for my opera. The same is true for the influence of the Book of Daniel. I had no intent to make it a leading source for my text as you can tell from my libretto. There were other influences; I knew quite a bit about Southern religious revivals but "Susannah" is not an attack on them or religion. "Susannah" is basically a plea for tolerance and defense of human dignity."
After its first performance at Florida State, New York City Opera learned of it, then decided to produce it, although there was little publicity about it. Floyd noted "Erich Leinsdorf made that decision, but what really made it go was the conducting of Julius Rudel. He is primarily a musician who knows the theater. It was its New York acclaim which led to its performance at the Brussels World Fair in 1958."
"Since then, there have been almost unbelievable changes in opera in the United States. Then there were only three opera houses here – the Met, New York City and San Francisco. And it was extremely difficult to get any of them to produce an American work."
"Today," Floyd continued, "we have not only many opera houses but they are dividing their season evenly between time-honored works and modern compositions. Some are commissioning new works as the San Francisco Opera did when they commissioned me to do Steinbeck's Of Mice And Men. A further indication of this change is that while San Francisco commissioned the world, Seattle premiered it."
Has he always wanted to compose operas?
"No, my college major was creative writing and when I began to take music seriously, I was trained as a pianist. Composing at first was a sideline but I came to see opera as combining several interests of mine. My first work was done as a student; it was a one act opera, "Slow Dusk." It is still performed."
As noted earlier, Floyd writes both the score and text. "Quite a few composers have done that; I find definite advantages in it. It is not always easy to find a trusted collaborationist. You have only have to argue with one person – yourself!"
Asked if he thought the opera would be successful, Floyd said "No, I didn't anticipate the success "Susannah" has had." He then emphasized "I have been fortunate in my casts. I do not want to ignore anyone but Phyllis Curtin, Marilyn Niska and more recently, Rene Fleming at the MET have been superb Susannahs. Norman Treigle was the first Blinch and made the role his own until James Morris and Sam Ramey. They were all great!"
He did not discuss the local cast but some observers, including this writer, see a bright future for Mark Delevan, who made the character of Blinch come to life. He has a great voice and stage presence. The Met must agree, as they are casting him as Aida's father, Amonasro, next January.
Asked if one could make a living writing operas, Floyd said "Probably not. I would not want to do it!"
Two other items: this was not Kentucky Opera's first production of "Susannah" and Floyd'' latest presentation, "Cold Sassy Tree" will premiere in Houston on April 14.