ZZ Top and Lynyrd Skynyrd at Freedom Hall
It was blues and Southern rock at it's finest: ZZ Top and Lynyrd Skynyrd performed at Freedom Hall February 8. I would not be afraid to say that it will probably be their last visit to a stage in Louisville (together, anyway). However, both groups have proven that they can rock just as hard as they did 20 years ago.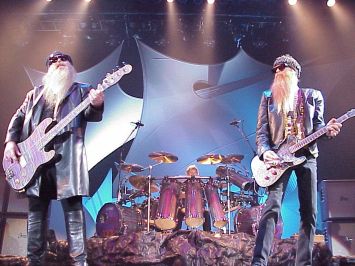 That little ol' band from Texas - Z. Z. Top
Just hearing the name "ZZ Top" sends an instantaneous mental image of the band: two front men, one tall and lanky, the other shorter and stout, yet almost indistinguishable at first glance behind the long beards and Cheap Sunglasses. A solid drummer and a great stage-presence back up that image with more than just looks. These factors set the standards for an inevitably good concert wherever they go.
ZZ Top has been one of my personal favorites as far back as I can remember. They were my first understanding of what "the Blues" were. The guys are true performers, as well as musicians. Their sound and showmanship were incredible. It is kind of odd to think about some of the little things that bands do to gain recognition, especially when it comes to their trademarks. AC/DC's Angus Young and his famous guitar-strut; the sporadic yodeling tones in the voice of Jewel; KISS's Gene Simmons and his extremely long tongue, and of course, the cooperation of Billy and Dusty when swaying back and forth during a solo! It is hard to explain in words how cool it is to see this in person, but anyone that has been to a concert of theirs would know. It's just one of those "givens" in life: don't spit into the wind, it rains right after you wash your car (even in droughts), and it's always cool when ZZ Top sways back and forth at a show!
The guys just released a new album, XXX. Despite the recent release, this concert did not seem like a promo for the CD as are a lot of concerts I have seen in the past. It is sometimes aggravating to go to a show in which the band has released a new piece of work and the record company or promoter (or whoever) tells them that they are to play an excessive number of songs from it to boost sales. It was refreshing to hear the things we the audience wanted to hear, along with some more unfamiliar tunes. Some of the more memorable ones were "Tush" (the closer in the encore), "Under Pressure," "Legs" and many more...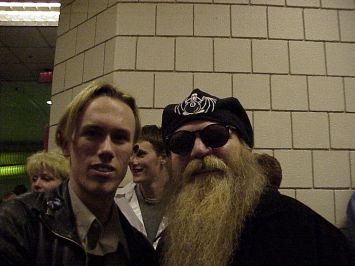 Dusty and me (Jason Koerner)
My girlfriend Andrea and I had the honor of meeting Billy Gibbons (lead singer, guitarist; ZZ Top) the night before the show at the Twice Told Coffeeshop on Bardstown Road and Greg Martin of the Kentucky Headhunters. This just goes to prove that you never know what might happen in the Highlands on a Monday night. Twice Told owners Jim Roberts was also in our company as we had a lengthy conversation with the musical greats over some of the best coffee in town. Billy showed his interest in our area's music selection in the Highland record stores, and we talked about subjects as varied as Kid Rock, Master P and digital cameras. Billy was kind enough to give us backstage passes, which made the concert going experience a little more enjoyable. A big thanks to the band...
Lynyrd Skynyrd gave also an exciting performance. It was my first time to see the band live, and it was every bit as good as I hoped it would be. Even without all of the original members of the band, the energy was still present in a big way. (I was in total awe during "Free Bird.") The triple guitar leads, in combination with just the right mixture of piano, bass and drums were overwhelming. The idea of having such a large band with three guitars is something of a lost art these days, with the notable exception of Collective Soul. They are the only group that comes to my mind, and there is a large difference in the utilization of those instruments.
Of course, Skynyrd cranked out their requisite hits: "Gimme Three Steps" and "Sweet Home Alabama" in particular brought out a huge surge in the audience, showing their "Southern pride." The giant Rebel flag backdrop and the smaller version tied to the mic stand were dead giveaways that someone thinks the South should have won! Apparently, most of the population at the concert thought so as well. All in all, this was a great show.