I've Got A Mind To Ramble
Meet B. B (Jake ) Taylor
Back in the 1970s, B. B. Taylor was known either as Jake or Mr. Bonnie, depending on which of two neighborhoods were his clubs were located you were in. He had a disco place called Bonnie's Barbecue at 26th St. and Dumesnil plus Jake's Restaurant at 28th St. and Greenwood. "Jake" is his real name. It didn't change to "B. B." until the 70s, when his keyboard player, Don Harris, and a Texas bass player named Smitty decided that he sounded like B. B. King. Taylor thinks it's the sound he gets when he pushed up on his strings to get his different tones.
Taylor has always lived in Louisville, living in the heart of Smoketown near Jackson and Kentucky until he was fifteen. His mother-in-law, Minnie Crook, played bottleneck guitar in a rhythmic style in church and around the house. Another influence was his grandmother, who played piano and had jam sessions at her house. Taylor started playing bass in 1960, working with Smoketown Red. They rehearsed for six months but Smoketown fired him on the first job because Taylor couldn't keep time.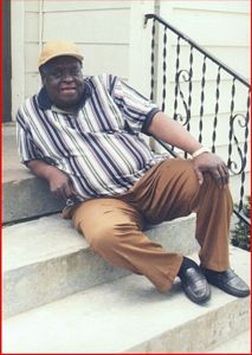 Jake )B.B.) Taylor today
He then switched to rhythm guitar and worked on his vocals. He used to walk from Clay and Madison over to Jackson and Caldwell every day to get his guitar tuned, because he didn't know how. A friend named Robert Ford, who played a little guitar with the Moonglows, kept it tuned. He said to Taylor, "Man, you been coming here a whole month to get this thing tuned up." So Taylor went home and kept hitting on this one string until he got the sound of the E string tuned by ear and checked it to get it right. He still tunes his guitar the same way.
As he was learning, he surrounded himself with better musicians, including guitarist Howard Thelbert. Thelbert could play "Okie Dokie Stomp" real well, so Taylor, who had a good memory, went home to work on the runs and put it all together. After about five months, when Thelbert was playing at Earl's Tavern at Preston and Madison, he asked Taylor to play during their break.
When Taylor said he was going to play "Okie Dokie Stomp, everyone said "You can't do that, son." Taylor tried it in a combined style of Thelbert's and his own, which sounded better than how Thelbert did it. Earl the tavern owner couldn't believe it and from that tune on, Taylor switched from playing rhythm to lead guitar.
The mid-60s were busy times, with regular gigs at the Theater Lounge near 4th and Broadway, then, after hours, a trip to the Diamond Horseshoe at 12th and Zane St. He played there with Alvin and Bonnie Thomas, doing a lot of swinging. Other musicians who influenced Taylor included Lee Haycraft, who had a smooth jazz-blues style and played with several top local bands. Taylor thinks he still lives in Jeffersontown, working as a supervisor at the incinerator.
Another influence was James Hines, who played all kinds of music including the blues. Hines still occasionally plays guitar with the choir of St. Stephens Baptist Church. Taylor also teamed up with Jr. Wells in the late 60s. Wells, a blues musician through and through, played a custom-built Fender.
In the mid-60s, Taylor played with the Emeralds for two years. That band was fronted by two singers Baby Leon and Bobby Ledford and featured Lee Haycraft on lead guitar, Taylor on rhythm, Johnny Eubanks on bass and Henry Robinson, drums.
When Taylor got a number of gigs playing dances at U of L, the Starlighters were formed with two sax players. They traveled to Owensboro, Lebanon Junction (Club Cherry) and Bardstown (Club Weaver). On one cold trip to Owensboro, most of the members of the band were talking to the good-looking girls between sets, except for one musician, who picked the ugliest girl. When it came time to close, all the nice-looking girls were gone, so they had no where to stay. The ugly girl took the other player home, while the rest of the band had to spend the night in the car with the heater on.
Taylor played with many other musicians over the years, including Little Deb, a dwarf who played guitar with Eggie Porter; Picks, a left-handed guitarist and Carl Richardson, who is now a house builder. Taylor teamed up with Foree Wells for a lot of one-nighters, back when Foree played jazz organ. Wells would give Taylor $100 plus his amp and guitar and they would go to Bardstown or Crothersville, Ind. and play the job.
Taylor performed for Julian Carroll's Ball at the Governor's Mansion in the late 70s. He met Glen Campbell that evening and they jammed together late into the night. Taylor said he didn't realize that Campbell was so versatile: "He's not just into country, he can play it all, even heartfelt blues."
Taylor also jammed with B. B. King back in the 60s. The girl across the street brought King home after the concert. Taylor thinks King didn't want to pay a hotel bill. The woman brought him over to Taylor's house and they played guitar all night. King even offered to hire Taylor as his backup guitarist, but as he had a family and a good job at the time, he couldn't go on the road.
Taylor has worked at a variety of "day jobs" during his 58 years, including turns as a porter, a machine operator for Lucky Strikes, a checker for National Distillers, a meat pack and construction worker. He is now semi-retired but wants to stay in music. He owns the Smoketown Blues Club at Caldwell and Jackson, but says it is too small for live music.
The B. B. Taylor Blues Band has a steady gig every Thursday night at Zena's Cafe at 122 W. Main St. His current band includes Marshall Anderson on bass, who first met Taylor when he was 17. They have been playing together regularly since Anderson left the 26th St. Blues Band. Don Harris is the keyboard player and also has a long association with Taylor. The drummer is James Tyler, who has played with Taylor since he got out of high school in the 60s. Taylor is looking to add a horn player and a female vocalist to the group.
B. B. Taylor summed his take on the music very succinctly: "Blues is what you feel."
Mary Jean Zena deserves a lot of credit for booking local blues musicians whom she believes in. She said that she has seen Taylor improve since he has been playing there.