Celtic Harp at Bellarmine College May 20
Well, pluck me! One of the world's top Celtic harpists will be in town and Rock will be traipsing around London, avoiding the crowds from Wembley. But you, dearly beloved, have not only the opportunity to hear exquisite Celtic harp music in concert, but to learn the instrument in tutorials. The Harper's Circle of Kentucky presents Kim Robertson, a master of the lever harp. Her nontraditional approach to the instrument has earned her the description of "one of the most spellbinding performers and innovators of the Celtic harp genre." Ms. Robertson has performed at hundreds of festivals and concert halls in the USA and Europe. Critics have raved ... "her Celtic harp held within its strings and wood the diverse offerings of the human race ... incredible technique" – L.A. Times. .Spiral Gate is the latest of her three albums and the most expansive stylistically, but don't worry, its not a jarring mongrel (of Celtic rap - or "crap"), but rather a compelling synthesis of sounds, thanks in part to an impressive group of musical friends. Her vocals are well-matched to her instrumental power. Treasures of the Celtic Harp is her first and thus a solo and necessarily more traditional. Wood, Fire and Gold begins the fuller musical expression, culminating in her latest release on the Narada label.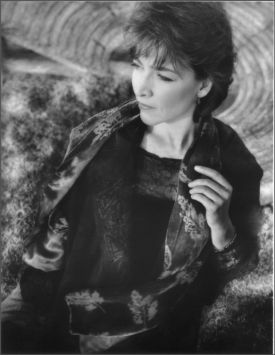 Kim Robertson
Kim Robertson's concert will be in the Cralle Theater on the Bellarmine College campus, 2000 Norris Place at 8 p.m. on Saturday, May 20. Two workshops will be given the same day in the Wyatt Hall Chapel. Workshop I (9 a.m. - noon) will consist of creative arranging and improvisation, as well as techniques in musicality, rhythm and tone. Workshop II will focus on developing personal style, advanced arranging techniques and formulae for improvisation and composition as a way to expand arrangements.
For more information about the concert, workshops or the Harpers Circle of Kentucky, contact Brenda Bowen Cox (502) 226-5540. Ms. Cox is herself an accomplished harpist and member of the Frankfort-based Celtic band Beyond the Pale.
18th Annual Kentucky Scottish Weekend May 12. 13, 14
The General Butler State Park in Carrollton, Kentucky once again opens its sylvan arms to Kentucky's original Highland Games, which features athletics, highland dancing, piping and drumming and sundry highland clan activities. This is three days jammed with music, dancing and fun, including a British car show, pipe band competitions, cultural and historical seminars and many interesting arts, crafts and vendors. A meat pie and an iron brew followed by Welsh cookies and tea will slake your braveheart hungers. Some 13 pipe bands from Ohio, Indiana, Kentucky, Tennessee and West Virginia will compete on Saturday. Come cheer on your own Louisville Pipe Band, which sold out its Clifton Center concert recently on the news that it is headed to Glasgow, Scotland for the 2000 World Pipe Band Championships. The ever-popular Seven Nations will dazzle you with Celtic rock music all three days and Scots balladeer Alex Beaton will offer his beguiling vocals. Rock never misses this event! It is an easy 45-minute drive north up I-71 to Carrollton, plus there are many accommodations, including a great park campground. For a virtual visit to the games check them out on the web: www.kyscottishweekend.org
Glasgow Highland Games – June 1, 2, 3, 4
Seven Nations will rock the beginning of these great Highland Games at the Thursday night "Beach Party," with our own Drowsy Maggie to stir the pot first. The rest of the weekend's principal musical entertainment is the great Irish band Lenahan, known for its hot, hot fiddling. Held at the Barren River State Park, a facility that also offers a great state park facility for its lodge and campground. The Louisville Pipe Band will also compete here and many more events are planned. These folks really know how to through a party so, mark your calendars.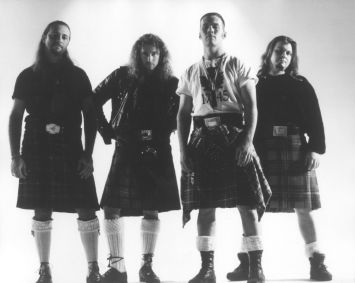 Seven Nations
For more information contact the Celtic Centre 897-9050.
Last minute minute word comes that Grey Larson and Paddy League will be giving workshops at the Riley School in Cincinnati on May 20. All are invited. Grey will be teaching flute, concertina and whistle. Paddy will be teaching bodhran and guitar. The fee will be low. Unappily, Rock didn't remember to get contact information, so you're on your own there.