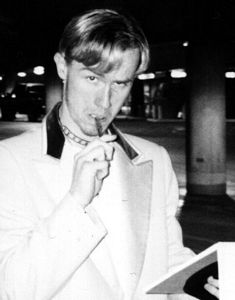 Fallen
It's good to be back! Things have been really crazy lately and I have been falling very behind in everything. Things are finally starting to get back to normal, so here I am. This month, I want to introduce you to a band called Fallen.
The band members are Chad Carey on guitar/vocals, Shane O'Bryan on bass, Wes Allen on guitar and their newest addition, Chris French on drums.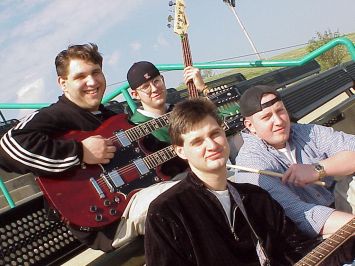 Fallen
The group dates back to 1992, when Chad formed a band called "The Stickman Band" (named after a 2nd grade comic strip by band member Bob Stephens). The intention was to work their sound around that of Alice in Chains and Metallica. A two-hour distance between its members caused the premature breakup of the band, and it was on to the next chapter. A communication drought between '93 and '94 ended when Chad was introduced to Wes Allen. Little did the two know that their humble place of employment (Winn-Dixie) would become the center for compiling their current group, Fallen. Things fell into place, and the musical aspect of their friendship flourished. Melodic thrash meets hard-core punk was Chad and Wes. It was an interesting synthesis already, but the solos of Carey and the intricacy of Allen had yet to find a drummer. Enter Jonathan Jurgenson, yet another Winn-Dixie employee.
The trio formed Wendigo. The name comes from an Amerindian legend of a cannibal spirit, made flesh. The guys thought it was a perfect metaphor for a society intent on devouring itself. The new endeavor took the old ideas of "The Stickman Band" to a higher level but had limited success. They played a show at the former Jubilee, (the old Christian Coffeehouse on Bardstown Road). Wendigo was soon to be in rough water, due to artistic differences and scheduling conflicts. By mid-1997, the band was history.
The time between 1997-99 let everyone regroup once again. Carey and Allen worked on the acoustic side of their music together, frequenting the New Albany Amphitheater as their practice spot. After discovering that there was actually electricity out there, they made the changeover back to electric and started working on the concepts for a new band. The duo dubbed themselves Mourning Star.
After a relatively short period of time, they had an equivalent of four albums worth of originals. That is when the two ran into an old classmate of Allen's, Jon Bore, while at Dutch's Tavern. The guys talked and discovered Jon played the drums. They quickly formed an alliance and gave birth to a new version of Mourning Star.
The plot thickened, as Chad meet a bassist by the name of Shane O'Bryan in the Music-Go-Round store. Shane was without a band at the time and things fell into place: the band seemed complete. They were well on their way to playing out, that is, until Christmas came around. The Grinch stole unity from the band, and the members had personal differences. Finding out about others bands called Mourning Star did not help matters much either.
Later on down the road, a twist in the plot occurred. Yet another Winn-Dixie veteran by the name of Donny French came into the band's life. This time, it was not the grocery store employee himself who would join the band, but he would serve as a link to a new drummer. Don's brother (Chris French) replaced Jon Bore. Shane eventually returned on bass, and finally they had the current group, Fallen.
The group focuses their style around the golden days of melodic metal, with an inevitable modern sound. You remember the "And Justice for All" days, don't you? They utilize the many tones of their processors, a great deal of dynamics and a secret weapon that is very uncommon in local bands I've seen. Wes Allen is not caught up in the recent trend of 7-string guitars. He is more of an 18-string kind of guy! That's right … 18 strings. If you are not a math major, then let me help you out: 6 strings + 12 strings = 18 strings. He plays a breathtaking double-neck Conrad SG-1. Chad prefers a much lighter Jackson TS-3 (a discontinued predecessor to the current Randy Rhodes model). Shane thumps a Peavey, much like the Fender Precision. Chris carries the percussion section with Mapex drums.
Now on to some tunes …
"Darkfall" is the current tune doubling as a title track of their next recording. It is a dark tune that carries heavy riffs and chunky rhythms. Some parts of the song almost carry a Spanish-flavored innuendo. There are some nice chord changes and leads, and when complete, it will be nearly ten minutes long.
"Blister" is a more aggressive tune, with faster solos and more of a Megadeth influence. It has a lot of variation within itself and it has elements that remind me of the Baroque period, whether intentional or not. This song's antithesis would most likely be the ballad named "Sunset."
In "Frustration," the rhythm is played on the 12-string guitar (as in many of their songs). The leads are oriented around the melodic sounds of the 12-string, and there interesting and pleasing harmonics in it. Most of the band's songs are written about the "human experience," to quote Carey. This topic of writing more frequently than not includes personal narratives of "relationships gone sour."
As mentioned before, the band has an array of originals, but they been spending the past three months or so breaking in their "newbie," Chris. They are making good progress and should be playing out sometime in the near future. Be on the lookout for a possible show date with local lords of punk, The Revenants. For booking, email Chad at nocturiel@aol.com or call me for more contact information at (502) 262-8728.
As always, I am looking for new acts to write about in  Louisville Rock Lowdown. If you are an up-and-coming musician or you know a good candidate for the column, email me at JJKSLACKER@cs.com or leave me a voice mail at (502) 262-8728.
 See you next month with Leslie's Motel.
Rock on!