Tina Turner at Freedom Hall
By Michael W. Stout
It seems that just within the last decade the word "diva" has been socially accepted in the English language and since then has been grossly overused, being attached to any and every female vocalist who comes along possessing even a mere ounce of talent. There are few women in all of the many genres of music who deserve to be crowned a "diva" and Nutbush, Tennessee native Anna Mae Bullock, better known as the legendary Tina Turner, is among the elite few who have rightfully earned this title. It was evident that Tina Turner is rock 'n' roll royalty as she took a sold-out crowd on a musical journey through her four-decade-long career when her "Twenty Four Seven" tour blew into Freedom Hall on Mar. 31.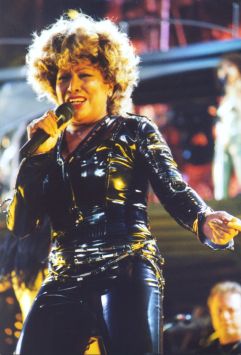 Tina Turner at Freedom Hall
Tina appeared on-stage atop a multi-tiered mass of steel, exuding style, feminine charm and attitude all packaged in a skin-tight leather ensemble, looking and sounding as exceptional as ever at 60. For nearly two hours, the diverse crowd celebrated Tina's life, music and yes, her incredible legs, all of which seem to be miraculously improving with time. Regardless of the era in her life, whether being beaten by Ike Turner, trying to raise her children as a single mother or simply trying to carve out a solo career in the music business, Turner's music has always survived and emerged on top.
Tina's "Twenty Four Seven" tour, rightly named after her recently released album,  (which has sold record numbers in a record amount of time and likely is destined to become her best-selling album ever), leaves no stone unturned. Tina's Ike Turner-era numbers included "Fool In Love"; "River Deep, Mountain High"; her self-penned, autobiographical song "Nutbush City Limits" and the show-stopping "Proud Mary." "Mary" has been with Tina for decades and continues to do her proud. Her single-mother, early solo-era hits included "Acid Queen" from the Who's rock opera Tommy.
Turner's most recent and current era has turned the music scene on edge. She brought down the house with the tune that launched her into superstardom, the chart-topping "What's Love Got To Do With It," followed by "Private Dancer," "Let's Stay Together," "Better Be Good To Me," "Simply The Best" and "We Don't Need Another Hero (Beyond Thunderdome)" from the Mad Max Beyond Thunderdome movie in which Tina co-starred with Mel Gibson.
Brand new material off of the Twenty Four Seven album, including the title-track, "Whatever You Need," and the dance smash "When The Heartache Is Over," further proved to the crowd that Tina Turner is truly a diva and always will be, 24 hours, 7 days a week.
The silky-voiced Lionel Ritchie, who took to the stage prior to Tina,  treated the audience to a well-received opening set, including such unforgettable hits as "Hello," "Dancing On The Ceiling," "Three Times A Lady," "Stuck On You," "All Night Long" and even a dose of The Commodores with "Brickhouse." Ritchie may be absent from the radio airwaves these days, but he is far from being forgotten, as was evident from the response he aroused.
Newcomer Janis Robinson opened the show with a 20-minute acoustic set full of female angst and anxiety from her album The Color Within Me.